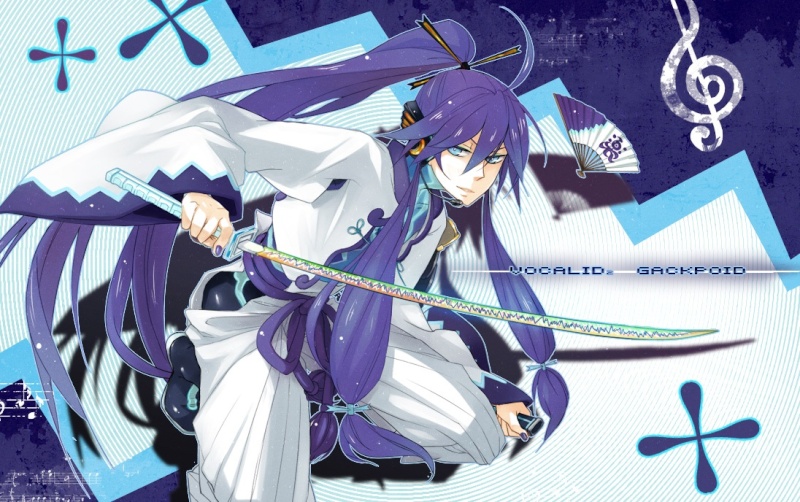 Name:
Kamui 'Gackpoid' Gakupo
Age:
18
Color:
Purple,Midnight Blue
Character item:
Eggplant
Gender:
Male
Appearance:
Perfect 6'.Has purple coloured hair,that is worn long until it reaches past his buttocks.During performances,he wears a Jinbaori,albeit cyber-style.
Personality:
Gives others the feeling that he is an older brother due to his caring,loving and sometimes,spoiling nature.He gives his all to make sure his fellow Vocaloids are feeling comfortable and tries very hard to make it happen.Gakupo also has high expectations placed on himself and makes sure he doesn't mess up during performances,which stresses himself out to the point that he becomes quiet before a performance.
Love Interest:
… *ahem,looks away*
Other:
Wields a musical instrument called the 'Gakutou Miburi',which is literally a Music Katana,which sounds like a musical instrument when swung.Cannot be used for fighting.Gakupo can also be often seen using a Japanese folding fan.
Eye Color:
Amethyst(purple)
Voice:
Mature-sounding.
LIKES
◄ The beach
◄ Fellow Vocaloids
◄ Swimming
◄ Listening to the others singing
◄ Night time(Either walking outside at night,or the Moon)
DISLIKES
◄ Seeing others disappointed or sad
◄ Not being able to understand English
◄ Being teased(Makes him blush)
◄ Being mislabelled as 'Gackpoid',when 'Gackpoid' is his title name.He is still a true Vocaloid.
Favorite Quotations
"…I really wish to learn English."
"I almost got 'Big Al's Syndrome' huh?"
Occupation(optional)
Vocaloid?(Does that count?)
Preferred Vehicle(optional)
Bicycle~
Skills(optional)
So far,able to cook simple dishes and a little bit of housekeeping.
Preferred Clothing(optional)
Comfortable but fitting.Stylish and fashionable.But anything goes too.
Favorite Instrument
Piano,Violin,Gakutou Miburi
Favorite Language(optional)
Japanese
English(Although he doesn't understand most of it)
Favorite Flower(optional)
Butterfly Bush(Especially the purple ones)
Favorite Food
Ramen and hamburgers
Favorite Vocaloid
Leon