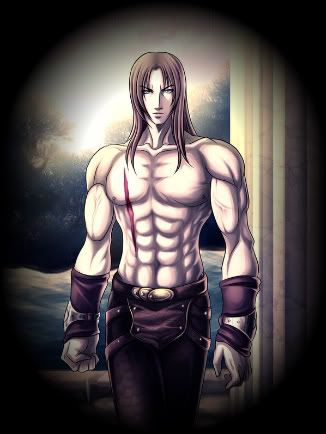 Name
: Pearce
Age
: 17
Parents
: Hercules and Megara
Grade
: 11
Originally From
: Greece
Personality
: Pearce can be a show off around a pretty girl. He has his father's strength and might in a fight. He's hardworking and has his mother's playful, flirtatious, and sarcastic personality. He can be found at the gym exercising, and then engrossed in some sort of sport. He must always be active for when he isn't, he'll just lie about. Phil is the wrestling coach, and also his personal coach who constantly nags him about how he needs to one day be a hero like his father. Heroism was something he was forced into, and he slightly dislikes his father for placing that burden upon him. There is a longing in his heart to for once be able to live normally and not have to battle Titans and monsters all the time.
As far as Pearce's social life goes, he is often too busy to have one. Phil has the demi-god on a tight and almost militarized schedule. Pearce has grown used to this way of living. In fact, it has become built within his mind like a computer program. Few students are impressed by his strength, but most see him more as a threat rather than a hero. He is slightly destructive like his father for once he gets into a fight, he tends to battle relentlessly until there's a victor at the end (thus him being competitive). Every now and then, Pearce will try to find a moment where he can sit, relax, and take a mental break from Phil's rigorous schedule.
Likes
: Victory, being strong, delicious food, and taking naps.
Dislikes
: Not having a say in his life, studying, bookwork, and being disturbed from his naps.
Pets/Familiars
: None yet. Perhaps one day he'll find a companion like his father's Pegasus.
Favorite Classes
: Gym
Least Favorite Classes
: Math
Extracurricular
: Wrestling and perhaps Football.
Anything Else
: Pearce tends to eat up praise, which often makes him an arrogant young man. He isn't exactly a jock, but it can be a stereotype. The demi-god can be intimidating when he wants to be. His imposing presence makes bullies shake in their shoes. If anyone talks about him, it'll always be behind his back, and out of his range of hearing. As far as Pearce's goals in life go, he doesn't know if he wants to aspire to be a god like his father, a hero, or just a normal guy, but so far, humans think he is far from normal. The first thing he needs to learn is to take control of his life and destiny.
Pearce is a twin and brother to Amica. They aren't exactly complete opposites in personality, but Amica tends to put on a tougher front. He gets along with his sister, and will sometimes share with her his problems when he can get a chance. Usually by the end of the day, the demi-god is wiped out from living Phil's schedule and will crash like a tree into his bed.