Sol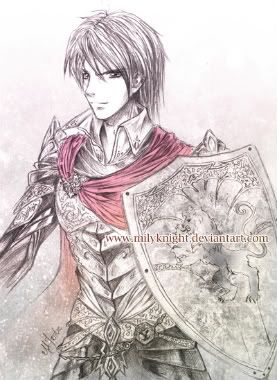 Age
18
Parents
Phoebus and Esmeralda
Grade
12th
Originally From
Paris, France
Personality
The personalities of Sol's father Phoebus and mother Esmeralda make up his mental composition as well as allure. He is a handsome, young knight from France, and a gentleman, always wooing the ladies with his chivalry and making them laugh with his smooth tongue. Sol, however, is very tricky, capable of walking on the lines just out of their reach, and so comes off as one of the hottest guys in Disney High. Despite being quite the attraction and appearing like the model of the perfect knight, a knight is probably all Sol knows how to be. No one will ever see him without his armor or without his manners. So, it may dissuade someone from ever truly seeing him as anything but eye-candy. He is very distinguished when it comes to his bearing and even with how he talks to a woman. If anyone asked him to "loosen-up," Sol might think that person were ridiculous or ill-mannered.
Sol is great with a sword and is quite the hero when it comes to fearlessness in the face of danger. He is the kind of guy to exclaim: "Do your worst!" if he was about to be executed, which makes him come off as rather…crazy or incapable of seeing that there is a logical alternative. He'll never run from a challenge!
Likes
His armor, sword, being a knight, wooing women and playing with their hearts.
Dislikes
Anyone who tries to tell him what to do, talk about his knighthood in a negative way, or insult him in public. That only demands a duel!
Pets/Familiars
A teddy bear in his room named
Sir Timothy
. No one knows of the bear but him. Timothy has been his friend since childhood and encouraging him to be the best knight he can be. Irony—Timothy is just that, an inanimate stuffed animal, but Sol can hear the bear's voice in his head or perhaps he hears voices period? He also rides a chocolate mare named
Colette
.
Favorite Class(es)
Gym, History, and French.
Least Favorite Class(es)
English, Sciences, Math, and anything that isn't knightly.
Extracurriculars
Sword fighting, Gymnastics, Dance, and Choir.
Anything Else
He speaks with a French accent and at times tends to be air headed. Perhaps he doesn't study, but somehow he's made it to the 12th grade. He also doesn't work well with others. If there's ever a problem, he would rather settle it alone. He cannot be persuaded any other way.