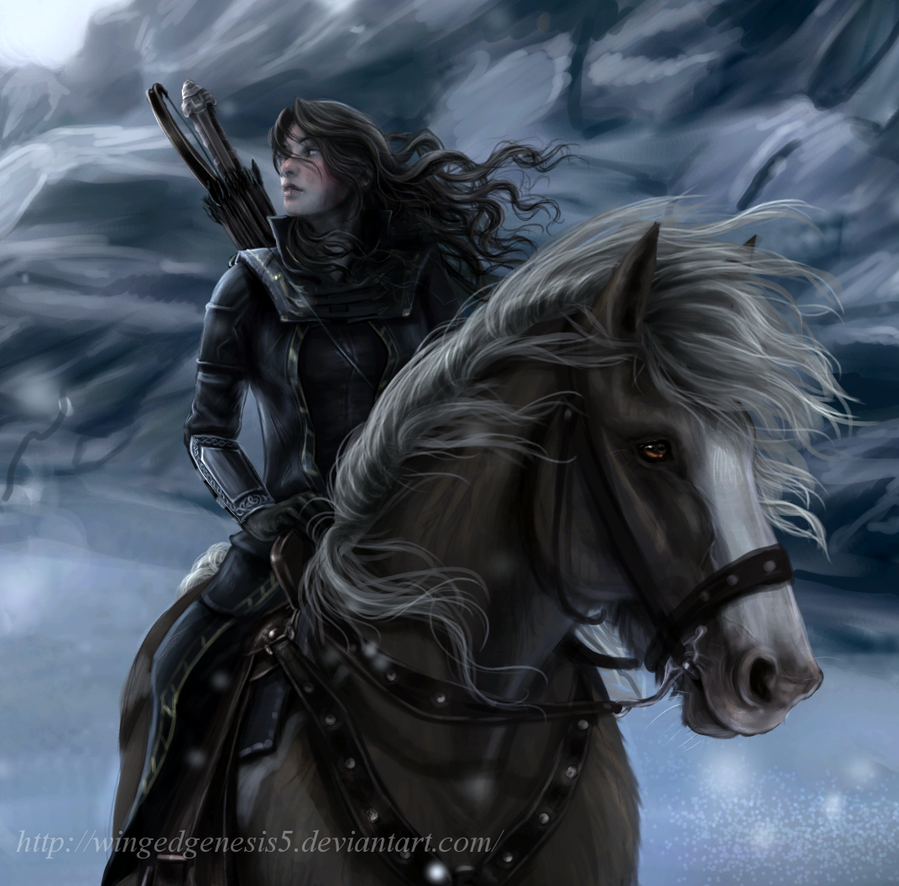 BASIC
-
Full Name:
Alessia Rian
-
Nickname:
Ali
-
Age:
24
-
Gender:
Female
-
Race:
Imperial
-
Faction:
Imperial
-
Guild Member:
Ex-Dark Brotherhood
APPEARANCE
-
Hair and Eyes:
Alessia has long, dark brown hair, that reaches down to between her shoulder blades. She doesn't take much care of it, simply washing it when she bathes, yet it remains rather good looking, not as fair as a Nord, but still rather pleasant. Her eyes are a deep, dark, piercing, blue.
-
Complexion:
Her complexion is different than her Imperial brethren from living in Skyrim for too long and rarely going out during the day. Her skin is pale, yet still has the slightly dark tone of the Imperials. She is relatively unscarred, because she prefers to remain outside of the conflict area, but she does have a large scar near her right collarbone from being shot with an arrow, narrowly avoiding bother her lungs and heart.
–
Height and Weight:
5' 9'' (175.26 cm) | 141 lbs. (63.9 kg)
-
Body Type:
Alessia has a rather medium-sized body, not narrow and slim, but not wide and broad. She has a muscular waist, she exercises it daily to maximize her mobility(The abdomen is the key to all swift mobility in combat). Her arms are strong, but not as strong as the average swordsman. She has very strong legs, allowing her to spring very fast and also do long jogging for a good while. She has a medium sized bust, she would prefer it to be smaller, but there's nothing she can do about it, she's tried.
-
Armor:
Alessia wears full leather armor with a light chainmail vest beneath a black cloak.
PERSONAL INFORMATION
-
Weapon:
Alessia's weapon of choice is an Imperial bow with steel arrows. She coats her arrows in poison sometimes, having a wealth of different poisons to use. She also has a steel short sword.
-
Mount:
She has a dark brown horse from Cyrodiil, faster than the horses in Skyrim, but also smaller, and unable to stand the cold for an extended period of time. It's name is Pelagius.
-
Quote:
"As far as thinking about death and murder and various ways of killing people and how people die... I probably have the most twisted mind in Slayer." -Tom Araya
-
Theme song:
Fate's Dark Hand - Stuart Chatwood
-
Brief History:
Alessia was born in Skingrad, Cyrodiil, with the surname of Odiil. Her father, Lucan, was an adventurer and her mother, Illia, was an Alchemist. Illia stayed at their shop, selling alchemic reagents and potions, personally crafted by her mother, while Lucan ran off and got into trouble. Illia taught Alessia everything she knew about alchemy as well. Whenever he did get home he would drink too much and end up beating her mother, never laying a hand on her, for a time. When Lucan broke his leg in a cave, and was forced to stay at home for a two months, by this time Alessia was 13, grown and beautiful. her father beat and forced himself on her mother all the time, before he would hit her once or twice a day, but he was only at home a few days of the month. Needless to say, her mother killed herself, she was in bed with Alessia, and slit her own wrists while Alessia slept. She woke up doused in blood with her mother's corpse wrapped around her. Lucan's leg had healed, and after a mourning period of a week, Lucan was angry and blamed Alessia for her mother's death. He beat started to beat Alessia and tried to rape her, but Alessia got his dagger and killed him.
After a speedy getaway from the authorities, correctly assuming they wouldn't understand, she was found by an Assassin of the Dark Brotherhood. For no explicable reason, aside from him "seeing something within her," he took her and trained her to be an assassin for the Dark Brotherhood. She had seemingly lost all emotion by the time she was completed with her training at the age of 19. But nearly a year later, when she was on a high-value mission, she was spotted by a young girl, looking almost exactly like Alessia, and killed her. After she had made this split second decision, she looked at what she had done, and after a torrent of complex emotions, she finished off the girl's father, who had been sexually assaulting her, and left the dark brotherhood, violently. She was hunted by her brethren of the shadows, she was able to kill each and every one of the assassins they sent, knowing each and every secret they used. She was able to escape and go into hiding in Skyrim, living in Winterhold for a few years before moving to Solitude and joining the Empire under the fake surname of Rian. She has not seen any Dark Brotherhood Assassins since her escape, but still fears a reprisal... She trains the archer in Solitude and goes on specialized missions with little to no back-up whatsoever...
-
Personality:
Alessia is a complicated woman, she is always on guard, holding a dagger under her pillow at night and always keeping alert. She rarely trusts anyone, always ready for betrayal and attack. She has never had a romantic relationship in her life, and is rather appalled by the concept, letting someone get that close to her is against every fiber of her being. She rarely feels comfortable around people and loves the seclusion of nature. She does, however, absolutely despise spiders, she cannot go anywhere near a spider without hyperventilating and becoming completely useless. She also hates abusive men, for obvious reasons, and weak-willed women, never having forgiven her mother for giving up on life. She has no real hate for the Stormcloaks, but figured that the Empire would be able to protect her from the Dark Brotherhood better. She also has a major soft-spot for children, especially girls. She has no qualms whatsoever about killing, she did it for a living for a year. She doesn't enjoy killing either though, unlike most of the Dark Brotherhood, she just has an intense will to survive. She has a need to life, to survive, it nearly transcends everything about her, she will fight to survive, not to win, and she will side with anyone if it means living longer. However, she is paranoid, so sometimes what she thinks will keep her alive, turns out not to be true, such as Joining the Imperials instead of living in seclusion the rest of her life.