They were called Tenno. Warriors of blade and gun - Masters of the WARFRAME armor. Those that survived the old war were left drifting among the ruins in a deep stasis known as Cryosleep.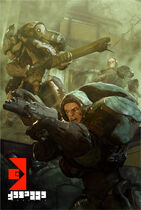 The Grineer Empire, a force of flesh and technology monstrosities, malformed and great in number due to the over use of cloning technology are now spreading to take control of the galaxy
The Technocyte virus has begun to spread throughout the galaxy thought to have been eradicated at the last outbreak but revived by unknown means. They take over the bodies of the Corpus and Grineer forces, the Tenno seem to be immune to the plague.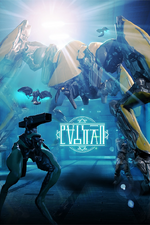 Corpus, a corporation of humans that use and maintain the trade routes of the solar railways, they use robots as representatives and as powerful weapons. They control the entire supply chain of goods that flow through the solar system.
The Solar System is the battle ground of a three way war and no one is winning. The Lotus has called you, you must prepare for battle. May your Enemies fall before you, Tenno.
You are a Initiate who has just awoken from cryosleep, you have lost nearly all you memories, the only thing you remember is your name. You will be trained to fight. The arsenal of the Tenno consists of a Main weapon which could be an Rifle (Sniper or Assault) Shotguns, or special weapons. Sidearms are pistols which can be dual wielded or thrown weapons. Melee weapons ranging from short to long blades, staffs, heavy weapons and thrown melee.
Code: Select all

[center][size=200]NAMEHERE[/size][/center]
[center][img]What you look like under the armor[/img][/center]
[center][img]WARFRAME[/img][/center] ([url=https://warframe.com/game/warframes]Choose from here[/url])
[center]the specific powers your warframe uses[/center]
[center]Arsenal: one primary, one secondary, one melee [url=http://warframe.wikia.com/wiki/Weapons]choose from here[/url] [/center]

Taking place in...
There are no characters in this universe yet!
0 posts here • Page 1 of 1
0 posts here • Page 1 of 1
Arcs are bundles of posts that you can organize on your own. They're useful for telling a story that might span long periods of time or space.
There are no arcs in this roleplay.
There are no quests in this roleplay.
Here's the current leaderboard.
There are no groups in this roleplay!
Welcome home, Promethean. Here, you can manage your universe.
Arcs are bundles of posts from any location, allowing you to easily capture sub-plots which might be spread out across multiple locations.
You can create Quests with various rewards, encouraging your players to engage with specific plot lines.
Settings are the backdrop for the characters in your universe, giving meaning and context to their existence. By creating a number of well-written locations, you can organize your universe into areas and regions.
Navigation
While not required, locations can be organized onto a map. More information soon!
There are no groups in this roleplay!
There are no characters in this universe yet!
By creating Collectibles, you can reward your players with unique items that accentuate their character sheets.
Once an Item has been created, it can be spawned in the IC using /spawn Item Name (case-sensitive, as usual) — this can be followed with /take Item Name to retrieve the item into the current character's inventory.
Give your Universe life by adding a Mob, which are auto-replenishing NPCs your players can interact with. Useful for some quick hack-and-slash fun!
Mobs can be automated spawns, like rats and bats, or full-on NPCs complete with conversation menus. Use them to enhance your player experience!
Current Mobs
No mobs have been created yet.
Locations where Mobs and Items might appear.
You can schedule events for your players to create notifications and schedule times for everyone to plan around.
Add and remove other people from your Universe.
The Forge
Use your INK to craft new artifacts in Warframe: War for the Solar System. Once created, Items cannot be changed, but they can be bought and sold in the marketplace.
Notable Items
No items have been created yet!
The Market
Buy, sell, and even craft your own items in this universe.
Market Data

Market conditions are unknown. Use caution when trading.

Quick Buy (Items Most Recently Listed for Sale)
There are no characters in this universe yet!
None
Discussions
Topics

Replies
Views

Last post
Most recent OOC posts in Warframe: War for the Solar System
Hi, newbie to this site and only joined because of this.. But.. o,..e He has a point, and, sadly, it seemed to go unanswered.. I think someone should maybe make a new warframe RP or something, I would love to see a semi-active one.. :(
Hi there, newbie to roleplaying in general here. I might join but I have a few questions first.

Tenno usually work in four man cells. How would we keep track of multiple missions at once? Seems like it could get complicated.

Can each character have several warframes, or are they restricted to one each?

Would we have one set of weapons, or select our arsenal before each mission?
This Roleplay is based on a game which i feels is weak in the terms of lore, we get bits and pieces from the gameplay but i think it would be great fun to make our own story in this universe. From all who apply i will take suggestions as to what we should do.