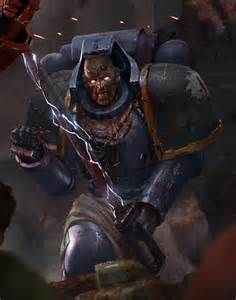 GENERAL INFO
Full Name:
- Michael Thernus Ambriel
Alia's/Nicknames:
-The searing tide, Ambriel the bright, Corruptions bane, Brother of the long watch, The walking purge, The beast slayer.
Gender:
- Male
Species/Race:
– Space Marine
Age:
- 689
Title:
- Epistolaries
APPEARANCE
Height:
- 7' 2
Weight:
- 71 stone
Build:
- Stocky
Eye Color:
- Teal
Hair Color:
- ash/bald
Scars/Tattoos/Piercings:
- Multiple surgical scars running up back of neck, Right hand and forearm tattooed with the creed of the death watch.
Description:
– One of the more highly vocal members of his Chapter, Ambriel is a start contrast to how introverted some librarians of other astartes chapters can be. He is nearly a complete foot wider than most of his battle brothers, which gives him more clout when it comes to either boasting or being a complete nuisance among his brothers. Though it is easy to tell that when the time calls for it, that he would be there for them in a moments notice. Seizing blade and warp all the same.
MENTALITY
Friends:
- Though strained at times Ambriel has formed many lasting bonds in the imperium. Two being Watch Master Braddok of the death watch, and Forge Master Kern of the Ordo Malleus on Mars. Two sources that he has learned to waylay his support with, in order to help secure more valuable materials for his chapter. Not to mention specific articles of study for himself. Those few that still remain are those of the black ship he was brought to Terra upon, after their trials that day. He made a pact with several that serve as a standing bond of brotherhood beyond even that of his battle brothers.
Likes:
- Long lost knowledge, Warp Travel, Reading, Mars.
Dislikes:
- Needless waste of resources, Daemons, Imperial in fighting.
Hobbies:
- Collecting odd trinkets - especially glass objects
Personality:
– While being somewhat louder than his other librarian counterparts, this does not mean that Ambriel is without tact or restraint, his time spent with the death watch is more than enough proof of this. Though when it comes down to it, he still seems to act as though he is sometimes with those same battle brothers. The constant boisterous and jesting nature of such camaraderie is merely an inseparable part of his being now. Much like his mind is so irremovable from the warp.
EQUIPMENT
Weapons:
– Ambriel is armed with two weapons, one that he was given when seconded to the death watch, and one that he returned with after his last post. A combi melta that was origionally alter by several of his chapters tech marines. Allowing him to wield with one hand, and a power sword that he returned with called the Stygian blade. A weapon forged by one of the watch smiths, out of a metal reclaimed from xenos weaponry. This was origionally a cause for worry in his chapter, seeing as he had formed some sort of bond with the weapon during his watch. But after his connection failed to reveal any detriment, he was given leave to use it once gain, but with sufficient oversight.
Accessories:
– The book of Gall'dus - Gall'dus was a virulent believer of the Ordo Malleus during his life, and spent his time seeking out the names of Daemons that encroached upon the Emperors territory. A once great friend of Ambriel before his death, It has fallen to him to finish the work of Gall'dus. Purging every daemon that he comes across, and adding its name upon the pages of this ever growing tome.
Miscellaneous:
– Ambriel carries several small trinkets from his travels around with him at all times. Sometimes running them in circles through his fingers. His first and most precious is a physically reinforced glass tube full of vibrant, orange sand from the warp itself.
HISTORY
Personal History/Background:
- Born on Mars in the wake of his families destruction of the inquisitors. He was one of the last surviving children of a family charged with daemon worship, and when his connection to the warp became known it was soon that Ambriel found himself upon one of the black ships scouring the imperium for those just like him. It was a cruel fate that awaited him at the end of his travels, where it not for the arrival of a warp storm. Small though it was, it managed to caress the side of the ship in which he was contained. Running rampant among the other psykers in accountancy. Many of which managed to slip their bonds in the madness, turning into vastly powerful daemon host. These madly ravenous creatures could not easily be contained by the crew, were one or two would be no true problem for such agents of the imperium. Several dozen proved to be more than they could handle, and they were found fighting a severely pitched battle across the whole ship. Only when Ambriel managed to slip his own bonds along with many of his own fellow captives did they managed to see the predicament they were in, and despite their captors, did not want to be a meal for such unholy creatures. Though physically weak compared to the host powers, Ambriel was able to whip his fellow captives into a sizable force of collective psychic might, which proceeded to burn the host away with the very forces that birthed them. Ending such a dreaded confrontation just as quickly as it had started.
After being resealed and brought back to Terra, it was at the behest of several visiting astartes Chapter Masters that they see the ones responsible for saving the ship and its crew. Though their prowess and control was still in question, the ultimatum offered to them that day was far better than the one allowed to their lesser fellows.
Throughout all his years of service, Ambriel has been one of the most chosen for the Death Watch in his chapter and is one to easily jump at the chance again. Though not the oldest of his chapter by far, he is easily one of the most traveled of the entire chapter itself. As a penance for paying his families debt to the imperium, Ambriel searches out corruption in all its forms when given the slightest chance, and when it was revealed to him through visions that his families name was tarnished through treachery. He quickly jumped on the chance to search out the guilty party, finding a bloody trail of daemon worship at the head of a noble lords house. Much like the same his family was before their fall, only for them to meet a rather grizzly end at his own hand in what Ambriel still believes was retribution offered by the emperor himself. This devotion has fostered itself over hundreds of years, into a fervent love for his brothers, and the empire itself.
Ambriel is renowned for surviving single combat with a hive tyrant, and besting the monster on the space hulk "Draconian Flame" Which was soon completely purged by the two teams sent in. He has sought out corruption on hundreds of worlds, everything from torturous slave pits, to decadent pleasure planets, only leaving scorched remains in his wake. It is in these moments however that Ambriel earns the ire of his fellows, as he is more than willing to sacrifice the lives of innocents in the pursuit of destroying corruption. His latest acheivment comes from slaying an incredibly powerful warp-smith named Etterhawk the Mangle, beheading the traitor and destroying his spells of concealment. Allowing the Imperial Knights to bombard his hidden armory, destroying it completely.
OTHER INFORMATION YOU MAY ADD: Imperitor Rex