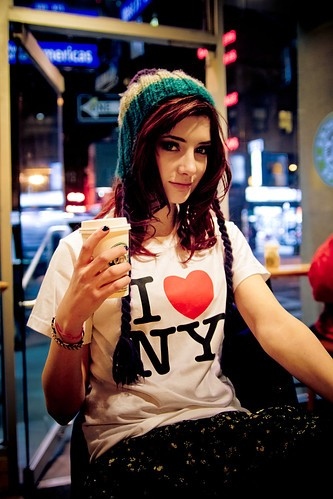 Name: Michelle 'Shelly' Pierce
Appearance:
Standing at 5'5 and weighing 116, Michelle can be put in the category of 'skinny yet average'. Her height is perfectly normal for her age yet her weight is a bit to low for the average sixteen year old. Her skin is a flawless pale and has nothing on it whatsoever. No freckles, birthmarks, nothing. It's simply one smooth color of pale. Her hair is naturally a sandy kind of brown but she has been dying it red for some years now. It's naturally curly and goes to her shoulders when curly but down to her chest when straightened. Her eyes are a hazel color and they pop along with her naturally pink lips.

When Michelle chooses the clothes that she wears freely, her style inches more towards the casual side. She loves wearing t-shirts and doesn't really care for dresses or skirts. It's not that she dislikes them, she just finds that she doesn't have many occasions where they would be appropriate. She actually longs to wear a skirt, even though she knows that it's silly. Her pants choice tends to be baggy sweatpants or skinny jeans, no other pants are really seen on her. She pretty much wears only two different pairs of shoes since her feet haven't changed sizes since sixth grade. Her VERY, VERY worn out pair of sneakers and a pair of red and white nike sneakers. When she sees high heels she sometimes wants to own a pair but knows that they're useless in what she does and would only slow her down, or make her fall. She loves beanies and handmade jewelry. In spite of all of this, she loves makeup. It's the one thing that she loves that makes it look like she's got a bit of girly girl in her. Although she pulls off the whole casual look, it doesn't hurt to wear makeup with it.

At least, that's how she dressed before her dreaming. In her dreams she dressed like that for the most part but people who got her like her 'soul mate' ended up buying her that girly stuff that she secretly likes.
Personality:
In one word you could sum up Michelle: Unique. She's her own self, not following the crowd. She's outgoing and has hardly any trace of shyness around her. She has no problem talking to somebody she has never even met before and being blunt with them. She's really stubborn and refuses to stop until she gets what she set after. Their aren't many people that can compromise with Michelle, and only one or two that can beat her in an arguement. She's very sarcastic and if you get her too angry her lash out is fierce.

All of that stayed with her all her life, but some things had changed in her since before and during the time she was dreaming. Before the dreaming time, Michelle had a very short fuse, and once her fuse went off, everybody stayed a clear distance away from her. When angry she fought better which was why she was always so great in combat. She knew how easy it was for her to get angry and would use that to her advantage. Nobody questioned her when she ordered something, because when she did she knew it would work and there would be hell to pay if you didn't listen. Few people had ever got to see the nicer side of her. Ninja was really the only one who knew their was a softer, shyer, more vulnerable part of her. She had tried to hide it from him but it hadn't worked. Shortly before she was put asleep Skull had seen this side of her too. He had been trying to hook up with her and in the process of planning had found her more kind, more vulnerable side.

But She has changed a bit in that short time. Now Michelle controls her temper. She gets angry as much as a normal person does. Although she is still very outgoing she doesn't talk to a person as if she's known them all her life, more like their somebody she's known for a few days or weeks. She's a bit more girly now, and is actually sweet and caring openly. She does and shows that she is concerned for people other than just herself, no matter how much she knows them.
Likes:
-Relaxing
-Dancing
-Don't act just do moments
-Being right
-Winning(She's very competitive)
Dislikes:
-Tripping
-Feeling fat
-Difficult decisions
-Being tricked
-Trusting the wrong people
-Has a fear of small spaces(REALLY small, like no matter how you turn the wall is somehow always touching you small)
Weaknesses:
-Feelings
-Clouded mind
-Isn't as strong as some
-can't crawl into small spaces
Strengths:
-Is very flexible
-Speed
-Agility
-Combat skills
Theme Song:
Falling Inside the Black- Skillet