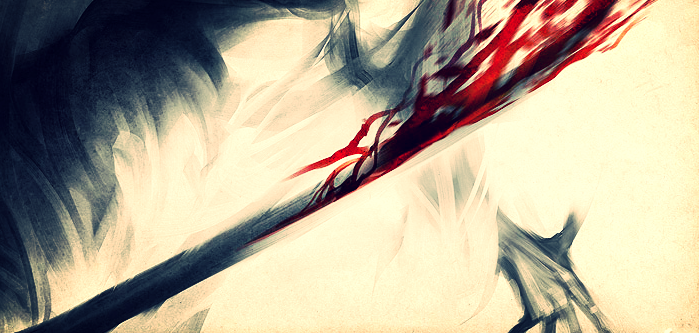 「
Kobayashi Chinatsu-dono is a lady of great renown. Known for her power and discipline in following the lead of her husband, Kobayashi Gendo-dono. She was taken as an example for all the women of Japan, and envy for the men. She was a symbol of peace, beauty, obedience, and control.

Until someone destroyed her world.

In a swift raid done by none other than Yousuke Haru, a warlord looking to take control of the province that the Kobayashi household watched over, Lady Chinatsu-dono's family is slaughtered before her eyes. She manages to escape with the help of her loyal retainer and Samurai, along with her ward. Torn by rage, loss, and by the lust for blood, Chinatsu-dono has forsaken the image of peace and beauty in trade for a sea of blood. She herself is not strong enough to hold a sword, but she has plenty of means with which to find those who can. She sends her Samurai and her ward to find her five of the strongest Ronin to join her cause, the reward for which she offers is handsome. Along the way the group will face shadow walkers and spies known as Shinobi, hired swordsmen to take them down, and the cunning and cruel Warlord Yousuke Haru, who might not be as human as he claims. Another difficulty they face is in fact, one another. Personalities and ways of life clash, along with rivalry and pride. This is a fool's errand they run, headed towards an army just to take down one man, though each participant has their reasons.

Are you willing to bathe yourself in blood?
」
「
This roleplay will take place in the Sengoku Period, but will not precisely match up realistically- since I intend to at some point include yokai (japanese demons) in the mix. So while I would like everyone to stick to the time period's limitations technologically and mostly culturally, the rules of reality are up for bending. As in this roleplay's reality will be slightly treated as an anime's world where mythology is possible. Think Inuyasha not naruto or rurouni kenshin. Of course I would like for writers to remain as realistic as possible to a character's accurate reactions to traumatic events and be capable of emotional depth. Adhering to the roles of what the life and jobs were like for a person in sengoku era Japan. I want these characters to be three dimensional, as if they were real people that the reader could sympathize with and care about. Much of this roleplay will be about the journey, you need to decide if your character will grow because of it or remain a steady rock. Put unique spins on your character and make them stand out to me, but keep in mind the culture of the time period. Basically I'm saying don't half-ass your character.

I do not do reservations, illustrated or anime images only please and be sure to fill your app out to its entirety. I don't know how many we'll when it comes to those working for warlord Yousuke so I highly advise you save those roles for a secondary character if you're interested in them. I won't allow just anyone to take a youkai or hanyou role so please note that if your profile is not compelling enough for those roles I may not accept it.

We will open up this roleplay a few years after Lady Chinatsu has been uprooted, she has gone half mad and grown violent, wanting to join her family in death. But she refuses to go until she is certain she has exacted revenge. Her location is in the province Edo, and the home she was booted out of is somewhere in the mountains. This means her specific home, the province her family used to lord over is down below on flat ground. She is still very rich, and if your character is motivated by money then they will certainly have quite a bit of it- if they are motivated by a challenge, well, this Warlord is rumored to be quite the demon. Or perhaps your character is motivated to join by something else? That's up to you to figure out. We will begin the IC from the morning they leave Edo and go from there.
」
「
C H A R A C T E R S
」
The Samurai

‖ Kato


The Ward

‖

Skittle_Overlord


The Saburuko

‖

Lady Ethereal


Ronin/Youkai

‖

Verdandi


Ronin

‖

almostinsane


Ronin

‖

mazamizari


Ronin/girl disguised as a man

‖

Ninja Bunny




Warlord Yousuke Haru

‖

Skittle_Overlord


The Adviser

‖

Verdandi




Combatant Youkai

‖

Lady Ethereal


Combatant Youkai

‖

Catgirl
8 posts here • Page 1 of 1
8 posts here • Page 1 of 1
Arcs are bundles of posts that you can organize on your own. They're useful for telling a story that might span long periods of time or space.
There are no arcs in this roleplay.
There are no quests in this roleplay.
Here's the current leaderboard.
There are no groups in this roleplay!
Welcome home, Promethean. Here, you can manage your universe.
Arcs are bundles of posts from any location, allowing you to easily capture sub-plots which might be spread out across multiple locations.
You can create Quests with various rewards, encouraging your players to engage with specific plot lines.
Settings are the backdrop for the characters in your universe, giving meaning and context to their existence. By creating a number of well-written locations, you can organize your universe into areas and regions.
Navigation
While not required, locations can be organized onto a map. More information soon!
There are no groups in this roleplay!
By creating Collectibles, you can reward your players with unique items that accentuate their character sheets.
Once an Item has been created, it can be spawned in the IC using /spawn Item Name (case-sensitive, as usual) — this can be followed with /take Item Name to retrieve the item into the current character's inventory.
Give your Universe life by adding a Mob, which are auto-replenishing NPCs your players can interact with. Useful for some quick hack-and-slash fun!
Mobs can be automated spawns, like rats and bats, or full-on NPCs complete with conversation menus. Use them to enhance your player experience!
Current Mobs
No mobs have been created yet.
Locations where Mobs and Items might appear.
You can schedule events for your players to create notifications and schedule times for everyone to plan around.
Add and remove other people from your Universe.
The Forge
Use your INK to craft new artifacts in Way of the Ronin. Once created, Items cannot be changed, but they can be bought and sold in the marketplace.
Notable Items
No items have been created yet!
The Market
Buy, sell, and even craft your own items in this universe.
Market Data

Market conditions are unknown. Use caution when trading.

Quick Buy (Items Most Recently Listed for Sale)
Newest
The price of love between a yokai and human is the life of an innocent. You tell me if that is fair.
Trending
The price of love between a yokai and human is the life of an innocent. You tell me if that is fair.
Most Followed
The price of love between a yokai and human is the life of an innocent. You tell me if that is fair.
your mom was fun last night
all your bases are belonging to us
Discussions
Topics

Replies
Views

Last post
Most recent OOC posts in Way of the Ronin
There have been no posts in the OOC topic for this roleplay!