⌈
"Do not assume that because I am a woman, I can not do great things. I am capable of more than you realize."
⌋
⌈
Age
⌋
She is 22, but will be turning 23 in a few months time
⌈
Appearance
⌋
Nariko is an intimidating looking woman, standing at a formidable five feet and eight inches. She towers over many other women and has an equal height to many average men. Because of her height, her physique leaves something to be desired. She has almost no womanly curves to speak of, save for slightly wider hips and barely there breasts. She is often mistaken for a man if she's seen from behind. Her long black hair is the norm and is often pulled into a high ponytail. She almost never lets it down, the exception being when she bathes. Her femininity stands out mostly on her face, which is adorned with large brown eyes, a small dainty nose, and pink plump lips. Her attire primarily consists of a plain black kimono with dark gray hakama accompanied by plain straw sandals. This style is unconventional for many women, but suits her line of work. In the warmer months she dons a kimono with a cut off right sleeve revealing a painstakingly detailed kitsune tattoo.
⌈

Likes

⌋


Fighting-Nariko has always loved to fight and is exceptional at it often besting many male foes.
Gambling-Gambling is a favorite pastime, but she has racked up quite a debt from it.
Flowers-Suprisingly, Nariko really enjoys flowers. She has no particular favorite, but enjoys their bright colors equally.
Wandering-She likes living on the road. She has met many interesting people along the way.
Drinking-While she's not a heavy drinker, she does enjoy a having some sake when she can afford it.



⌈

Dislikes

⌋


Animals-Her philosophy is that animals are only good for one thing....eating.
Losing- She really hates losing a fight, it makes her feel shameful.
Lords-More specifically, she dislikes lords who abuse their power and bully the weaker vassals and servants.
Girly Attire-She finds proper female kimonos extremely constricting and the fabric is often to colorful for her tastes.
Being looked down on-Because she's a woman, many men are quick to assume that she is weak and powerless. Most, if not all, of these men are quickly put in their place.
Women-More specifically, women who are content to let men rule over them. She wishes they would take more pride in themselves.



⌈

Personality

⌋


Nariko is certainly a strange woman, especially when compared to others of her gender. Her role as an Onna-Bugeisha is both unconventional and nearly unheard of. She enjoys being a pioneer of sorts and encourages other women to follow her lead, as far as stepping out of a man's shadow, to the point of irritation. She truly cannot fathom why a woman would be content to serve a man as if she were his servant.

She grew up without a female role model in her life, so she is largely uneducated in etiquette and manners. She is much like a man in that respect. While her life isn't largely based on debauchery, that doesn't mean she hasn't dabbled. She enjoys the more sinful things in life that Ronin should not even partake in. Many women view her as a horrible woman and as such she gets no respect from them just as she barely does from men.

She has a curious nature seeking knowledge and understanding in many aspects of her life. She is often impatient and hasty and is certainly not obedient by any means. That being said, she is not one to jump as quickly into battles as one would believe. She takes her time, sizing up an opponent, pinpointing weak areas if she can. Nariko is an impulsive spender, buying food and drink in excess, as well as gambling much of her little income away.

While she's not the most loving individual, that's not to say she isn't caring at all. People who she forms a deep bond with or people she likes a lot, she is loyal and even loving to. In terms of marriage, she is long past the right age. Her father tried to marry her off to a samurai of great standing, and while the engagement went decently, it ended in tragedy, leading her to distrust many men.



⌈

Relationships

⌋


Maeda Musashi-Though her relationship with her father isn't as strong as it was before her betrothal, she is still devoted to him and care deeply for his well being.

Other than her father, she has no close ties to anyone of notable importance.



⌈

Equipment

⌋


Katana- She keeps her katana always present at her side. With it's deadly beauty she has struck down a many foe.


Wakizashi

- A shorter blade than the katana, but no less important.


Tanto

-The third and final piece of a sword set, this dagger is best utilized as a last resort.



⌈

Strengths

⌋


Cunning-While Nariko is not as physically strong as male opponents, she makes up for it, by quick thinking in the midst of battle.
Polearm-Though she doesn't carry one around with her, Nariko is proficiently skilled in the use of a naginata.
Uninhibited-Nariko doesn't really adhere to the customs and mannerisms and as such isn't as rigid in every day life. Some find her refreshing, while others find her downright rude.
Versatile-Her lack of politeness is a strength in and of itself, making her a versatile opponent with no regard for proper battle procedures.



⌈

Weaknesses

⌋


Strength-Nariko lacks the brute strength that male samurais possess.
Impulsiveness-Her impulsiveness can often lead her in troubling situations.
Uninhibited-As well as being a strength, her uninhibited nature is also a weakness. Many will not associate with her or do business with her.
Gambling-Nariko gambles much to much, spending much of her meager income on gambling.

⌈

Home

⌋


Nariko has no real home to speak of. She supposed she could consider her father's little shack as home, but she's very far from there. If she had to choose, she would say the road is her home since she loves to wander and travel so much.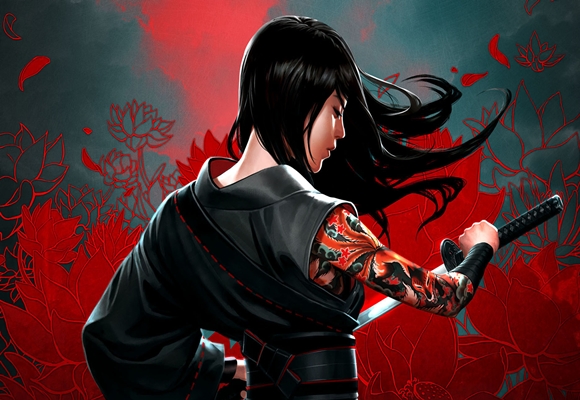 ⌈

History

⌋


Nariko entered this world on a sunny May day to a wealthy Ronin and his devoted wife. That day was also the one in which she lost her mother. She was the only child, and her father loved her mother too much to find anyone else to birth him a son. For a time, she and her father lived together in their family home. Her father tried to get the female servants to teach her the proper ladylike way to do things, but Nariko was disinterested preferring to spend her free time sparring with the boys. When Nariko was around five, their home was attacked while her father was away. The female servants took up arms, defending their home against thieves. Her father, seeing that Nariko needed to be able to defend herself and having no heir to his name, invested a lot if his time in her, teaching her how to use the weaponry that came with his profession.

When Nariko turned seven years old, her father's horrible gambling habit came to light. The lord he served had no more use of him after finding out about his distasteful sin. They lost everything they held dear, and were forced to leave their home. They traveled afterward, trying to escape the debtors her father owed. As they traveled, Nariko found a certain joy from this nomadic life and her fighting skills only improved from their frequent encounters with debtors. That time was some of the happiest in her life and she wished that they could travel all the time. Her wish was not meant to be granted. Her father and she settled in a small town where her father had many acquaintances. It was in this small village, that her father struck up a deal with a samurai, giving his daughter to him as a wife. Her father believed this to be the best course of action for her. She was unrefined and only a fellow samurai would be willing to marry her.

While she was initially against the very idea of marriage, she relented after learning that this samurai would pay off her father's debts in exchange for her hand. It didn't hurt that the man was certainly handsome. Her engagement period was going along just fine for a time when her husband-to-be was found to be a fraud. He had no money and was even poorer than Nariko and her father had become. Furthermore, he frequented the red-light district a little to often for Nariko's like. She, being the less-than-refined woman that she was, promptly called off the engagement. The man was humiliated and furious and meant to kill her for her insolence. He drew his sword and she drew her's. The man, being thoroughly beaten, was shamed and left to lick his wounds.

In the few years that went on since this incident, Nariko left home, traveling the countryside. She was able to earn the respect of a few lords along the way and was their samurai for a short time. While in their employ, the lords were ridiculed by the other daimyo for having a female as their samurai and, though she was an excellent fighter, they found they no longer had need for her services. As it stands, she is now a Ronin with no proper lord to answer too. She has racked up a great deal of debt from gambling and is in dire need of a more stable source of income.