"Curse whatever deity you hold dear, worms! The Mask Demon Sazaname is hear to rend flesh and bone- abandon all hope and yield, lest you incur my most fearsome wrath!"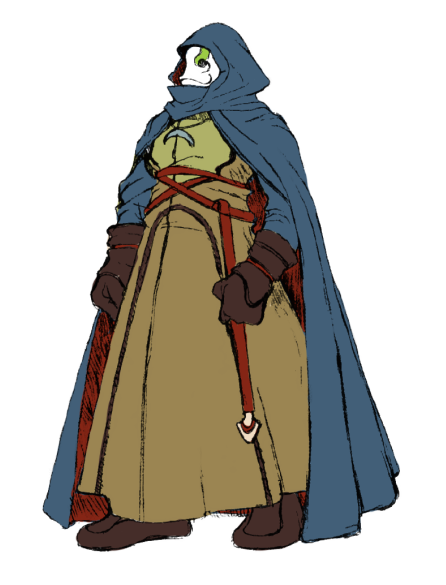 Nobody has ever seen the person behind the mask and lived to talk about it- not since a very long time ago, that is. Ryo is garbed in multiple layers of silk cloaks, with a harder leather exterior to act as additional padding. Ryo is never seen without its mask, or its trademark companion Okashii (a crude, unadorned hand puppet that somewhat resembles a dragon. The puppet rests on Ryo's left hand, and is never removed.) When conversing, Ryo stands tall and has very few idiosyncrasies, at least as far as physical mannerisms go. When Ryo is engaged in combat, however, its posture becomes far more bizarre, adopting an almost "Drunken Monkey" style of movement.
Ryo has no recollection of happier times- all he knows now is obeying the madness that Okashii instills in him.
Erratic, unpredictable, and downright unstable are adequate descriptors of Ryo. It actually becomes difficult to describe the characteristics of Ryo due to the fact that it seems to believe that Okashii, the hand puppet it constantly wears on its left hand, is in fact a living being (the puppet is actually a Tsukumogami Yokai of the same name. Okashii does not manipulate the puppet itself- rather, the puppet is merely the channeling medium by which it infects Ryo's mind with its madness.) Anytime Ryo is addressed, Okashii will 'speak' on Ryo's behalf.

As far as Ryo itself goes (Ryo's gender is anyone's guess, as it never removes its mask or has any indicative physical features,) it is very docile and obedient- though further investigation would reveal it is out of intimidation and not loyalty. The puppet Okashii, conversely, has a very commanding, abrasive, and condescending personality, constantly bossing Ryo around. Okashii only feels obligated to obey the strong- as long as he has been a part of Ryo's life, he has only taken orders from Warlord Yosuke. Interestingly enough, Okashii will answer to 'his' name as well as Ryo's name.

No living person knows who the man (or woman) behind the mask really is, nor what he or she has been through to become what it is today. Should one find a way to cleanse Ryo of its madness, one may find a truly different person…
Okashii- Ryo despises Okashii beyond comprehension, though it is powerless to resist the youkai's influence.

Warlord Yousuke- Ryo's current employer, very much against its will. Its forced loyalty has earned it the trust of the bloodthirsty warlord.
Straight Yari- Ryo's primary weapon of choice, it uses the yari to pierce and bludgeon. Ryo is also quite adept at martial arts, and will use the yari in conjunction with its own body.

Kusarigama- Used in the event that range is a necessity, Ryo handles the Kusarigama with a relative degree of competency.

Katana- Though Ryo would much rather use its yari to dispose of an opponent, the katana has proven to be a much more balanced weapon in the event that Ryo is facing a more skilled opponent.

Mask- Mostly used simply to conceal Ryo's face, though the mask is made out of harder material than most, and has proven unintentionally useful in preventing attacks from damaging Ryo's head.

Okashii- A puppet enchanted by the youkai Okashii. Ryo is unable to remove it willingly, and is the source of its madness.
Veteran Killer- Since early childhood, Ryo has known nothing but killing. Though having received no formal training, it has perfected a very bizarre technique imprinted upon it by Okashii, fighting more like a demon than a man.

Unpredictability- Having its will bent to the whims of an unstable youkai, Ryo does not operate under the principles of human logic and reason, making it very unpredictable both on and off the battlefield.

Bouts of Sanity- Very infrequently (and usually very briefly,) Ryo has been known to push away Okashii's influence, temporarily regaining control of its own mind. What triggers these bouts is still a mystery to Ryo, however, and could very well be the answer to removing the youkai from its mind once and for all...
Slave to Madness- Ryo's actions are dictated by Okashii, and therefore lacks any ability to exert its own will.

Limited Memory- Ryo lacks many memories of its own past- it can't even remember what its real name is (Ryo was a name given to it by Okashii.
Before it became under Okashii's influence, Ryo was heir to a vast fortune under a noble family living in Osaka.
Ryo has very few memories prior to his reign under the youkai Okashii. Being the heir to a vast fortune, Ryo vaguely remembers a happy childhood, with loving parents and plenty of friends. It was when it turned six years of age that Ryo's life began to take a drastically sinister turn.

This is Ryo's most vivid memory of its damned childhood. It remembers a party thrown in its honor, and as a present, it received a dragon puppet. It was a gift from its best friend, and as such, it became Ryo's most valued possession. However, after a few months, severe changes began to well up from young Ryo. It began to mutter very strange things, and become far more mischievous than it typically acted. These acts of simple mischief, however, soon turne far more sinister, and Ryo became gradually more and more violent, going so far as to brutally injure her nanny one fateful evening. Ryo was put into the care of an exorcist, her parents convinced she was haunted. At the behest of the chaotic puppet, however, Ryo killed the exorcist and fled Osaka, never to return again.

Ryo's memory about its own life get fuzzy from there- all of its memories are washed in bloodshed and fear, of its own and the hundreds of thousands of people it has slaughtered over the years. Ryo doesn't recall studying under any teacher- instead, Okashii imprinted its own variance of fighting unto Ryo's psyche, which causes it to move and strike like a crazed demon- fearless and unpredictable. It struck homes, villages, even small towns, expressing its unwanted madness by means of mass slaughter. This campaign across Japan ensued for fifteen years, until Ryo finally met its match- a Warlord by the name of Yousuke Haru. Realizing its potential, he spared the bizarre murderer's life in exchange for its loyalty and servitude. Fearing for his vessel's life, Okashii ordered Ryo to accept the warlord's terms, and Ryo has since acted under the banner of Warlord Yousuke, most recently taking a flagship role in the raid on House Kobayashi.

Though it has very few memories of its own life, a consequence of Okashii's imprinting was the viewing of Okashii's own memories. Okashii was a youkai outcast, infamous for bringing children into the youkai realm and performing twisted experiments on them, oftentimes at the expense of their lives. His experiments earned him a death sentence, but before it could be carried out, he fled to the human realm, disguising himself as a puppet. He spent a few years on the shelf of a puppet store, before being purchased by a young girl as a birthday present for her best friend. Once obtained by Ryo, Okashii's old habits got the better of him, and once again, he could resume his research that had been cut short. Unlike his previous endeavors, however, Okashii is very much bound to Ryo's well-being- he sealed his entire being into the puppet in order to conceal his youkai prowess, and consequently can only interact with the world by speaking through Ryo.