Sakurai Hidemasa
⌈
I do not practice medicine for my own sake or the sake of others. I do it for the sake of the one I have lost.
⌋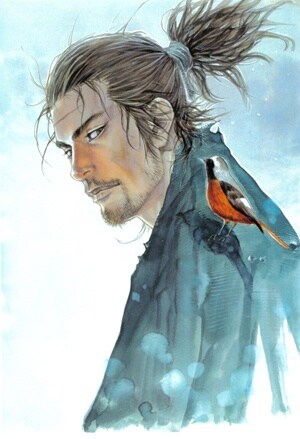 ⌈
Age
⌋
39
⌈
Appearance
⌋
Rugged and sturdy are the first two words that come to mind when you lay eyes on Hidemasa. When he is not hunched over, he stands at 6' 3", towering over the general population and intimidating most of his opponents. He is not a lithe man; his body is composed of sizeable, dense muscles to match his enormous strength and when combined with his height he is, for all intentions, a goliath. His skin has obviously seen better days. Despite being a rather well bathed man who values cleanliness, it almost always has the appearance of being coated in dirt much to his chagrin. His uncharacteristically dark skin reflects the large amount of time he spends outdoors. The many scars he carries also accurately suggests that he has seen many battles. His most prominent scars are the ones that crisscross across his chest, the single scar on his forehead, and the large one that run nearly all the way down his right arm.
His face could be considered attractive to some if he took more care to make himself seem that way, but he doesn't so he is most certainly not an exceptionally handsome man. Hardly clean-shaven, his strong jaw, chin, and upper lip are obscured by coarse, uneven stubble. His nose is long and shows some minor signs of having been broken more than a few times in the course of his life. Chocolate orbs, which expose experience and insight, peer out of narrow eye sockets and are curtained by dark, heavy eyebrow. His hair, though usually tied up, is approximately shoulder length and an extremely dark, almost black, brown. Usually he wears a blue yukata with a black obi and frayed geta (sandals). Taking in his appearance, one would immediately assume he is both homeless and penniless. His face is very honest though, and reflects most of his thoughts pretty clearly, but as a general rule, he usually wears a grin that gives the impression that he is mocking you. Which is highly insulting considering his appearance.
⌈

Likes

⌋


Women: It is no secret that Hidemasa is fond of the company of beautiful women. When searching for him the best and first place one should look would be the nearest brothel. Notice also that 'women' is plural. He has no interest in being committed to one woman, not anymore.

Healing: It isn't so much curing someone of an ailment that he enjoys, rather it is the look on their face when they realize that such a large, intimidating, haggard man possesses a high degree of medical expertise. Although, there is some degree of a sense of satisfaction that comes when he successfully treats a disease or injury.

A Breeze on a Sunny Day: His favorite pastime usually involves finding a nicely shaded area on a comfortably breezy day and taking a nap. To Hidemasa, there is something calming about the breeze, as if the air is taking away all his discomforts as it drifts by.

Kiseru: A Japanese smoking pipe. Hidemasa thoroughly enjoys smoking his pipe, especially in the company of other smokers since he feels it gives one the opportunity to have either an in depth conversation or just enjoy some silent company.

Gyudon Donburi: A bowl of plain cooked rice with stewed beef on top. Rice is a staple of Japanese cuisine and it is relatively cheap. For someone who is on a rather tight budget the opportunity to layer something delicious on top of his regular meal is welcomed.

Studying the Human Anatomy: He doesn't cut people open and study their intestines or do anything extremely harmful, that's not something he enjoys; however, he loves studying pressure points and the way in which they affect the body. One has to be careful when coming to him for care because, when they least expect it, he'll start poking at their many pressure points.



⌈

Dislikes

⌋


Cold Weather: His yukata is not suited to the cold weather, so when it rolls in he is usually quite miserable and spends most of his time indoors, which is not something he particularly enjoys either.

Flowers: Hidemasa is allergic to almost every flower there is, so he seriously hates them and their smell. His least favorite flower is a Sakura blossom, but those that know him know that his hatred of the Sakura has nothing to do with his allergy.

Poison: To a doctor poison is his bane. While his skill can cure most poisons with work, he finds them to be the tool of a coward. He believes that the only reason a warrior would need to use a poison is because he is incapable of defeating his opponent without its use and is unwilling to train himself to rectify that fault.

Cowards: This does not include everyone who walks away from a fight. He himself has been known to leave a battle when he recognizes that there is no way to survive. To Hidemasa a coward is someone who would put somebody else in harms way in order to ensure his own survival.

Recklessness: Those that do not put thought into their actions deserve whatever happens to them. To Hidemasa they deserve a lot worse. He especially hates to see this quality in his fellow Samurai. They have been given the responsibility of a weapon, and to wield it carelessly is to dishonor themselves, the weapon, and their teachers.



⌈

Personality

⌋


Describing Hidemasa can be a very complex task. The easiest way to do it would be to describe him in layers. When you first meet him you'll uncover the outermost layer. This tier reveals a loud, vibrant, chatty sort of man whose company you'll either really enjoy or really abhor. He loves people and is excessively sociable; there are very few individuals he won't like upon first meeting them and this is due to the fact he never judges a person before he knows them. Though a very bad habit, he tends to assume the best in people. Aside from being friendly he is also quite flirtatious. As mentioned before he loves women and he leaves no question in any woman's mind that they aren't excused from this. Of course, he does not consider all females 'women'. There is a fine line between girl and woman; if you fall short he lets you know in the jesting manner that most that are familiar with him expect.

The level beneath that one you only come to know after having an extended interaction with him. Those that become friends with him would experience this part of his personality. Underneath his flamboyant exterior is an extremely prudent and levelheaded man. He has seen a lot of good and bad things in his many years, both as a doctor and as a samurai. He understands the nature of the world and the people that live in it and he knows how to properly deal with it. While he doesn't actively seek out people to whom he can give advice, if you come to him he will provide you with it. Working as a doctor means that he a lot of experience in comforting people with little hope. Whether or not he enjoys doing it is doubtful, however, he does a lot of things he doesn't specifically enjoy. Being a doctor is one of those things. To be perfectly honest, Hidemasa would rather not be offering assistance to people, but he does so anyway.

To explain this behavior you'd have dig a little deeper and observe his attitude on the battlefield. While he seems very kind and merciful in his normal interactions, the moment he lifts his weapon to face a man there is a shift in his very nature. He becomes a ruthless monster. The reason behind his choice of weapons can accurately depict this. He prefers his hanbō to a sword because the weapon lets him easily keep his opponents alive longer if he so desires it and this lets him continue to beat them. However, more than beating his opponents, he seeks the thrill of being on the edge of his own death. It used to be that this was how he always was, on and off the battleground. However, his wife changed this about him. When he fell in love with her he sought to be worthy of the kindness she bestowed upon him. He wanted her to be proud of the man he was and this is something he always thinks of even though she's gone. Even now, he desperately seeks her approval of the man he is.

It is hard to tell what Hidemasa would consider good or bad. He lets a lot of things that most would consider morally evil slide, but there are some times he won't let those very same things go. No one could really say how he decides, and that includes him. For the most part, he will react if he believes his wife would have wanted him to, but sometimes he reacts only for the sake of amusing himself. Hidemasa is not an evil man. He doesn't do bad things he just doesn't always stop it and he certainly doesn't generally seek revenge.

---
---



⌈

Relationships

⌋


Usami Kaede: His younger sister by four years. He is very protective of her and still visits her from time to time. When they are together it is easy to tell that they are close through their incessant nagging. However, when they are apart he never mentions her for the sake of keeping her and her family safe.

Usami Harukata: His sister's son of eighteen. Despite knowing that he has technically grown into a man, Hidemasa amuses himself through the continued treatment of the man as a little kid. Harukata complains to his Uncle regularly, but the two get along splendidly despite that.

Sakurai Nariko: Hidemasa's deceased wife. While she is no longer living it is important to mention her. He doesn't speak her name anymore, and it is best not to mention her to him since the topic is a sensitive one that will send him down a reckless, self-destructive path. Even now she continues to be the center of his life and his heart has no room for any other. Every winter, on the anniversary of her death, he visits her gravesite.



⌈

Equipment

⌋


Hanbō: This is his weapon of choice, and though it does not have a cutting edge he is more than capable of defeating a katana with it. His particular hanbō is made of hardwood and is equivalent in length to the height of his hip. Usually he uses it as a walking cane, which makes it seem very much unlike a weapon.

Tantō: His least favorite weapon and the one that he only carries with him when he needs a sharp edge. Generally, he never draws it unless both his other weapons are useless as well as his fists.

Kusari-Fundo: This is a 14 inch chain with two rectangular weights on each end. The weights weigh approximately 87.5 grams. This is not his weapon of choice since it doesn't provide him the ability to accurately hit pressure points. But it is a very a effective weapon when he wishes to incapacitate but not kill an enemy.



⌈

Strengths

⌋


Advanced Knowledge of Combat Techniques: Hidemasa spent the majority of his youth learning several different school of combat. Due to this he is fully capable of switching his technique in the middle of battle making it much harder to predict his next move. His knowledge also makes him capable of analyzing and comprehending others techniques.

Upper-Body Strength: All it takes is one look to know that Hidemasa is a very powerful man. He finds it relatively easy to overpower most of his fellow samurai; while not always the case, the average warrior would find it difficult to match his strength.

Speed: Looking at Hidemasa you would never be able to predict that he is as fast as he is. Despite his bulk he is capable of moving at great speed which is necessary in his art of wielding his hanbō.

Knowledge of the Human Anatomy: As a doctor, Hidemasa has a superior knowledge of the human body. He is fully aware of most pressure points on the body and how to best utilize them as well as where the muscle attachments, major arteries, and weak point of the bone are located. All this knowledge makes him fully capable of dispatching his opponents with one strike.

Experience: Hidemasa is not a youth anymore and he has seen his fair share of battles. He has been in many unique situations and has survived them. Due to all this experience, he is also capable of steeling his nerves and making decisions that others may be unable to make because of their own fears or instincts.

Medicine: Unbelievably, this rugged man is a practicing doctor. He is fully capable of treating injuries, ailments, and poisons. He uses both classic techniques as well as some western techniques. He believes that as long as it works then it should be a perfectly acceptable form of healing.



⌈

Weaknesses

⌋


Arm Injury: Despite being a doctor there are some ailments that cannot be permanently cured. One such injury is one he received in his early thirties. During a battle he sustained an awful wound to his right arm and while it is generally fine, if he uses it too extensively it can start to give him problems.

Women: He doesn't just love them. The fact is he absolutely refuses to injure one. If you were to ask him to fight one he'd probably end up laughing at you. While he may defend himself from a woman's attack, he would never strike the attacker. This could be considered his greatest weakness.

No Cooperation: To say that he does not get along well with people would be inaccurate. Generally he likes people. However, on the battlefield his fighting style tends to clash with his allies. Either they interfere with him or he somehow interferes with them.

Low Stamina: Hidemasa has been living as a doctor for a while now and hasn't been entirely consistent in keeping up with his physical state. While he is still technically in great shape, his stamina is not on the same level as many of the younger bushi.

No Sense of Direction: Perhaps not the most important or deadly weakness but the fact is that this man could get lost in his own house. It is almost a guarantee that if you see him wandering about it is because he is lost.
⌈

Home

⌋


He lives as a doctor in a humble home located in the Owari province.



⌈

History

⌋


The Sakurai household, a family renown for the long line of brilliant physicians that have been the instigators behind many advances in eastern medicine, brought forth another son to carry the family line thirty-nine years ago. That son was Hidemasa. It was an unfortunate occurrence that the boy had little interest in studying medicine. While, he was raised in the closed quarters of a physician's workshop, he couldn't deny the draw he felt to the freedom of the battlefield. However, he was to uphold the family lineage, he was to be a doctor so he was denied that freedom. The Sakurai household never realized that the dissatisfaction they instilled in him would foster a violent heart.

He studied the ways of a physician with much false enthusiasm, he fooled his family into believing he joyously wished that he would one day be a doctor. Or rather he thought he did. While he played the part perfectly in the company of his family he was never quite so successful in the open air of the town. Whenever he could he would escape the confines of his home and seek out others with a similarly violent nature. He bonded with them not through dreams of a violent future but with vicious fists. The cuts and bruises he returned home with did not the eyes of his father, how could they? Desperately his father attempted to dispel his ferocious nature to no avail.

Opportunity knocked when a skilled ronin wandered into town. The samurai took great interest in Hidemasa, he saw in the child a remarkable aptitude for the ways of combat. The samurai filled the young Hidemasa's mind with vision of magnificent, gory battles of honor and skill. The youth knew, this was what he was meant to be and nothing would stand in his way.

With a lot of convincing his father finally allowed him to leave and study to become a samurai. His dream would finally come to fruition; he would learn the art of killing in the place of the art of curing. He learned quickly and soon found that he could combine his medicinal knowledge with his combat skills to become an even more effective murderer. A murderer was what he was becoming. As he learned and fought he grew more and more obsessed with the battle, blood, and screams. He was obsessed with victory, with continuously coming back from the brink of death, and watching the life leave the eyes of his opponent.

He was a monster. He became famous as a monster. Wherever he went he was feared. Few did not know of him and few did not want his knowledge of combat and skill for themselves.

This all drastically changed halfway through his thirty-second year of life. He fell in love with the daughter of another family of physicians. Their meeting was coincidence and had it been under any other circumstances he would never have loved her. He made a reckless decision and received an extremely severe injury to his right arm. Unconscious and bleeding she found him. Nariko. A kind heart by nature she could not leave him so she brought him back to her home where he was nursed back to health. Disdain for her and her practice of medicine gradually grew into affection. A feeling he long though he was incapable of. To earn her love he gave up his blind violence and resumed his family's practice. Though he continued his training he no longer did it with the intention of murder but with the intention of protecting the woman he came to love. They married a year later.

Nariko's favorite flower was the sakura of the Japanese cherry blossom tree so Hidemasa planted the tree by their home. A gift to her, a gift he would nurture in the same way he planned on cherishing her. A symbol of his affection the tree grew as his love for Nariko did. He was happy and peaceful; he was satisfied with that happiness and that peacefulness.

While she lived he once again grew famous, not as a monster but as a doctor capable of curing almost any disease and wound.

Nariko died three years later in childbirth.

Hidemasa never forgave himself for being unable to save her and his child; a few weeks after her death their tree died as well. He currently lives alone next to a flowerless sakura tree, he largely works as a doctor for the general community but he has on occasion taken up residence with any daimyo that could afford his skill either as a samurai or a doctor. Those that remember him either remember the monster or the physician; a few remember him as both. These people are usually very disappointed when they first meet the man he seems to have become.

---