Male side:
Female Side: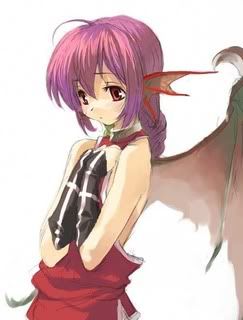 Name
Codienceara Toriencea Sofrina. But call him/her Codie.
Age
As old as Time itself. Looks around 22 though.
Character
Demon
Species
Shape-shifting Demon
Powers
Makes people trust him/her and forget about her past wrongs. Immortality. Dissolve into/ out of shadows, Shape-shifting.
Personality
Codie is a flirt and a big tease. He/She "wraps" herself around her prey, and doesn't let go. She/he is a liar and a deceiver, but you quickly for get that he/she ever tricked you as soon as you figure it out. He/She's not completely evil, but pretty close as can be. She/he has a hard time deciding if he/she wants to be male or female, so they are always changing whenever the mood strikes.
History
Was placed into the book, by the wizard because she/he cause too many problems with local men, and women, not wanting to marry. Codie enjoys the comings and goings of people in and out of the book. Codie has not quite decided to look for the one who will free Him/her.
Other
Codie was born male and when he became sick of being a male he simply wished he could be a girl and it happened. ever since then he has switched whenever he/she wants to. Codie likes "experimenting" with males and females.