---
General Info
---
Name: Kanta Rachana
Kanta - Indian "desired, beautiful"
Rachana - Indian "creation"
Breed: Indian Lepoard
Age: Young Adult (relativley close to adult)
Gender: Female
Role: Supernatural - Heat vision (Can see heat from warm-blooded creatures. Can only see hints of orange/yellow with heat vision and will not work on cold-blooded creatures)
Ranking: N/A (for now! c:<)
Theme Songs:

Normal Majestic - Mark Petrie

Sad Lana Del Rey - Dark Paradise

Happy Deorro feat. DyCy - Five Hours (Don't Hold Me Back)

Playful OMFG - I Love You

Hunting Tobu & Syndec - Dusk

DenMaid Kidswaste - Underwater

Warrior The King Is Dead - Victory In Numbers
---
What you look like
Fur colour: Orange/White with Black spots
Eye colour: Olive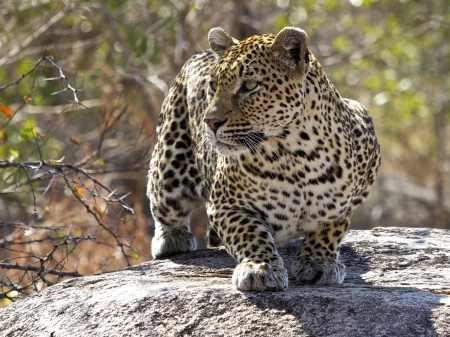 ---
Personality
Five Traits:
Shy, Intelligent, Hunter, Skeptic and Withdrawn (both due to her past)
Kanta is a shy, but intelligent lepoard, who would probably feel sorry for people with Hippopotomonstrosesquipedaliophobia (the fear of long words), if it weren't ironic, and questions descisions before agreeing that it is the correct descision, sometimes making people underestimate her and help hide her ability. Being in exile has made her withdrawn from other groups, although her hunter instinct makes her end up stalking prides (more details in backstory). Her favourite colour is Olive, like her eyes.
---
Skills
Quick Thinker, unless she is under stress
Good Hunter
Good at talking out of situations (usually)
Fast
Flaws
Easily agitated or distressed; high-strung or jumpy.
Scared of Rainforests, dry deciduous forests and temperate forests
Scared of rivers
Scared of agressive things (depending on if they've proved it or not)
---
Likes
Socialization
Hunting
Stalking
Learning
Dislikes
Exile
Rivers
Being Idle
Rainforests
---
History
Kanta started as a little lepoard cub, raised in an Indian Rainforest with her parents moving to a dry deciduous forest and then a temperate forest. Her childhood was made up of moving around, until her father angered the group leader, getting himself killed and putting Kanta and her mother in exile. They spent 2 years looking for a group to join, with no avail. Then they got split up when her mother got washed away by the rapids of a river, leaving Kanta on her own as she was starting to be a young adult. After a few years, she'd enhanced an ability she was born with, which helped her greatly in her travels. She learned to hunt by herself and make natural shelters a bit cosier because of her intelligence.
She has recently seen another lepoard, but is reluctant to introduce herself immediately, so she is stalking them to try and see what might work for them and maybe finally be part of a group again.