---
---
---
---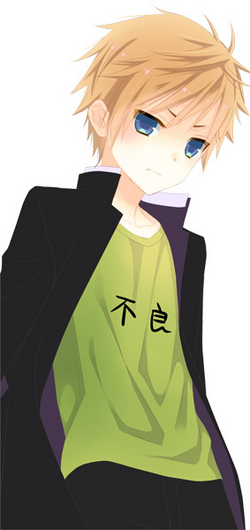 Name
Azuma Shuuta
Nicknames
ZERO
More of a handle-name than a nickname, Azuma will introduce himself as Zero over his real name.
Age
15
Mutations
Precognition || The ability of futuristic sight. The user is able to see events taking place ahead of time, allowing them to change their actions accordingly. However, in Azuma's case, his precognitive ability only spans as far ahead as 5-10 seconds and is limited to his general vicinity. Though this ability is passive and always in effect, a person with fast enough movements can easily overcome the reaction speed of the user.


Astral Projection || The ability of an out-of-body like experience. The user is able to project their consciousness out of their physical body, forming an invisible, ghost-like self that is free to roam. However, as the user's consciousness is mobile, their physical body remains static, leaving them very vulnerable and exposed.

Face Claim
Banri Watanuki || Inu x Boku SS
---
---
Eye Color
A deep blue that changes into a deep red when his abilities are active. As his precognition ability his passive and always active, his eyes are always occasionally blinking between red and blue.
Hair Color
Originally black, but was bleach-dyed to a bright blonde.
Height and Weight
5'8", 120 lbs.
Appearance
Azuma is pretty much an average looking male, with the exception of having eyes that constantly change color. His messy hair is bright blonde, obviously bleached dyed, with a little bit of accessory on the left side. Your typical snooty character, he appears to have absolutely no interest in the ideas and actions of others, often having a scowl on his face. He's the kind of person who would rather be independent.
Other Features
He's got several bruises and scars from fights, proof that he isn't at all a people person.
Clothing
He usually just wears his school uniform which consists of a black uniform jacket with pulled up collars, a white t-shirt underneath and black pants. Although, he will occasionally wear more casual clothes which substitutes the black jacket for a white one.
---
---
Personality
To accurately describe Azuma in one word, stubborn. He is unwilling to make compromises that he believes aren't worthwhile. Due to this, he is more of an independent person. Believing that other people will just slow him down, he refuses to work with others, unless given a valid reason, and will solo tasks no matter how difficult. Parts of the reason he doesn't like working with others is issues with trust and not liking to rely on others. Being a person of independence, he never enjoyed the thought of giving work to others, as teamwork would suggest. Due to his mutations, he found it hard to confide in others as he wasn't sure whom he could trust. However, because of that mistrust, when he finds someone he believes he can truly trust, another side of him opens up. The same goes for those which he respects. While he portrays himself as the nonchalant, uncaring kind of person, he truly wants to help others. Though he'd never willingly admit it.
---
---
Likes


Helping people
Training
Reading
Quiet places
Making Gambles
Parkour
Dislikes


Certain People
Losing fights
Loud places
Optimists
Villains
Weaknesses


Reaction speed || Despite training himself in CQC, Azuma can still be beat by opponents who are faster than him as they can outpace his precognition ability.
People in Danger || Despite acing cold-hearted, Azuma will drop whatever it is he's doing if it means rescuing someone in danger. This is a fatal flaw of his, but he doesn't like the idea of leaving random people in harms way.
Gambling || Azuma is exited by the prospect of gambling and is always enjoying a good bet. However, he will often bet a lot and if he loses, which he believes he never will, things can get pretty dire for him.
Fears


Fast Rides || Since his precognitive ability is passive and always active, going on certain rides, such as a roller coaster or drop tower, are absolutely nauseating. With his ability, it would be like experiencing the ride twice within seconds of each other. He had to learn this the hard way of course.
Being Unable to Help || He absolutely perishes at the thought that there will be someone he needs to help, but is unable to. The very thought of it puts him into a semi-depressed mood.
Death || Even though he has the abilities that can at least help him live a while longer by avoiding dangers, Azuma still fears the unknown after death as it is a future he cannot foresee.
Favorite Color
The calming orange of the sunset
---
---
History
Azuma was born and raised in Japan under the family name of Kurome. After an argument with his family, Azuma left and took the first plane he could find. This plane happened to be to America. He snuck onto the plane and never looked back. He was a quick learner so he studied the English language on the flight. He had learned enough to get by and that was that. Upon arriving in America, he changed his family name to Shuuta, renouncing all ties he had to his old family. A few weeks later he was settled in and going to school. However, being a foreigner, his school life was hard and he became an independent student. He wasn't sure when it started, but he began to have these premonitions. At least, that's what they were often referred as. Soon enough, he began to understand that what he had was precognition, the ability to see into the future. Granted, it was only several seconds into the future. He used his mutation to his advantage and started fights with the people who tormented him. He got in trouble with the police for this numerous times.
His first out-of-body experienced happened a month later. The mutation had kicked in one day as he was walking home, forcing his consciousness out of his body and into the world. At this occurrence he noticed a person being robbed. As he was currently using his astral projection, he couldn't help. After a while, the ability wore off and he was back in his body. Though that would make one happy, he couldn't help but feel defeated since he couldn't help the person in need. It was at that point where he started training himself in close quarters combat. With his astral projection he scouted out locations where crimes were being committed. With his precognition ability, he ran in and saved the day, or so he felt. He felt amazing with his actions and ended up making a name for hiself. When he went out to help people as he did, he would put on a
mask
and refer to himself as Zero. He became relatively known within his area. However, he became too well known.
Soon enough, the government had sent people to retrieve him. He was at home at the time and, thanks to his ability, he was able to leave seconds before they broke in. With the help of his abilities and his training he was able to avoid being captured by jumping and vaulting over stairs and onto roofs. He managed to escape them for a while, but he was eventually caught. He got caught and was taken away to the Military Base and has been there for a while. Naturally, he avoided contact with most of the other captives. He played the role of the perfect captive and always did what he was told, but he was always on guard and looking for his ticket out.
---
---