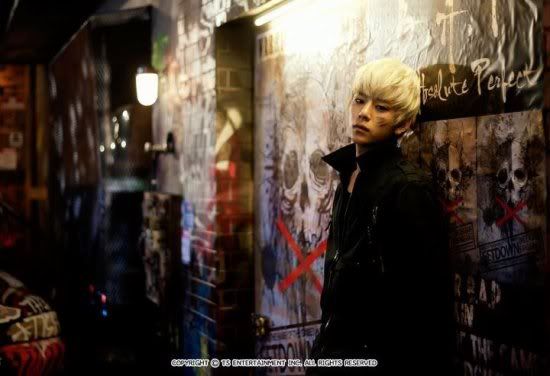 "He who keeps his cool best… wins."
---
Role:
The Freakshow
Gender:
Male
Age:
23
Physical Description:
Ezra doesn't look physically strong when people take quick glances at him. But if they looked closely, saw the way he walked, the way he held himself up, they'd notice the strength that hides underneath his dark clothes. Though they would definitely notice his height. Standing at six feet and four inches, Ezra easily towers over most people he meets. However, he's very lean, and has small stature for his height. He could even be described as lanky.
His skin is bronzed from his time outside. He has dark rings around his eyes, due to frequent bouts of insomnia. His eyebrows are dark, but Ezra bleaches his hair, wanting to stand out a bit. Ezra has a very angular face with sharp cheek bones that make him attractive to the majority. He usually, on the outside, looks very sweet and friendly with a bright white smile. However, if someone managed to catch him by himself, they'd see the normally cheerful Ezra looking pissed off and slightly intimidating, with the darkest scowl on his face. Both ears are pierced and he usually wears dark or silver studs. He also has an industrial going through his right ear. So basically, he looks all punk and gangster.
Now… for the freaky side of him, Ezra suffers from faint scars littered all over his body, and… wings. Gigantic twenty feet of feathers sprout from between his shoulder blades in his back. Each feather seems to shimmer with the darkest blue black shade known to mankind. It's too hard to try to hide, so he cuts out holes in his shirts and jackets so they aren't restrained.
Fashion Taste:
Ezra wears dark clothing, with the occasional splashes of color. His jackets are different styles of black leather, his pants are black skinny jeans. He wears a silver crucifix on a silver chain around his neck at all times. His fashion would border on punk/rock. As for shoes, he prefers comfortable sneakers, or combat boots. Each item was carefully bought and high quality. Ezra likes clean, and washes his clothes frequently. He's a high standards type of guy.
Face Claim:
Jung Dae Hyun
---
Skills:

[+] His wings make it effortless to get from place to place. He can travel through the air. His wings are powerful and can usually work in any type of weather condition, if he had to.
[+] Being so different, Ezra learned to be stealthy. He's fast and quiet and can move silently. Even with his wings, Ezra can almost melt into the shadows, making it impossible to notice him, unless that person is very perceptive, or he wants them to.
[+] He may not be a social butterfly, but he does have his connections. Ezra can be very charming and people tend to really enjoy being round him. He's likeable and has many friends even with his condition.
[+] Plus, he's very talented artist. Be it singing, or drawing, Ezra really excels in art. It's been a great source of income for him. His friends help him get his work known, and he's even a popular internet vocalist, dubbed Lucifer by the public.

Weaknesses:

[+] The most obvious one is the wings. It prevents him from behaving and looking normal. He's an easy target for anyone. Many times, when he was younger, he's experienced what it's like to be held in a cage. Some people see him, and see a way to make money, or fame or whatever. It prevents him from going out in the daytime.
[+] His appetite is a bit of a problem. He eats on average five meals a day. Going without food for even a few hours, makes him light headed, and tired. And when he does eat, Ezra eats enough for three other hungry people.
[+]Even with the size and power, his wings wouldn't carry him for long if he was the same weight as the others with the same size. He should weigh 150 pounds at the minimum, but only weighs around 120 pounds. His bones are lighter than other people. If he got into a serious fight, he wouldn't be able to take too much physical impact.



Mannerisms:

[+] When he's lost in thought, Ezra unconsciously strokes his feathers. It's become a constant habit. He never even realizes he's doing it.
[+] He always says please and thank you. He dislikes sounding rude. If he wants something, he always tends to pose his request as a question. He hardly ever demands or orders.
[+] He enjoys hugs. And hand holding. He doesn't get physical contact often, in fact, almost never. So if he ever sees an opportunity, he'll make the best of it. He sees someone crying, he's at their side in an instant, trying to comfort them. Mostly guys think it's weird, most girls think its sweet.

Likes:

[+] Sweets
[+] Stormy days/nights
[+] Citrus
[+] Halloween
[+]People

Dislikes:


[+] Money
[+] Mushrooms
[+] Bad Hygiene
[+] Science

Fears:

[+] Small, cramped spaces
[+] Weapons (knives, guns, etc)
[+] Trusting

---
Personality:
Ezra truly is the sweetest, most lonely boy. He's never seen without a smile on his face. When someone is obviously down or upset, he'll go right up to them, and try to cheer them up. IT doesn't happen often though, since he only goes out at night. All he wants is to be normal and be accepted by everyone. It would be his dream come true to be able to live a normal life, hanging out with friends, working, have parties… and to not be scared when someone even looks at him weird.
Because of his past and present, Ezra has a hard time trusting people completely. But once it's earned, he's completely devoted and loyal. He acts cheerful and very optimistic. He doesn't see the point in being sorry for himself all the time. So he tries to make the best of every situation. He's been through so much pressure and stress that he uses his money to help the street kids he used to be a part of.
But on the inside, Ezra can't help but feel so frustrated and angry. He never asked for this, of all people, why him? He hurts a lot inside and doesn't get a lot of comfort, so he just bottles it all up inside.
---
History:
Ever since he was four, Ezra has been on the streets, living in a decaying building, that wasn't a home at all. He didn't have access to any luxury. He hardly ever got clean, ate an appropriate amount of nutritious food… it's made him who he is now. No one trusted the other, it was a competition for survival. Ezra, being naturally friendly and outgoing, had a hard time, as his food was stolen, and the older kids beat him up. They called him pigeon. And more than once, broke some bones and once, when he was seven his wing snapped. They called him a freak and left him there, broken on the ground.
He wasn't aware, but a stranger picked him up, and when he woke, he was in a white sterile gown, strapped face down on a bed. After a few days of painful experiments, he was able to escape with the help of a sympathetic janitor. Ever since then, he moved place to place, chased. The night became Ezra's best friend. He never set out foot in the day light if he could help it. Food was stolen or scavenged.
Then he turned thirteen. Ezra's always been clever. He snuck into a gang. It wasn't one of the super violent ones. They didn't really care that he had wings sprouting out of his back. As long as he did as was told, he was basically accepted. He quickly moved up the ranks. It wasn't hard with his naturally charming personality. Then his reputation grew, causing more people to come after him. When his gang members started getting hurt, he left.
He knew this wasn't the only way to live. The young boy finally ventured out into society. An older woman had started leaving out some food for him. The rare show of kindness gave him some courage. She took him in and it was the most love Ezra had ever known. She gave him an education, shelter and food. In return he did all the chores that needed to be done. Then she died when he was 17, and he inherited all of her things. He found his passion for art, sold some art works, sang a few songs, and grew famous on the net.
---
Equipment:

[+] He carries a little silver knife in his back pocket.
[+] A decent amount of cash (He may need food)
[+] A few pencils
[+] A pocket notebook