"Jacob"
Name
Benjamin Jacoby Oxford
Nickname(s)
Goes by the name Jacob, though some people like to tease him with his first name. Jacoby is mostly used by family
Age
22
Gender
Male
Sexuality
Bisexual (just recently realised that he also likes guys)
Position
Male 4
Pack
The Oxford Pack
FaceClaim
Daniel Howell
Appearance
Jacob has really dark brown hair that in some light looks black, chocolate coloured eyes and skin that would probably be a lot more tan if he didn't spend so much of his "human time" inside. He is rather tall and skinny, giving him the look of a scrawny teenage boy. A lot of people tell him that he looks younger than he is, which sometimes come in handy... though mostly it's just a disadvantage. Jacob is anything but strong, but don't fool yourself. In wolf form he's a pretty good runner, which is both strange and ironic considering the fact that he's probably the most un-athletic human ever.
Clothing
Always seen in black skinny jeans, unless it's really hot outside. His closet is full of ironic tees and printed tank tops and - with the ocassional hoodie or cardigan on top, that's all he ever wears.
Jewellery and Accessories
A simple black earring in both ears and that's it. Unless you count the white headphones constantly positioned in his ears so he doesn't have to talk to you about how nice the weather is.
Inventory
- When outside the house and not in wolf form, he carries around a black messenger bag with his MacBook air in it
- Ipod and headphones
- A pen
- Dark blue notebook
- Tiny pocket knife
just because
- An endless supply of chewing gum
Likes
- The internet
- Personal space
- Sarcasm
- Tea
- Rambling on his blog
- Video games
- Those moments when he's making fun of someone and they don't even realise it
- Music

Dislikes
- Cereus
- Loud, obnoxious people
- Responsibility/having people rely on you
- Being a werewolf
- Small-talk ugh why does it even exist
- Public transport
- Letting people irl know how he really feels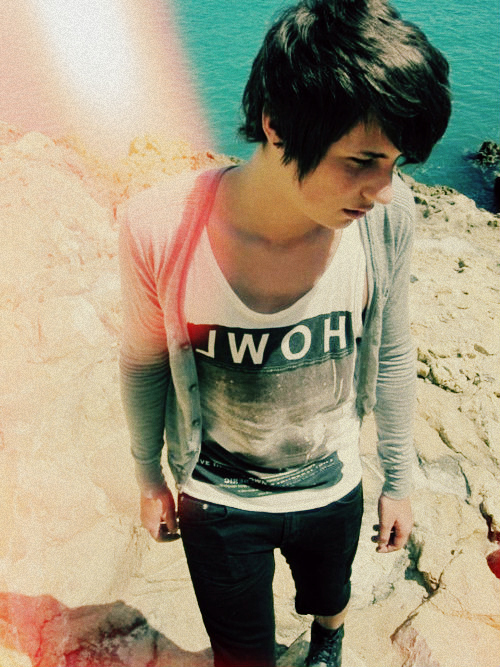 Personality
Jacob might be a somewhat reserved, some even call it fake, Oxford. And while it's true that he doesn't usually let anyone but his anonymous blog know about his feelings and what he's really thinking, he can be quite charismatic and funny. Not "funny" as in goofy and naive (
ha! hell no
), but in a more intelligent and subtle way. Having grown up in a family where showing and talking about feelings are considered a weakness, he's a great actor and good at avoiding "weak" or intimate situations. Sometimes just completely avoiding other people also helps, though some see him as an arrogant prick because of this.
Jacob tries to be a nice guy though, even when there happen to be a lot of people in this world that he doesn't like. He'll most likely mock you in his mind and make fun of you without you realising it, but an actual confrontation probably won't happen. So you'll live in embarrassing ignorance of not knowing about his hatred towards you, instead of knowing and being able to do something about it. You decide which is worst: knowing or not knowing.
People tend to either love or hate Jacob. Love him for his shy but quirky nature or hate him for his sometimes arrogant or reserved attitude toward certain others.
Goals
- To come to terms with the fact that he is a werewolf and there's nothing he can do about it
- Accept the fact that he is suddenly starting to look at some guys in a different way than he did before
- Open up to someone else than the internet and just be himself for once
History
Jacob grew up as the eldest of the Oxford brothers and was always the one supposed to set a good example for his younger brothers. He was a quiet and reserved child due to a cold, distant and strict upbringing - a complete opposite to his youngest brother. They even forced the two to share the same room for a couple of years, just because they thought that Jacob might do a bit of a good impact on Cielo. This obviously didn't change anything though.
Then three years ago most of the family decided to head north. Jacob decided to stay because he didn't want to spend any more time with his parents.
TO PROVE THAT I READ THE RULES, HERE'S MY (CURRENT) FAV SONG:
http://www.youtube.com/watch?v=s_qeenIrk7g