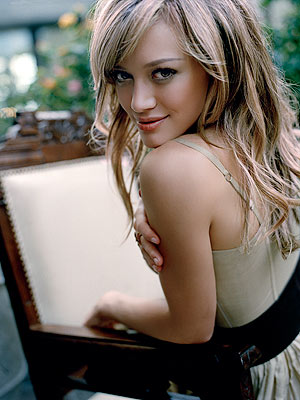 Full Name:
"Try 'Leave Me-Alone', it's double-barrelled and I was named after my mother..."
Alice Mary Turner
Nickname:
"If I hear the word 'wench' one more time…"
Alice doesn't really do nicknames, not really seeing the point. However, some of the more vulgar pirates on the ship have taken to calling her 'wench' for fun, a nickname she doesn't particularly appreciate.
Age:
"Depends how old you are so I can think of a suitably rude way to reject you."
22
Role:
"At least I don't lock up young girl for a living!"
Slave/Captive | Hilary Duff
Devil's Circle Rank:
"I'll give you a clue; sounds a bit like shlave and means people think they can tell me what to do!"
Weapon:
"Wouldn't you like to know…"
When she was captured the pirates took all her weapons. But, she has managed to keep one very small knife concealed in her bra. She is keeping it for an emergency.
Love Match:
"As if I'm going to find someone I love around here!"
Chief's Son/Prince/Oldest
Temper:
"Let me out of here and you'll find out just how much of a temper I have…"
Alice has a pretty short temper at the best of times (6) but after being held captive by the pirates she is feeling particularly bad tempered (8).
Personality:
More fun than you'll ever be!
The first thing anyone would notice about Alice is her sharp tongue. She is quick-witted and always has a sharp, sarcastic remark to shoot back, even if the situation is totally inappropriate. She says exactly what she thinks, even if (and it often does) it gets her into trouble.
Alice is quite brave and won't shy away from a challenge. It takes a lot to make her cry but not much to make her angry. She is hot-headed and always acts on her anger. She has a short temper and is likes to take exception to anything said that she doesn't agree with.
Under more relaxed situations, Alice is fun people enjoy spending time with her. She has no problems flirting with people to make her evening more entertaining, much to her mother's horror. She is playful and always looking out for a way to get some fun out of a situation. She could be described as reckless and tends to throw caution to the wind in exchange for a good time.
Appearance:
"Touch me and you'll be sorry…"
Alice is short at 5"1 and slim, weighing only 105 pounds. But, for such a tiny person she's surprisingly strong and knows exactly where to hit someone to make it hurt. She also utilises the things she has around her to give a good fight. She has pale, creamy skin with a slight, light tan. Her face is oval with an angular jawline. She has long, blonde hair falling down her back. It's very changeable; some days she wakes up with it completely straight but others it falls in loose waves round her face. Her pretty hazel eyes are framed with long, thick lashes. Her cheeks have a natural pinkness to them and her lips are full.
History:
"Not that it's any of your business!"
Alice is the daughter of Catherine and Jonathon Turner, she has a brother named William who is five years younger than her. Her family were middleclass, always just a step away from becoming a member of the upper-class. Her mother devoted endless time to trying to push the family in with the group they wanted to be in and her father worked all the hours that there were to finance her mother's endeavours.
But Alice had other ideas. She wasn't about to become one of those polite, perfect girls in an expensive dress to please her mother. She was no good at social niceties and she always said what she thought. Her sharp tongue and short temper were no combination for an upper-class girl and she decided she would do as she pleased. She always made an effort to speak with a slightly rough accent, to annoy her mother and she was always getting into trouble.
But her lifestyle was simply a path to disaster. She'd gone out one night to worry her mother and she'd met some men who claimed to be pirates. Although she didn't believe them, her mother's face when she told her she'd spent the night with pirates would be priceless. So she stayed, flirting with them and having fun. They told her they were The Devil's Circle. When she laughed at them they offered to show her their ship. Naively and looking for fun, Alice went with them. But before she could leave they'd knocked her out. When she woke up, the sun was already up in the sky and they were miles from home.
Since then she's been treated as a slave on the ship. She is the pirates play thing, only brought along for fun and treated as a slave. All she wants is to be back home. But the prospect of that ever happening is looking more and more unlikely with every wave that splashes against the side of the infamous pirate ship.
Theme Song:
- WIP