Kayla Lorraine
Basic Info
Name:
Kayla Lorraine
Age:
17
Role:
Daughter - Adopted
Gender:
Female
Parent:
First Husband
Sexual Orientation/Preference:
Bisexual
Religion:
Atheist
Birthday:
October 31
Zodiac sign:
Scorpio
Likes
People
Dogs
Cats
Lizards
Skateboarding
Music
Dislikes
Mean people
People who don't support pride
Spiders
Snakes
Country music
Appearance
Kayla has a very quite voice, but can be loud when she wants. She has brown hair and is about 5'4" tall.
Personality
Kayla is a very shy girl. She's scared that if she get's to attached to someone, she'll be tore away from them. The only time she really smiles is when she's with her family. To her, music helps her escape from everything. She tends to think a little too much and will come up with the most, extremely, incredible stories to what might happen, yet they could never happen. The one thing she's scared of is her family being tore apart. but she'll never admit it. She's also scared that she wont be excepted by her peers for her family and for being bisexual.
History
Kayla was adopted at age 6. She was one of the quieter children in the orphanage. The orphanage said that she was left at the front door of the orphanage with a note saying "please find my child a good home with a lot of brothers and sisters." Well, they found one. She already knew she was adopted, but the family still reminded her and she didn't feel left out. When she started going to school, she didn't really make many friends. She was too quite and only spoke when talked too. As she grew older, she started talking a bit more. She doesn't really have many friends outside of the family.
When she got into high school, she became one of the outcast. A lot of people knew her, but she didn't call them 'friends'. She was never bullied. People didn't bully her because she didn't talk much. So, they thought she was nice and would have felt bad if they bullied her. She does have a reputation of being a bad kid though. Skipping classes with a few friends. But, she rather her family know her as the good quite kid than the bad kid.
Lately, Kayla has been enjoying her family and dreading school. She doesn't always want the students of her school knowing who her family is.
Paraphernalia/Memorabilia
A bracelet she got from Tomas after she confessed to him that she was bisexual.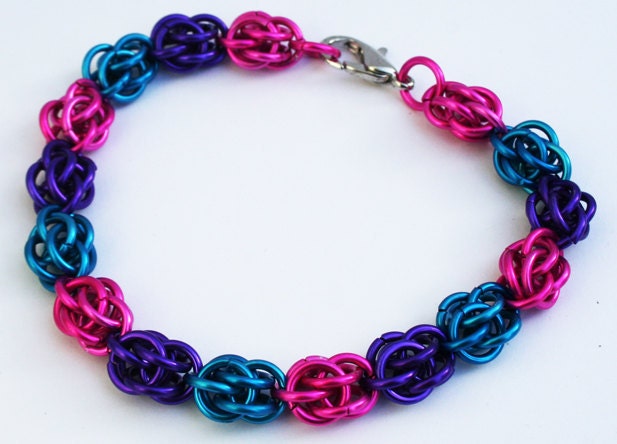 OOC
How often do you get online?:
Everyday
How often can we expect you to be able to post?:
Anytime
Password:
Love knows no bounds