"Reason is the shepherd trying to corral life's vast flock of wild irrationalities."
~Paul Eldridge, Maxims for a Modern Man
---
---
The Basics
N a m e
Saansha an-Casimir Ayakhane
N i c k n a m e s
"Sasha"; occasionally, "Cas."
A g e
One would estimate she's about as old as the other two. About 20.
G e n d e r
Female. It takes a couple tries.
B i r t h d a t e
The 4th of November.
M a r k e d b y
Iyamene, Eternal of the Enlightened and the Erudite.
---
---
D o m i n i o n
n o i n i m o D
Laami, the desert kingdom. Laami once occupied the expanse of space between the fertile ricing farmlands of the East and the brimming abundance of the Western oceans. The people of Laami-- called Laamia-- were, originally, a race of vagabonds. While early in the 21st century they were unrivalled weapons manufacturers, the Laamia slowly fell into a cannibalistic chaos that eventually consumed the nation. For a period of time, the Laami existed only as a widespread religious sect, but everything changed in the 23rd century when Ruski the Conqueror and his men descended from the Northern lands and dominated all but one of the factions warring for power. The last and most powerful of these factions, the Vellai, was made up of a vicious, bloodthirsty people notorious for crimes against nearly all other peoples.

In this, Ruski was able to unite all the remaining desert factions to defeat the Vellai. This 100-year war bonded the Laamia together again, and the Laamian states formed a pseudo-confederation. This confederation, however, was not to last; it devolved into an empire. Many dynastic cycles later, the Ayakhane family rose to power. They were a family riddled with feudal infighting, plagued by so many murders the empire itself was on the verge of going heirless until a concubine was able to protect an heir into her first six months of life.

By then, however, the world itself, and Laami's sprawling deserts with it, had fallen into the chaos that was the end of the world.
---
---
A p p e a r a n c e
e c n a r a e p p A
Sasha is small, pale, and birdlike— boyish of figure, sexless of face, and altogether a very strange sight. Her shoulders are narrow, but so are her hips; she stands not taller than 5'2'', but she holds herself with a posture so perfect it makes her seem too powerful for her size.

Sasha is lightfooted and graceful... but then again, perhaps the grace simple stems from the way her hair seems to fall around her face. Impossibly pale, her hair is also impossibly thin, and it never stays smooth for long. It's fragile and prone to splitting in the salt-air. Given the slightest wind, it flutters around her face like some sort of strange moonlight halo. It's not the most beautiful of things.

Like her hair, Sasha's skin is unnaturally pale. She burns easily, and because of this she stays indoors most of the day. Because she rarely ventures out onto the sun-drenched deck, she's weak of composition, and she doesn't have much muscle. She looks as weak as she is. For the most part, really, Sasha looks as she is. Her eyes, colored a noncommittal hazel, are never focused, as is her mind. She stares off into the distance, never quite meeting anyone's gaze; rarely does she come back down to earth. Rarely does she really interact. Her poster is regal but withdrawn, as she's reluctant to touch anyone else.

Sasha's hands are deceptively large. Though her wrists are as tiny and fragile as the rest of her, her palms are wide, and they're met with long, tapered fingers tipped by thin nails. She tends to dye her nails red or violet with berries. She doesn't do the same with her lips, however, which adds to her seeming boyishness: she has pale features that all seem to blend into one another in bright light. She has a vaguely Mongolian nose but distinctly West-Russian features. Her eyes are almond-shaped and wide-set, not unlike those of the women of the ancient "Middle East." Her lashes are short and thin and pale, and her eyebrows are a bit thick but far-set.

Nothing about Sasha could possibly be brutish, yet the intense strangeness of her person tends to seem alarming. She's the sort who stays silent and ever-watching, and she's not one to let someone forget it.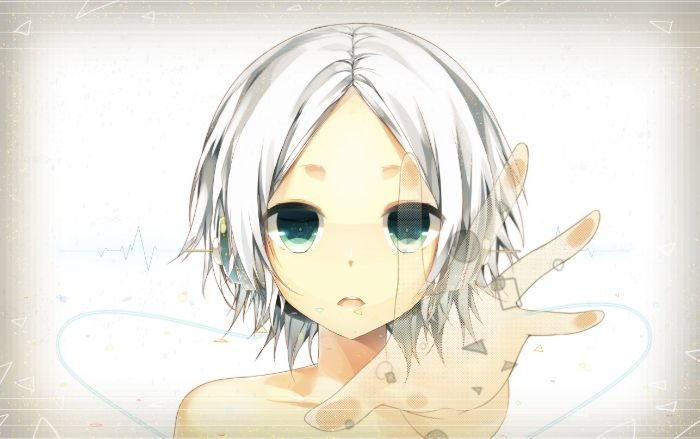 ---
---
D e m e a n o r
r o n a e m e D
Sasha is an intense woman. Everything, from the way she speaks— when she so rarely speaks— to the way she holds herself is purposeful and pointed. She never acts without reason, never moves more hastily when she should. She's the type to stay unnaturally still when the world around her erupts into chaos. Sasha is patient and watchful, quiet, cultured, and polite.

Or perhaps she's just bookish. Not one to spend much time outside tending to the farm, Sasha spends most of her time indoors perusing the massive library buried in the bowels of the ship. No one ever taught her how to read, but somehow, she managed to pick it up on her own.

There's a lot Sasha's picked up in her time alone. She's a master of knowledge— someone well-suited to take on the mark of Iyamene. Sasha's brilliant and well-read, even if she is somewhat shy and withdrawn. Though not physically capable to any degree, she can figure her way out of most of the trouble she gets herself into.

Sasha seeks to transcend her physical existence aboard the ship. That's all the reading's really done to her. She lost hope long ago of ever seeing all the dreams books planted in her head realized. She might seem dull, her mind as pale as her skin, but really, she just bars her fragile, impressionable mind from the world outside. What she reads tells her so much, but all she's ever known is the ship. It breaks her heart. She longs to be free.

Sasha's extremely submissive. She's never one to say no. Having raised herself on books of manners and classical literature, she's convinced she's always to act as a true lady should-- never defiant, never to strong of words or figure. She's meek and demure. As surprising as it may be, given her intellect, she's easy to manipulate simply because she has no ability to stand up for herself.

She spends her time reading, and she's a talented thinker and strategist. She knows the stars well and could, in theory, navigate the boat if she could ever work up the courage.
---
---
L i k e s / D i s l i k e s
s e k i l s e D / s e k i L
Sasha enjoys:
- Reading
- Writing
- Fiction
- Whimsy
- Imagination
- Philosophy
- Competition
- Daydreaming
- Sleeping
Sasha dislikes:
- Working
- Being cold
- Being outside
- Anything physical
- Being touched
- Being paid attention to
- Having to raise her voice
- Not being listened to
- Being weaker than others
---
---
Opinions about other characters: TBA.