---
---
Full name:
Florian Callow
Nickname:
"Call me anything but Florian and I will kill you."
Flo| Emo |
Birth date:
He was born on the 7th January
Sexuality:
Bisexual, but is more attracted to girls
Relationship Status:
Single
---
Age:
17
How old does he/she appear:
About 16-20
Weight:
He weighs 10 stone and 2lbs.
Height:
He is quite tall, at 6'4"
Body build:
Very slender, but toned
Shape of face:
Oval
Eye color:
Ice Blue
Glasses or contacts:
Neither
Skin tone:
Extremely pale - a porcelain or alabaster tone.
Distinguishing marks:
He has Snake bites on his bottom lip. His eyes are also abnormally blue, and he has tattooed arms.
Hair color:
Jet black - it was dyed that way
Hairstyle:
Hangs to the nape of his neck, with a long side fringe
Physical disabilities:
He doesn't really have one, but he broke his elbow once and that has impended his movement in that arm.
Style:
"My style? I call it, 'Me'."
He is mostly described as 'Emo' style by others, but he just calls it 'me'.
Favorite outfit:
A black top and jeans (probably ripped). He doesn't really have a 'favourite' outfit.
Jewelry or accessories:
His lip piercings.
Overall attractiveness:
"Well I guess that depends on who you are."
8/10
---
Good personality traits:
Sweet-natured
Friendly
Non-Judgemental
Open-Minded
Insolent
Bad personality traits:
Pessimistic
Sarcastic
Hot-Headed
Aggressive
Parsimonious
Personality:
The person that comes off as the most cold and callous at first can sometimes be one of the nicest people you could meet. At least, it's true for Florian, who really couldn't give a shit what you think anyway. He can find it hard to make friends, but is unafraid of giving people fire if he sees them attacking anyone verbally, as he absolutely detests the thing. This tends to be how he makes friends. However, if you first meet him on your own accord, don't expect him to be too friendly. He doesn't trust easily, and until that point, Florian will not make much of an effort to show his friendship. However, you can always know that he will never talk about you if you are on his friendly side. He saves his glares and bitching for the people that he doesn't get along with, mainly the ones who are at the top of the social ladder.

Florian is actually quite a funny guy. He pokes fun at himself, and makes (crude) jokes about the people at the top of the social ladder. Who needs them, anyway? Along with that, he is very open minded and non-judgemental, and he accepts you whoever you are, if you make the effort to be his friend. If he thinks that you are bothered about the friendship, he'll open up a lot more. However, he can be extremely pessimistic at times, and always thinks he will fail exams and finals, or not be able to do things. However, the pessimism is all directed at himself. Along with that, Florian has had... issues with coming off aggressive. He has been on the edge of getting into fights, and if someone takes it too far, it becomes very obvious with him. Florian enjoys shouting at others to blow off steam, and often goes picking fights with those he dislikes.

On top of that, Florian is very insolent, and goes looking for trouble. He skateboards around the school to 'get to class quicker', and sometimes purposefully crashes into others, especially those he dislikes. A quick grin and a wink is enough of an apology for the guy. Florian doesn't really seem to show up in anything 'new' either - he's very conscious of his money situation, and only buys essentials - new skateboards and guitars over school equipment, for example.
Greatest joys in life:
"I could not live without my mates, my guitar, or my skateboard."
Greatest fears:
"Dying, and, uh, people touching me without my permission."
Priorities:
"Getting good with my guitar, and getting far in life with my band."
Life philosophy:
"Who gives a damn about what they think? Be yourself and kick those asses like you mean it."
---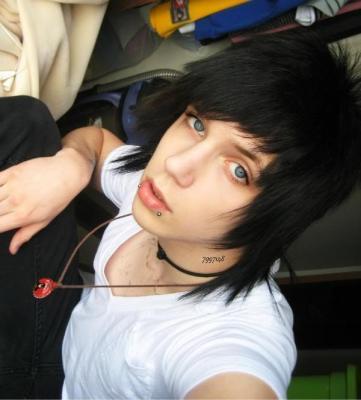 Favorite color:
"Dark blue, black... Anything dark in colour."
Least favorite color:
"Oh god, pink makes me want to vomit."
Music:
"Anything those stuck up A Listers don't like."
He really loves heavy rock music and screamo most.
Food:
"Good old pizza. It's my go to thing."
He adores pizza.
Literature:
"Surprisingly, I like all the classics."
Of Mice and Men by John Steinbeck
An Inspector Calls by JB Priestley
A Christmas Carol by Charles Dickins.
Form of entertainment:
"Skateboards, my guitar and video games. Also my friends, when I need to get out of the house."
Most prized possession:
"I cannot live without my guitar and skateboard."
---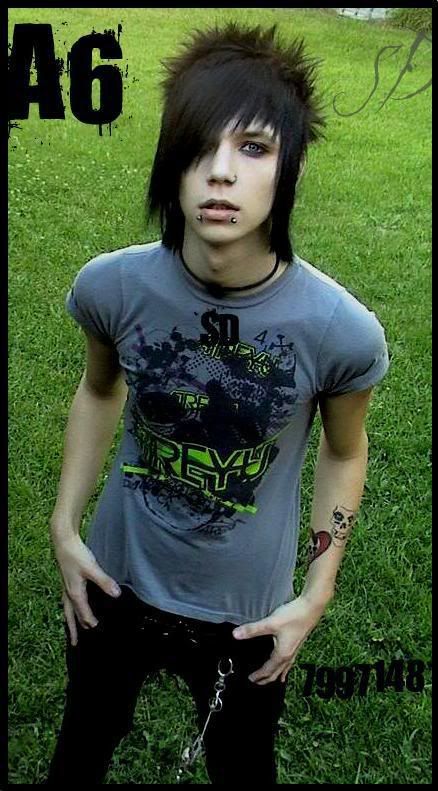 Hobbies:
"Skateboarding, guitar, hanging out with friends. Sometimes I play video games, or watch horror movies and make fun of them. That's basically it."
Do you play a musical instrument?
"Yeah, I play guitar. Pretty well, if I might add."
He plays the electric guitar, and occasionally the bass guitar as well.
Do you play sports?
"Not any sports that you think are sports."
He skateboards, but nobody counts that as a 'sport', in his opinion.
How would you spend a rainy day?:
"I'd probably invite my mates around and mess around with them at my place, play something on the X Box, play guitar. If I need to get out, I'll go out and hang out under a bridge or at the mall or something...I'd find something to do with my friends."
Spending habits:
"I don't have much money, so I don't really spend it, I save it."
Smokes?:
"Sometimes it can take your mind off of other things."
Yes, on the odd occasion.
Drinks?:
"Drinking makes you forget yourself more than smoking."
Yes, but not too heavily.
Other drugs?:
"I don't want to get that messed up."
No.
---
Drives and motivations:
"What, apart from living in a crappy apartment and having to live off of funds I get from playing gigs?"
Florian has always wanted to get out of the edge of poverty he's been on, and after his father spent most of his money on drugs before being hospitalized and dying, Florian realized he wanted to get out of that life. So why not make himself an alter ego from the person that suffers the abuse at home and live the good life?
Immediate goals:
"Get the hell out of here."
Graduate from school | Earn Enough Money to get out of his home
Long term goals:
"Being able to go far with my band would be amazing. I could retire happy."
Getting famous with his band | Moving out of his apartment |
How the character plans to accomplish these goals:
By getting good at guitar | From graduating Hollywood High School with good grades | Earning money at gigs and concerts
---
Hometown:
"Mom never specified."
Some place in California
What was your childhood like?:
"It was pretty crap, if I say so myself. My mom was abusive verbally, Dad physically, because of the drug abuse and the drinking. Eventually, my Dad died of a drug overdose, and it left my Mom even worse. She would drink herself to oblivion and couldn't remember what she'd said to me by morning. Most days I would spend the morning skipping breakfast and looking after my mom with her hangovers. I was often late and got in trouble. People teased me, and I ignored them. I learned that they couldn't change me - only I could get out of my own hellhole. That made me grow up fast. And I miss my childhood. I wish I had one."
Pets:
"No pets. Not worth it. I rescued a bird once, and I had the rats that lived in the cupboards, but that's it."
First memory:
"The time my mom first told me she wished she never had me. It hurt, and the memory stuck."
Childhood Hero or Idol:
"Can I say myself? Because it was. I had to be my own hero, so I could get myself out of falling into a hole of depression because of the shit at home."
Dream job:
"Back then, it was an astronaut. Then I discovered my love of guitar, and now it's being in a band and writing songs and all that. Getting big. Saving people the way my bands did for me in my early teens. You know."
Education:
"I went to a regular elementary and middle school. It was nothing special - and most of the time, I skipped or bunked or was late, because I couldn't deal with getting in trouble at school again, or I needed to look after Mom."
Finances:
"Most of what I earn goes to my Mom and buying food, paying the bills, whatever else is needed. Whatever is left goes to me. It took me 5 years of part time work to get that X Box."
Florian earns all of it, and pays all of it, too.
Present

Currently living with:
"Just my Mom. Although she doesn't really count."
Just himself and his mom live in the apartment.
Pets:
"Still none, apart from the local strays. We got rid of the rats."
Occupation:
"I earn money through busking, or playing gigs and concerts, or just...Any little job I can do. It's never enough, anyway."
Finances:
"I still earn all of it..."
House:
Exterior
Kitchen
Living room and Florian's Mother's Room
Florian's Room
Florian's home is definitely not the fanciest. In fact, he tries to hide the fact that his home is not the most expensive, and isn't the cleanest, by keeping it as clean as possible. That's why his living room, and his mother's room appears so clean - it's to appear a lot better than reality. In fact, in the evenings, the floor is littered with empty bottles, and the bathroom stinks of vomit. Florian cleans it all up, and tries to deal with it. So many bad memories haunt him here, it's no wonder he wants to leave.
Transportation:
"I don't really have the money to drive, I take the bus or walk, or skate."
Florian doesn't have a car, he cannot afford it.
Family
Family member name: Mandy Callow
Relation between (mother, father, sister, brother, ect.):
Mother - Alive
Relationship With (good, bad, complicated, ect.):
Obviously, Florian and his mother do not get on well. She was abusive when he was little, and now drinks herself to oblivion every waking hour. Florian hates this and often wishes he did not live with her anymore, to escape it.
Family member name: Alesander Callow
Relation between (mother, father, sister, brother, ect.):
Father - Deceased
Relationship With (good, bad, complicated, ect.):
Link pictured is when he was alive. Florian detested his father, as he was physically abusive towards him when he was alive. When he died, Florian was conflicted with both sadness and glee - his father figure was dead, but hadn't he been from the moment he first hit him?
---
How did you spend your summer?:
"I spent it outside, mostly, or cooped up in my room caring for my Mom. I played at quite a few gigs with my guitar, went skating with my friends, smoked a bit, partied a bit, tried to divert my mind or figure out where I am going with my life. It wasn't as good as summer's come, but it was better than most of mine have been recently."
What grade are you in?:
Junior
What clique are you in?
"A mix between rebels, Skaters, and the Rejects. But mostly the skaters."
He classes himself as a rebel, skater, and reject, but is officially a Skater.
Where are you on the social ladder?:
"Very low. Are you kidding me?"
Are you happy with your place on the social ladder?:
"Yeah, as happy as can be, because it's quite clear the A Listers hate me, and I hate them. Simple."
If you could be apart of any other clique what clique would it be? Why?:
"I guess I would class as a Drifter, because I would drift between the Rejects, the Rebels and the Skaters. I kind of do that anyway, but I would hang out less with the skaters, I think."
Do you plan on joining a club or sport this year?:
"No! I don't have time for that, really. I am definitely joining band, but that's only because it will further me even more... Plus it means I don't have to go home quite so early."
Best subject:
"Music, Band, anything to do with music."
Worst subject:
"I just cannot do maths for the life of me."
Schedule:
Pd 1 - Social Studies
Pd 2 - Advanced Guitar
Pd 3 - Advanced Study Instrumental
Pd 4 - Math
Pd 5 - AP Psychology
Pd 6 - Physical Education
Pd 7 - English
Pd 8 - Lunch
Pd 9 - Science
Other
Anything else you want to add:
Character colour = Bold black.