---
---
Full name:
Linnaea Grace Snow
Nickname:
"I prefer Linn or Naea, but Linnaea works too."
Linn| Naea | Snow (By people who want to mock her or are extremely close/teasing)
Birth date:
"I was born on the 17th of March."
Sexuality:
"I guess you could call it greysexual. I'm not even sure."
Greysexual
Relationship Status:
Single
"And quite happy, may I add."
---
Age:
17 years old
How old does he/she appear:
She appears about 15 or 16 - a lot younger than she actually is.
Weight:
"How rude!"
She weighs 8 stone 11lbs.
Height:
"I'm quite short."
She is 5'6" tall.
Body build:
She has a very slender, willowy, yet hourglass shaped body.
Shape of face:
Heart shape
Eye color:
Her eyes are a bright blue, but have tones of aqua and grey mixed in.
Glasses or contacts:
Neither
Skin tone:
A golden colour, from her tan.
Distinguishing marks:
Apart from a few bumps and scrapes, none.
Hair color:
A golden, sandy blonde colour, with a darker tone of brown near to her roots, but they are natural.
Hair Type:
Her hair is described as straight by most people, but it is normally in beachy waves past her shoulders, and around her face.
Hairstyle:
Mainly down, or can be up in a
ponytail
Physical disabilities:
None that are mentionable - however, she does have some mental disorders, mentioned in personality.
Style:
"Whatever is cute, and I feel comfortable in, I guess!"
Mainly what she deems 'cute', and what she feels comfortable in.
Favorite outfit:
"I have quite a few."
X
,
X
,
X
Jewelry or accessories:
"Mainly a necklace or bracelet that I feel looks good with my outfit."
Overall attractiveness:
"I'm not really the sort of person to rate myself, but..."
8.5-9/10, depending on who you are.
---
---
Good personality traits:
Kind
Compassionate
Virtuoso
Good with animals
Adventurous
Curious
Intelligent
Fun Loving
Affectionate
Polyglot
Bad personality traits:
Low Self-Esteem
Shy
Frigid
Bit of a Show Off
Crowd Hater
Opinionated
Has Social Anxiety
Has OCD
Personality:
Linnaea is an actress, to say the least - she acts every day. On the outside, she can come off as a bit of an 'Ice Queen' - she'll turn down anyone who asks her out, and will make sure it hurts. She'll join in with the bitching about someone else, if she hates them too. But it's an act, as inside, Naea is extremely kind and sweet, and loves to help anyone out. She just has one problem - being a Prep means that it's social suicide to help out anyone that's not 'On her level'. Naea detests herself for it, and has therefore made it her goal to change the views of the A Listers - from Tyrants to Role Models.
Linnaea has trouble with herself. When she is in a group of people, she is bubbly, enthusiastic, and friendly. However, on her own, she becomes self-loathing, taking hours to plan out outfits and what she is going to wear to EVERYTHING. Along with that, she is very self-critical - if she doesn't get good grades, or misses something out in a routine for that week, she will have a panic attack when she is on her own. She can also be seen scrubbing her hands until they bleed, and everything must be in order, and folded and colour coded. On top of that, she has social phobia, which is one of the main reasons why she acts like she does. This is the fear of being embarrassed and turned away, so she tries to eject the possibility of that as much as she can. She is very good at swallowing her fear, though, especially with her clique.
If you manage to break through to the real Linnaea, she is an extremely sweet, affectionate young lady, who will do anything to give you a hand. She adores helping out, especially with animals. She feels guilty if she cannot give anybody the help they need, which can leave her vulnerable. She loves being herself, and she feels she can be when she isn't in her clique, and when she is with people she trusts, and not in large groups. Naea is a shy girl inside, and rather lonely, so she enjoys the personal company and will be glad to answer any questions you may have for her. Furthermore, Naea is an insomniac, due to her recurring nightmares, and can appear tired. If she does, she can be a lot more snappish, but she's really just longing for a hug, although not many people can guess that due to her grumpiness when she is tired.
Greatest joys in life:
"I love being able to communicate with others in other languages, along with my horse, Ace."
Speaking other languages |
Her Horse, Ace
Greatest fears:
"It's a secret..."
Deep inside, she is mortally afraid of intimacy, embarrassment, and dying.
Priorities:
"I have to not fail. That's for sure."
Changing the outlook of A Listers (although slowly) | Passing School | Looking her best | Her horse
Life philosophy:
"It's time enough for everyone to be equal. Nobody should be treated differently for who they are, and who they want to be, regardless of background."
---
Favorite color:
"It has to be mint green, and cream."
Least favorite color:
"Mustard yellow, and brown. Ick!"
Music:
"I really enjoy dance and house music, along with rock. But it's pop to everyone, okay? My music taste is a secret."
She loves electro/dance/house music along with rock, but pretends to like pop music.
Food:
"Mexican and Chinese. It's just - Mmm!"
Literature:
"There's way too many to choose from."
Naea's favourite book series at the moment is the Divergent Series by Veronica Roth, but she also enjoys the Fault in Our Stars, Harry Potter, and The Mortal Instruments.
Form of entertainment:
"Mostly I spend my time with my horse. But I cannot get enough of the internet, or video games."
She prefers to spend it being active, but she also loves the internet and playing video games. Her favourite at the moment is the new Call of Duty, just to relax.
Most prized possession:
Her
velvet riding hat.
---
Hobbies:
Riding her horse, Ace, speaking different languages to many different people all over the world (French, Spanish, German, Japanese) and spending time on the internet.
Do you play a musical instrument?
She plays the piano, and used to play the violin.
Do you play sports?
"Does horse riding competitions count?"
No, unless horse riding competitions count.
How would you spend a rainy day?:
"I would go out and visit my horse, and probably just spend time with him, before relaxing and reading a book, or going on my laptop back home, and playing video games, or just texting my friends."
Spending habits:
"If horse things are involved, it'll be all gone before you can blink."
She can splash out if things she loves are involved.
Smokes?:
"Why would I voluntarily destroy my lungs?"
No
Drinks?:
"It can be fun occasionally, but only if it's the good stuff."
She likes to drink expensive alcohol occasionally.
Other drugs?:
No.
---
Drives and motivations:
"I've always dreamed of doing it, so why not?"
She's always wanted to, she feels it's what she would be good at.
Immediate goals:
Getting good grades | Pleasing her parents | Pleasing her friends |
Long term goals:
Getting to Ivy League | Winning an international competition with Ace | Becoming a Equine Vet | Owning her own Ranch and racecourse | Having a loving family
How the character plans to accomplish these goals:
She plans on doing this by doing well in her school life and practicing hard with everything she has.
---
Hometown:
Sydney, Australia
What was your childhood like?:
"Well, shortly after I was born I moved to California, and you know, it was great. There's the sun, the sea, and the life of America here. My parents were well off, so I enjoyed my childhood."
Pets:
"My mother had a horse, who I used to ride, but he died, unfortunately, when I was quite little."
Her mother's horse -
Silver.
First memory:
"The first thing I can remember is my mother playing her favourite tune, Clair de Lune by Debussy, on the piano. Shortly after that, I can remember having my first riding lesson on Silver."
Childhood Hero or Idol:
"I didn't really have one, but my mother was always amazing to me."
Dream job:
"The same thing as it is now - a vet."
Education:
"My father had a tutor come with us around the world as we travelled - this lady taught me the languages I know today. After that, my father sent me to a boarding school in England from when I was 10 until I was 14."
Finances:
[/i]"We've never had a problem with finances. My father owns a large business corporation, so we've always had enough money for everything. My father funds it, mostly. I'm lucky to have him."[/i]
---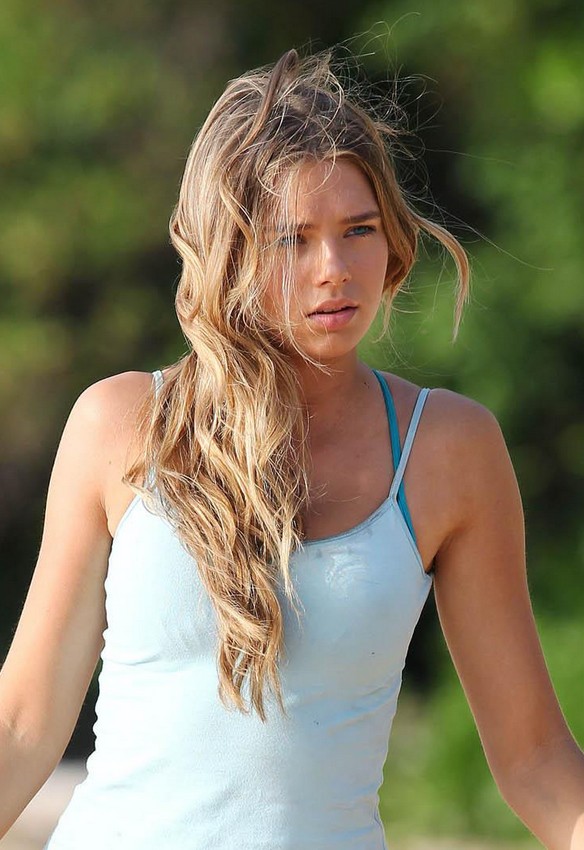 Currently living with:
"Just my father and my little sister, Alice. My mother used to live with us, but she... um, she died of pancreatic cancer two years ago.""Just Ace and my sister's horse, Luna."
Occupation:
"I earn money by entering competitions with Ace."
Finances:
Her father funds everything, like before.
House:
House
Entrance
Kitchen
Living Room
Ballroom/Drawing Room/Party Room
Indoor Pool
Garden
Private Stables
Linnaea's Bedroom
Alice's Bedroom
The Snow's Mansion is on the outskirts of town, but it sure is glamorous. When you first enter the Snow's home, a marble floor and entrance will greet you, along with a large modern kitchen and dining room to the left, the ballroom and indoor pool along the back of the house, along with the gardens and path to the stables and field in the fancy gardens, set up and tended to by Myra Snow, and later, the gardeners. A large, heated, indoor pool, complete with glass roof, recliners, and a hot tub in the back, is set away from the ballroom, which is used to host posh business parties by Jonnothon Snow. Upstairs is a magnificent bathroom, along with two guest rooms, the master bedroom, and Alice and Linnaea's rooms, each with ensuite bathrooms, complete with power showers and baths with jets. The mansion could be described as quite small, but it sure is luxurious.
Transportation:
Linnaea's Car
Father's Car
---
Name: Jonnothon Snow || Age: 47 || Father || Alive || Relationship: Not very close, as he is always working, but Naea never says anything as he funds everything.
Name: Myra Snow || Age: 44 || Mother || Deceased || Relationship: They were extremely close before Myra died. It devastated Naea for years.
Name: Alice Snow || Age: 8 || Younger Sister || Alive || Relationship: Amazingly close. Naea loves her little sister.
---
How did you spend your summer?:
"I mostly spent it with Ace, doing competitions, and travelling with my Father and sister around the globe. We visited my hometown, Nice, where I was born, but we moved to California before I could speak, so I have an American Accent. After that, we travelled to Berlin and visited the Alps in Austria, before flying down to Italy and seeing Rome and Venice and Florence, before we came back here. After that, I talked to the friends I had made there, in the languages that they are native to, and did more competitions with Ace, along with looking after Alice. She's a really sweet thing, and it was good fun."
What grade are you in?:
Junior
What clique are you in?
The Preps
"Sometimes I wish I wasn't though."
Where are you on the social ladder?:
"I'm quite high up, I guess, since I am a Prep, after all."
Are you happy with your place on the social ladder?:
"Yeah, of course I am, but sometimes I wish that it was a little easier, or people weren't so judgemental and cold-hearted in the clique."
If you could be apart of any other clique what clique would it be? Why?:
"Probably a Drifter, or a Performer. I dig their confidence, and the Drifter's way of just being able to go to whoever they like and be accepted."
Do you plan on joining a club or sport this year?:
"If there's anything to do with horses, yes! But swimming looks good, too..."
She will join the Girl's Spring swim team.
Best subject:
"I definitely get on the best with Science. I pick it up so easily."
Science and Maths
Worst subject:
Oh, god, PE! It's awful!
She hates PE, and it shows.
Schedule:
Pd 1 - Social Studies
Pd 2 - French IV Honors
Pd 3 - Intermediate Piano
Pd 4 - Math
Pd 5 - Advanced anatomy/Physiology
Pd 6 - Physical Education
Pd 7 - English
Pd 8 - Lunch
Pd 9 - Science
Anything else you want to add:
Played by Sanarith
Character Dialogue: forestgreen