Welcome to Dystopia:
The R-Evolution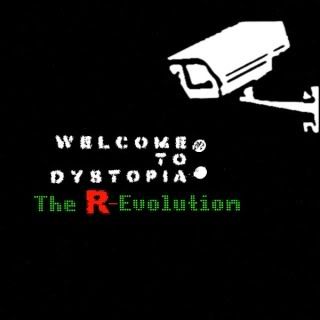 They tag us like animals and monitor us like children. We mustn't let this continue! It is time we rebel, time we fight; it is time for a revolution! Brothers and sisters, Anarchy needs you... Won't you join us?
[Role Play Theme Song]
[Custom Theme Song by Mirrazor]
NOTE: To help you navigate the page better, press CTRL+F, then type in the key next to each topic in the content listing.


Ex: Press CTRL+F, then enter A4 to take you directly to the Joining topic.
CONTENTS
LINKS
---
1.
Intro - A1
2.
Plot - A2
3.
About - A3
4.
Joining - A4
5.
Rules - A5
6.
Thanks & Appreciations - A6
1.
Roleplay Tab
2.
OOC Page
3.
Announcement Page
4.
Player Directory
5.
Character Directory
6.
Information Page
7.
Groups Page
8.
Races & Classes Page
9.
Technology Page
10.
IC Page
Streaming... █████ 30%

"Since birth we are taught to-"

Streaming... █████████ 50%

"-follow the rules, to "stick to the program" and like good little boys and girls we do; well some do... The others? Well they face the consequences. Disciplinary action or public humiliation, in some cases both are the result of not keeping to the program-"

Streaming... ████████████████ 100%

"But, is the grass greener on the other side of the hill? Depends on how you look at it. In my personal opinion, those who do as they are told, are just one brain wash away from being brain dead puppets. This is a never ending trend. It doesn't stop once we are adults, senior citizens, and not even in death. When will we be free of these fucking shackles!

I have thought about this question my entire life and it wasn't until recently, that I found an answer... Now. Now, is our time. Since the beginning of this country our freedom here has been contested. When it was taken away, we would take it right back. We have always been fighters, but somewhere down the line we got soft and lazy; we lost our fight.

And now they want to tag us like animals and invade our privacy by watching us 24/7? We must not let the guardian act pass! Or we will no longer the land of the free and the home of the brave, but the land of the enslaved and the home of the oppressed. So I think it's time we laced up our gloves and get back in the ring... Now is the time for change- An evolution; REVOLUTION.

A1





So join us brothers and sisters. And remember,

Anarchy

is

Freedom

!
PLOT
---
A2
There is a civil war on the horizon. For years it was thought that this would happen, but the sides would be: synthetics Vs. cybernetics. But, now everyone is thinking different. Simon Murphy, Governor of New York, has volunteered New York to the U.S. government to be the testing ground of an experiment. The Guardian Act a document, which will change life as we know it, will allow U.S. citizens to be tagged and constantly monitored among other things, in the name of making America and better and safer place. Whether this is good or not will be determined in an 80 years probationary period, where Simon will forever hold power to do what is necessary to make this act successful.

It is now 50 years later and so far things have ran smoothly, and the government is talking about ending the probationary period, making The Guardian Act legal and enforced nation wide. And to top this off, Simon is thinking of running for president and with him doing so good with the Guardian Act, he will most likely to win the candidacy. However something has been brewing in the underbelly of New York City. A group known as Anarchy has broad cast a state-wide message concerning there views on the Simon and The Guardian Act. They have been acting covertly throughout the years trying to put an end to the The Guardian Act, but now they have stepped out of shadows, hell bent on stopping Simon no matter what it takes.
ABOUT
---
A3
Welcome to Dystopia: The R-Evolution. The intro above is a message broadcast all across New York by a rebel terrorist group known as Anarchy. Their goal is to stop The Guardian Act from being passed. Their opposition is Simon, governor of New York and temporary Overseer who has all power to make sure that the Guardian Act is enforced. He is willing to do anything it takes to see the document passed and his dreams become reality. Unfortunately the same can be said for Anarchy, they are even willing to lead a revolution, a civil war between the free and the protected.

The story will resume right after the message was broadcast. This RP will be character driven, but with a centered goal and one major storyline. Nothing is predetermined, either side can win. I will also be using time-jumps to help move the story along. RPs constantly fail because the story lags in one place for too long, so this will help prevent that. I would like for the RP to have a second chapter which will be the actual civil war, this story will be about the events leading up to that point.

The IC of this RP will be taking place in the forum threads. I used to have problems accessing any new posts made in the tabs and even though this is now fixed, I don't know if it will become a problem again. So to prevent it I will make a totally different IC thread for us to post in. Plus by doing this, everyone will be able to clearly see when new posts have been made. But I will go into all this more when the time comes.

This RP is also remake of one of my original RPs: The Program: Anarchy is Freedom. Anyone who was in that RP will recognize a lot of things from there, in some ways I even consider this a squeal to that RP. However, the two are completely different, you can tell that just by reading the intro.

The theme of this RP will be cyberpunk. I try to make this theme as obvious as possible, I have also gave a lot of extra info to give this world as much depth as possible. So there is a lot to read and understand. It should be obvious that this is a advanced RP and I will turn people away if I think you are not on this level, but I will do it fairly.

Lastly, I found what I think is a great theme song for the RP. If you listen to lyrics and can decipher them correctly, then you will understand why it is such a great match for the RP.
JOINING
---
A4
If you are looking to join this RP then please fill out the app below. It is pretty lengthy, but such detail allows you to know who your character is and therefore helps you get into the role more.

Don't worry if your character isn't accepted or not, because I will PM you before rejecting the sheet and work with you until the character is accepted. I may also require an example of your writing, to check your writing skills out.

Also don't be afraid to RP multiple characters, I know it can be a bit hectic. But, I only require you to have one main character post and then the post for characters can be toned down. Since there isn't a likely hood of all your characters being in a demanding scene, then you may post only a paragraph or so for them. I always say quality is better than quantity, and a page full of nothing about your character changing clothes can easily be toned down to a paragraph.

Lastly, don't be afraid to make your character as wild or as futuristic as possible. There is a lot of advancements out there and I can't cover everything, so don't be afraid to come up with something of your own. If I think it is too much, I will let you know. I will provide a few pictures of what I think is acceptable and plus you can always look over my characters. I even have one character that is sort of like a super hero... Be creative is all I am saying. And don't be too shy to talk to other members of the RP and link together characters. It always makes the RP more interesting when characters already share a history of some sort.
Code: Select all

[u]Physical Description[/u]


[u]Appearance[/u]
[b]Hair:[/b]
[b]Eyes:[/b]
[b]Build:[/b]
[b]Skin Tone:[/b]
[b]Height:[/b]
[b]Weight:[/b]
[b]Voice:[/b]
[b]Handed:[/b]
[b]Body Markings:[/b]
[b]Scar Tissue:[/b]

[u]Name[/u]


[u]Nickname[/u]


[u]Alias[/u]


[u]Species[/u]


[u]Race[/u]


[u]Nationality[/u]


[u]Visual Age[/u]


[u]Factual Age[/u]


[u]Gender[/u]


[u]Sexual Orientation[/u]


[u]Body Modifications[/u]


[u]Class[/u]


PERSONALITY[hr][/hr]
[u]Personality Description[/u]


[u]Quirks[/u]


[u]Fears[/u]


[u]Goal[/u]


[u]Likes[/u]


[u]Dislikes[/u]


[u]Strengths[/u]


[u]Weaknesses[/u]


EQUIPMENT[hr][/hr]
[center]Abilities & Skill & Combat Rating[/center]
[b][Perfect] - [Excellent] - [Good] - [Above Average] - [Average] - [Below Average] - [Poor] - [Very Poor][/b]

[u]Clothing/Armor[/u]


[u]Combat Prowess[/u]


[u]Abilities[/u]


[u]Skills[/u]


[u]Weapons[/u]
[b]Name:[/b]
[b]Type:[/b]
[b]Ammo:[/b]
[b]Information:[/b]

[u]Equipment[/u]


[u]Accessories[/u]


[u]Memorabilia[/u]


HISTORY[hr][/hr]
[u]Religious Affiliation[/u]


[u]Group Affiliation[/u]


[u]The Guardian Act[/u]
Against or For

[u]Marital Status[/u]


[u]Relatives[/u]


[u]Residence[/u]


[u]Education[/u]


[u]Occupation[/u]


[u]D.O.B.[/u]


[u]Bio/History[/u]
A5
1.
This RP is about as Adult as it can get while staying within RPG rules, so just remember that.
2.
Quality over quantity.
3.
Be creative. Don't be afraid to let your imagination run away. I have a leash I can tug on if you get too far away...
4.
I want only serious, dedicated, experienced RPers only. I feel I have those skills, so it is only right I ask for the people of this RP to have the same.
5.
Your character can and might die, so keep that in mind.
6.
Be familiar with text fighting. It isn't necessary for you know how to text fight, but it will be appreciated in fight scenes.
7.
Just because this is a fantasy RP, doesn't mean your character is a one man army.
8.
A tad bit of common sense is required here. Not to be a jerk, but I'm just saying...
9.
Once your character has died, they are forever gone from the RP. Unless, they are brought back to life; which the method will have to be discussed first.
10.
You can have more than one character, as long as you can proficiently RP them.
11.
Also please DO NOT POST anywhere EXCEPT the OOC, until I say otherwise.
12.
If you quit, please abandon your character. It helps make room so other's characters can be seen.
13.
READ EVERYTHING! Not just because I spent hours of my life writing it, but just because it explains a lot of the RP. And will save a lot of time.
THANKS & APPREACTIONS
---
A6
I would like to thank anyone who help me with this RP. I started it and with help I was able to finish it. I appreciate everything from questions to suggestion and ideas, whether they were small or big. Also I would like to thank those people whose character's have major roles in the RP's plot, without them the story would have a major hole. I do hope this RP succeeds where it's counterpart failed.
Characterization: In-Progress Plot: Proficient Depth: Proficient Style: Advanced Mechanics: Advanced Overall: Proficient
Jag wrote:The premise for this RP is very exciting. It's clear that a lot of thought has been put into the game. The mechanics presented thus far look to be extremely solid and anyone participating in this game should be very excited for the beginning of the game, which has the potential to absolutely rock. Unfortunately, it's really too early to tell about the characters, stories, and posting quality. Good character profile submissions do not always translate to good characters in the story of a game, so this is one that will require a deeper review once the story has had some time to develop.
Characterization: Advanced Plot: Advanced Depth: Advanced Style: Advanced Mechanics: Advanced Overall: Advanced
ChaoticMarin wrote:What do I say about a 30/30 roleplay anyway? There's not exactly a hole lot to critique here. The characters generally are generally very strongly built. The plot is pretty darn clear and so is it's relevance to the characters as well. Where the story takes place is pretty clear, though I might suggest making it slightly more specific? I get the feeling it's not meant to be specific, however. The style of the story is pretty darn appropriate, though the streaming bar could reflect the amount of data transferred more accurately. I was mildly surprised to find that I was unable to find a single error regarding your English. The rules are perhaps strict, but nothing too bad. All that could really bring this ship down is a failure to GM it well, which you don't seem to be experiencing.
13 posts here • Page 1 of 1
13 posts here • Page 1 of 1
Arcs are bundles of posts that you can organize on your own. They're useful for telling a story that might span long periods of time or space.
There are no arcs in this roleplay.
There are no quests in this roleplay.
Here's the current leaderboard.
There are no groups in this roleplay!
Welcome home, Promethean. Here, you can manage your universe.
Arcs are bundles of posts from any location, allowing you to easily capture sub-plots which might be spread out across multiple locations.
You can create Quests with various rewards, encouraging your players to engage with specific plot lines.
Settings are the backdrop for the characters in your universe, giving meaning and context to their existence. By creating a number of well-written locations, you can organize your universe into areas and regions.
Navigation
While not required, locations can be organized onto a map. More information soon!
There are no groups in this roleplay!
By creating Collectibles, you can reward your players with unique items that accentuate their character sheets.
Once an Item has been created, it can be spawned in the IC using /spawn Item Name (case-sensitive, as usual) — this can be followed with /take Item Name to retrieve the item into the current character's inventory.
Give your Universe life by adding a Mob, which are auto-replenishing NPCs your players can interact with. Useful for some quick hack-and-slash fun!
Mobs can be automated spawns, like rats and bats, or full-on NPCs complete with conversation menus. Use them to enhance your player experience!
Current Mobs
No mobs have been created yet.
Locations where Mobs and Items might appear.
You can schedule events for your players to create notifications and schedule times for everyone to plan around.
Add and remove other people from your Universe.
Orphanage
By marking a character as abandoned, you can offer them to your players as pre-made character sheets.
"My story? Tell you what, kid. My story's a lot like a Brooklyn alleyway. It's long, messy, dark, and you don't want to get too personal with it. Understand?"
Freedom comes at a price.
The Forge
Use your INK to craft new artifacts in Welcome to Dystopia: The R-Evolution. Once created, Items cannot be changed, but they can be bought and sold in the marketplace.
Notable Items
No items have been created yet!
The Market
Buy, sell, and even craft your own items in this universe.
Market Data

Market conditions are unknown. Use caution when trading.

Quick Buy (Items Most Recently Listed for Sale)
Discussions
Topics

Replies
Views

Last post
Most recent OOC posts in Welcome to Dystopia: The R-Evolution
There have been no posts in the OOC topic for this roleplay!