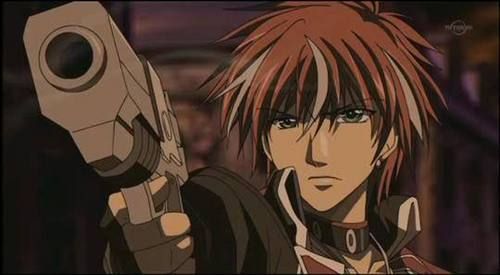 ---
---
Nicknames:
If you actually manage to get close to him, he'd probably let you call him Ken. Probably.

Age:
19

Gender:
Male

Mage:
Godslayer

Magic:


Godslayer Wind Magic - List of basic spells/abilities:



~God Wind Poise: Being as close to the wind and air as he is, Kento knows just how to move through it and work around to his best advantage wether he's using magic or not, this added maneuverability gives him a surprisingly decent amount of speed and agility that would surpass that of the average man.

~Wind Gods supper: Kento can take in and devour powerful gusts of wind to empower and replenish himself. Note: This only works with powerful gusts of wind, Kento cannot draw energy from still air in this manner, also, gusts of wind that Kento himself generates will not suffice, it must be natural or created by another mage.

~Jet bullet: One of the only spells Kento feels fairly comfortable using. He focuses a high velocity blast of dark wind using the barrel of his pistol to keep a decent aim, he doesn't need to actually pull the trigger, but he does it anyway out of habit.

~God Wind Claws: A passive combat spell that Kento is able to fully control. He encases his arms, legs, hands and feet in dark wind energy. Making his punches and kicks much more powerful than they normally would be.

~God Wind Melee: Kento has the ability to force wind forward at various strengths and sizes, allowing him to create the same effect as most forms of physical attack. (Slice, stab, bludgeon etc.) These attacks aren't very powerful unless Kento uses his full power, however due to the winds ability to bend and alter to fit through even the tiniest of spaces, these attacks can bypass almost all non-magical armor or defense.

~Snuff out: Kento can drain the oxygen and air from a flame and kill it before it gets out of hand. (Note: This only works on normal fires or fires created as a side effect of magical attacks. Kento can not put out extremely powerful magical fires, fire magic attack or any fire that is currently being created or used by a mage wielding fire. Kento is in no way immune to fire attacks. Imagine this ability used more as a practicality, putting out candles, stopping house fires etc. Rather than being used in combat.)

~God Wind Bellow: A more powerful ability, but one that Kento can usually keep under control, by sucking in a breath large enough to host a god Kento can release this powerful breath attack which takes the shape of a large unstable torrent of dark wind.

~God Wind Rush: Kento focuses all of his energy and creates a kind of aura around his body within such all air particles have been removed. This makes Kento lighter making him the rough equivalent of 50 lbs, it makes him faster, stronger and gives him the ability to jump incredible heights, it also causes all of Kentos other magic to be almost twice as powerful as it is normally, in other words this ability basically sends Kento into "God mode". However it is very uncontrollable and can lead Kento into a state of unpredictable anger and confusion thus triggering his bloodlust. As an added effect of the magic itself, since the air particles around Kento have been removed, if he is not paying attention/is not careful there is the risk that he could in essence, suffocate himself. While using God Wind Rush, Kento can access his truly "God-like" abilities.



Godslayer Wind Magic - List of "God-like" spells/abilities: (Note: Kento actually being able to fully control these abilities will be nigh impossible during the majority of RP and as such he will only ever even consider using them if it really is his ONLY remaining option.)



~Wind Gods Wrath: Kento gathers huge spheres of swirling dark wind in his palms and forcefully launches them towards his opponents, the speed and power of these spheres is enough to punch solid holes in mountains. Kento can however dissipate and release the spheres energy at whatever time he wants, stopping the destructive wind in its tracks.

~Wind Gods Rift: Kento forces all air and wind away from itself at such a speed that he rips the fabric of time and space for a fraction of a second, allowing him to phase out of reality long enough to teleport short distances, dodge incredibly vast attacks and escape nearly any imprisonment. This ability has a slight cooldown, so Kento cannot use it repeatedly.

~Wind Gods Spiral: Wrapping himself in wind, Kento spins himself at speeds incomprehensible to the human eye. As he spins even more dark wind gathers and before long Kento essentially becomes his own private tornado. When he's finished Kento can force the wind away from himself at similar speed, creating a shockwave like effect.

~Wind Gods bloodlust: A passive God-like ability unique to Kento. With every direct physical strike from Kentos fists or feet he gains a little bit more strength and speed aswell as an insane desire to do more damage and destroy his opponent entirely.

Rank:
B-rank, he doesn't intend on going any higher.

Crest Location:
The small of his back.

Weapon:
A single barrel pistol.

Height:
5'8"

Weight:
172 lbs when not using his full power. Only 50 lbs when he is.

Party:
Illusions. However he is quite uncertain on whether or not this is such a good idea.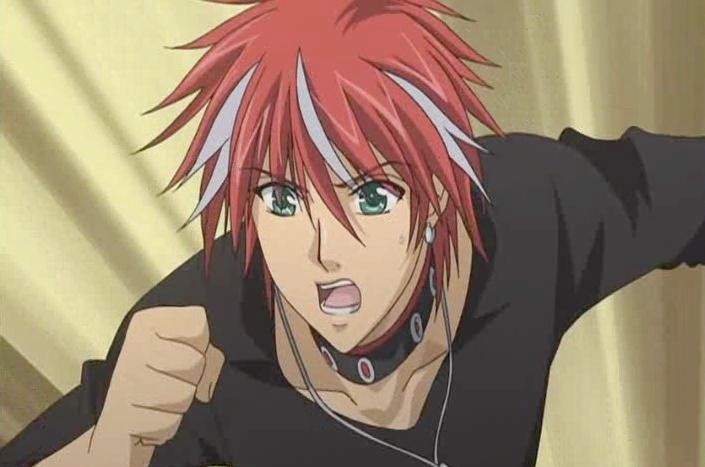 Appearance:
Standing at 5'8" and weighing in at 172 lbs (most of the time), Kento isn't exactly the most muscular guy around. He has muscles don't get me wrong, his build is fairly impressive and he doesn't look like the kind of guy you want to mess with for no good reason. But he isn't some freakish bodybuilder who looks more muscle mass than human and he's glad because of it. Kento has a pretty average face, nothing incredibly special about it apart from his calm green eyes, with a darker green hue they seem to show a calm and understanding personality, despite the fact that most of the time Kento is anything but. His nose isn't anything special and his again average ears are pierced with two silver beads, though Kento has been wearing such less and less recently as he says they "irritate" him. Accompanying these other facial features are Kentos thin lips which the majority of the time can be found pressed into a firm frown or scowl.

Kento has a messy hairstyle, his auburn hair stretches down from its top to barely reach his shoulders at its tips, he has various white streaks that he obtained from a past he has long forgotten. In terms of the way Kento dresses, when walking about town, lazing around the guild or just being casual in general, he will often be seen wearing a plain black t-shirt, black pants and his signature black, red and white choker, which he is rumored to never take off for reasons unknown. When things get a little more formal or when work calls him to action, he will change into a tighter, green t-shirt, over which he will wear a white collared black leather jacket and tougher, more durable, black pants that are better suited for the rough and tough areas his work at the guild often takes him to.
---
---
Personality:
Often described as the "lovable jerk" Kento is the kind of guy who can't say something nice about you without stringing it on to the end of an insult. For example, say you trip and barely stop yourself from falling flat on your face, imagine Kentos response as "Keep doing that and you'll be dead before I can kill you for being so stupid."... Obviously an insult right? Well it is, technically, but underneath that what Kento is trying to say is actually "Be more careful would you? You might hurt yourself." However he is too proud and reserved to be so outwardly caring towards another person. So, he hides it behind insult. To describe Kentos personality would be difficult because of this. We'll say he's a horrible, cruel and rude person but at the same time he cares, is kind and doesn't want you to come to any harm.

Actually, what is worth mentioning is that Kento will only show the previously mentioned behavior IF and only IF he likes you. If he doesn't like you then be prepared for some awkward moments or heated arguments depending on your personality. Kento will quite literally go out of his way JUST to make you look bad. It can honestly get quite immature, tripping you up, picking at your flaws, hurling insults in your general direction. He once stapled a kick me sign to someones back just so HE could kick them repeatedly, granted he REALLY didn't like that guy but it should give you an idea of the childish behavior he's capable of. So if he likes you and all you get is his... complimentary insults, then consider yourself lucky.

Now what if Kento cares about you? There's a big difference between liking and caring after all and since Kento cares about literally nobody at this point in time there's an entire side to him that people don't get to see. If Kento cares about you then he's more open with his compliments or concerns, no longer hiding them behind insults. He'll go out of his way to help you if the need arises. He'd gladly stand at your side against insurmountable odds. That kind of thing. Kento is no wimp either, he has bravery in bounds and is often the guy seen charging head first into battles... even though he refuses to use his magic. The fact that Kento will be willing to do any of this for a person is made even more unbelievable by that fact that kento is usually quite lazy and enjoys taking naps when he feels it to be appropriate.

Ahh yes, his magic. Kento does not like his magic. He knows all too well that such power could potentially hurt or even kill his friends or himself at any given time if he loses control and is even of the belief that it was his own powers that caused his amnesia. If you try to bring up the topic of Kentos powers then he will become quite aggressive. Giving an angry glare and snarl and often threatening those who refuse to drop the subject.

Kentos personality changes once again if he comes into direct contact with one of two things. Animals and chocolate. He absolutely adores animals, creatures and beasts of all kinds and becomes very jolly and sociable in their presence. A similar effect takes places when he receives or is eating chocolate, which is secretly his favourite food. He tends to avoid it however as he feels loving chocolate so much would give him a bad image, ironic as that logic is.

Finally... though he never speaks about it, Kento harbors a powerful bloodlust within himself that goes out of control along with his powers. When this happens Kento loses all sense of right and wrong and is only concerned with beating his opponents until they can dow nothing but lie there in pain. Once he defeats one person he moves onto the next and the next, however it never satisfies him and he has been known to, when in his most uncontrollable state, turn on and attack his allies with all the brutality and aggression he would show to an enemy. He also loses all care for his own physical condition and will continuously force his powers to the fullest and throw himself at his opponent. There is an extreme risk that with such continued combat and the constant flow of his Godslayer magic through his body that Kento could destroy himself. Though Kentos magic is difficult to control anyway, he actually very rarely loses total control and when he does it is usually brought on by extreme emotional stress or anguish.
Likes:
Publicly:
-Winning.
-Solitude.
-Silence.
-Good food.
-Sleeping.
-Controlling his magic.
Secretly:
-Chocolate.
-Some of his guildmates.
-Crushing his opponents.
-Humiliating his opponents.
-The company of a few others.
Dislikes:
Publicly:
-Losing.
-Extremely large groups of people.
-Noise.
-Terrible food.
-Being woken up.
-Losing control.
Secretly:
-Himself.
-Some of his guildmates.
-His magic in general.
-His overpowering bloodlust.
Flaws:
-When used to their full strength Kentos magic tire him at twice the rate of other forms of magic.
-If Kento uses his strongest ability their is a high risk he may suffocate himself.
-Kento has always had an overpowering bloodlust, causing him to lose control and often brutally overkill anything he defines as an "enemy". Combine this with his uncontrollable Godslayer abilities and when Kento loses control he becomes a danger to everyone involved.
-Due to their unpredictability and his powerful bloodlust, Kento almost always refrains from using his powers, instead using a much less powerful form of it through his gun.
Talents:
-Though very difficult and dangerous to use, Kentos magic is very powerful.
-Kento is a talented locksmith, he assumes he learned this ability in the time before his amnesia.
-Though he doesn't carry them, Kento is trained to use most all forms of firearm.
Fears:
-Losing control.
-Hurting his guildmates due to his lack of control and/or bloodlust.
-Being alone for the rest of his life.
-Himself.
-His magic.
-Dying.
-Fear itself.
---
---
Bio:
Kentos past isn't the most shall we say... detailed. To be more exact, if he does have one, nobody knows what it is, not even Kento himself. Five years ago on a dark, stormy night a young Kento dressed in a now familiar choker and barely covered from the elements by brown rags stumbles towards the door of the Fairy Tail guild, a lone oddly shaped pistol held firmly in his hand as his only possession. A mage on their way back from a quest sees Kento, then a fourteen year old boy, reach the door before collapsing forward and falling unconscious. Fairy Tail being the kind guild that it is, the guild member witnessing this rushed to the boys aid and brought him within the warm confines of the building. He was rushed to a bed as soon as possible and the guild decided to watch over him until he returned to health before deciding on a course of action... however it would soon be apparent that Kentos problem was more than a mere illness.
Apparently Kento was very lucky to have been found when he was as his body had been stretched to its very limits by some unknown magical energy and by pure willpower alone Kento had managed to drag himself to Fairy Tails door before finally falling to injury. Many experienced mages and men proficient in medicine were certain that he would not pull through and to many the boy was written off as "as good as dead". However one man, the mage who had found him that day, believed in Kentos strength and refused to have the boy removed until he no longer drew breath and took on the responsibility as his caretaker. Many saw the man as simply in denial, but they granted him his request and Kento stayed. Weeks passed with Kento in his coma like state, showing no signs of recovery, even his newly appointed caretaker began to lose faith in Kento ever waking up, however just as the final hope began to dim and fade and the mage caring for Kento turned to leave the room, a low grumble rose from the boys bed.
Hurriedly, the mage rushed to Kentos side to see his deep green eyes open for what felt like the first time. What followed was a quick conversation to quell a confused Kentos worries. Basic things at first, to start the mage introduced himself as Sorata Daaron, an S-class mage within Fairy tail and the man who had saved Kentos life, next Kento asked where they were, upon hearing they were at the Fairy Tail guild headquarters Kento released a sigh of what could be perceived as relief, however this quickly shifted to a frown of intense confusion, a look that Sorata himself shared as Kento asked his next question.
"Who am I?"
In the months that followed Kento learned that he had general amnesia, he could remember nothing of his old life and seemed to get nothing but headaches when he tried to, having no name of his own because of this, Sorata named Kento himself giving the boy his own second name and allowing Kento to take "Sorata" as a middle name. It was also in this time that Kento was discovered to be a Godslayer, one of the most powerful types of mage and Sorata himself took on Kento as a... one might say apprentice. Training the young Godslayer personally to better control his powers, avoid the bloodlust he clearly possessed and to wield the gun he carried properly. Kento was a full member of Fairy Tail within the year.
Two years ago an incident occured during a mission undertaken by Kento and Sorata. Two mages left the headquarters. However only Kento returned, carrying in his hands his teacher and friends jacket and in his eyes the tears wept only when a true ally falls. Sorata was dead. What exactly caused this was unknown to all but Kento, some say not even the master knows the truth of what happened that day two years ago. What is certain however is that since that day Kento has refused to use his full power and has become the snide, rude and solitary person he is today because of it.
---
---
Other:
-Though Kento avoids contact with others, he secretly longs for companionship.

-Kento will refuse to join a party whe first asked, however if the asking party shows persistent and interest and continues to pester him then he may be tempted to take the offer.
-Kento NEVER takes off his choker, he doesn't know exactly why, but it has always helped him remain calm, cool and collected when the circumstance becomes difficult.
-Kento adores animals and will turn into an almost completely different person around them. A slightly similar, yet less noticeable effect occurs whenever he gets his hands on some chocolate.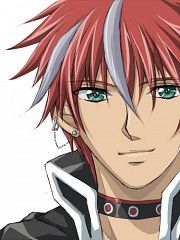 ---
---