---
---
╔
╗
╚
╝
---
---
X
X
X
X
█
█
█
█
█
█
█
█
█
█
█
█
█
█
█
█
█
█
█
█
█
█
█
█
█
█
█
█
█
█
█
█
█
█
█
█
█
█
█
█
█
█
X
▌
▌
▌
▌
▌
▌
▌
▌
▌
▌
▌
▌
▌
▌
▌
▌
▌
▌
▌
▌
▌
▌
▌
▌
▌
▌
▌
▌
▌
▌
▌
▌
▌
▌
▌
▌
▌
▌
▌
▌
F U L L
X
N A M E
N I C K
X
N A M E S
Trey | Preferred
Reed | Not common but not minded
TR | Used mostly by his younger brother
Z O D I A C
X
S I G N
A G E
B I R T H D A Y
N A T I O N A L I T Y
E T H N I C I T Y
65% Irish | 20% German | 10% Italian | 5% Spanish
S E X U A L I T Y
R E L A T I O N S H I P
X
S T A T U S
R E L A T I O N S H I P
X
H I S T O R Y
V I R G I N I T Y
X
S T A T U S
O C C U P A T I O N
---
---
"Out of difficulties grow miracles."
― Jean de la Bruyere
---
---
█
█
█
█
█
█
█
█
█
█
█
█
█
█
█
█
█
█
█
█
█
█
█
█
█
█
█
█
X
▌
▌
▌
▌
▌
▌
▌
▌
▌
▌
▌
▌
▌
▌
▌
▌
▌
▌
▌
▌
▌
▌
▌
▌
▌
▌
H E I G H T
W E I G H T
H A I R
X
C O L O R
E Y E
X
C O L O R
S K I N
X
C O L O R
G E N E R A L
X
A P P E A R A N C E
Trey isn't one of the tallest guys in his grade, or in his friend group, but he doesn't mind standing at only five-foot-eleven because he feels as though his athleticism makes up for the lack of height. Trey's trapezium, mesomorphic body weighs merely 172lbs but most of which is pure muscle. He has a smaller scale body but it is still very obvious that Trey is an athlete from the general form of his body. His figure is fairly slim compared to some of his jock buddies but he holds just as much muscle percentage as the rest due. Along with his muscular body, are the rest of his features that can attract nearly anyone in his personal opinion. His face is a strong square shape that accentuates his entire appearance. He's got a jawline of what some might call a God and he also had this tendency to clench it a lot which makes it just that much more defined. His grayish blue eyes often draw attention to his dark brown hair and his high sitting cheek bones. Treys smile is another aspect of him that he really finds mentionable and memorable; his teeth are perfectly aligned from the years of braces and they're just as white as they are straight.

Trey has a sense of fashion to follow both his personality and his physicality. He prefers to just dress casually and has a sense of simplicity in his attire most days. Jeans and tee shirts take up most of TR's closet and drawers but that's not to say that he doesn't know how to dress up and make himself more than presentable. Although he really enjoys staying simple in his attire, he does know how to make it look good. Usually, Trey will sport some type of polo, plain tee shirt, or a simple button down with a pair of chinos or jeans. He doesn't like to draw a lot of attention to his attire because growing up all he's ever known was simple living and thus far, he's stuck to the trend. A typical outfit of Trey's might look something like this. However, when Trey does have to dress up, like say for Game Day or a special function, he does clean up nicely. He might borrow a tux or a suit from Greg (see history) or he'll pull something together from his closet, which might result in a business causal outfit like this.

He doesn't have any tattoos or piercings but he often thinks about ones he might want to get. He has a few scars scattered throughout his body from injuries from sports. A couple of beauty marks are also scattered across his arms, chest, back, and legs but Trey has no outstanding mole or large mark that takes up majority of a body area. His athleticism keeps his body in shape which keeps Trey in an overall healthy shape. He has no major physical disabilities, other than the occasional insomnia. Trey's overall physical attractiveness can be rated fairly high is one is to scale from a one to ten. He'd probably give himself a 12 but ask around and most people might give him an 8 or a 9.
---
---
" No matter what people tell you, words and ideas can change the world."
― Robin Williams
---
---
█
█
█
█
█
█
█
█
█
█
█
█
█
█
█
█
█
█
█
█
█
█
█
█
█
█
█
█
█
█
█
█
█
█
█
█
█
█
█
█
█
█
█
█
█
█
█
█
█
█
█
█
X
▌
▌
▌
▌
▌
▌
▌
▌
▌
▌
▌
▌
▌
▌
▌
▌
▌
▌
▌
▌
▌
▌
▌
▌
▌
▌
▌
▌
▌
▌
▌
▌
▌
▌
▌
▌
▌
▌
▌
▌
▌
▌
▌
▌
▌
▌
▌
▌
P E R S O N A L I T Y
X
T R A I T S
✦ Confident ✧ Humble ✦ Charming ✧ Athletic ✦
✦ Independent ✧ Mature ✦ Generous ✧ Friendly ✦
✦ Selfless ✧ Sociable ✦ Responsible ✧ Appreciative ✦
✦ Sensitive ✧ Secretive ✦ Destructive ✧ Impulsive ✦
✦ Libidinous ✧ Misguided ✦ Resentful ✧ Fickle ✦
✦ Opinionated ✧ Pugnacious ✦ Anxious ✧ Blunt ✦


Trey is a character of sorts. He's got so many sides to him - not that they're all bad. He's a complex person who tries so hard to stay simple to no avail. He has a hard time staying sane some of the times trying to keep up with his own thoughts and actions. On the outside, Trey can seem like mister tough guy. At a quick glance, he can come off as arrogant or as a douche bag but that's not always necessarily true. He puts on a very big front and almost always refuses to let anyone see what he truly is like deep down.

That being said, Trey is a lot more sensitive than he will make himself seem. He grew up with a rough childhood and it can sometimes reflect on him. He's a fairly gentle guy but will give off the vibe of being a very big tool. But that's also not to say that Trey doesn't have his bad side. As kind as he can be, he also has his moments of blind rage where if someone ticks off that very last nerve of his, he will go red in the face with steam flowing steady out of his ears. He's the type of guy to hold grudges and hold them forever - he and his father don't talk anymore because of it.

It takes TR a while to trust people and even when you think he's begun to trust you, he could still be very skeptical of you and your relationship with him. He's learned from a very young age to be on his own and to not rely on anyone other than himself so he's a pretty independent person. He won't depend on anyone and often times he can get a little stressed because of it. He's been diagnosed with Generalized Anxiety and at times it shows. Trey has a bad habit of ruining every good thing that's come his way because of it. He doesn't do it intentionally, he's just so used to everyone leaving and things going wrong that he'd rather beat it to the chase. He'd rather hurt than get hurt.

Although Trey has been through a lot he would still put the lives of others before his own. He helps a lot within his community with the less fortunate and the kids with disabilities at school. He wouldn't let anyone know because he hates seeming vulnerable and he believes that this soft side to him will him just that but he's more than he seems. He's had to grow up quickly and he's matured long before he's needed to. But now he's helping those in need to let others bask in their innocence longer than he was able to. He's got thought edges but he's a smooth guy on the inside.

Part of this front that Trey has put on for the entirety of his life can be pretty detrimental to most of his relationships in life. He's been single for quite a while because he can't get into the emotional aspect of it. He's been around the block a few times, so to say but that's pretty much the only thing one's going to get from him. He very often unintentionally destroys anything good that comes to him mostly because he's simply not used to any good coming to his life. His rough home life often gets in the way of his normal life living.

Trey realizes that what he's doing to himself is destroying who he is. He's often lonely and he feels as though he's failed in life. He wants to be a better person and tries hard to overcome his insecurities but he doesn't succeed very often. He pushes away from people who care about him, or he doesn't give people enough time to get close enough to care. He essentially destroys everything he has before he actually has it. He thinks it's best if he doesn't slow anyone else down by letting them get too close. Trey almost thinks he's doing everyone else a favor. The worst part is that most people don't see what they're doing when they do something like this but Trey is very conscious of his actions. He's hurting himself by doing this and he doesn't really know how to change it.
---
---
" Your present circumstances don't determine where you can go; they merely determine where you start."
― Nido Qubein
---
---
X
X
X
X
X
X
L I K E S
✦ Lacrosse ✧ Soccer ✦ Water Polo ✦ Running ✧ Painting ✦ Snowboarding ✦ Swimming ✧ Writing ✦ Cooking ✦ Working with students with disabilities ✧ Watching documentaries ✦ Longboarding ✦ Listening to alternative/indie music ✧ Learning new things ✦ Watching/Listening to the Ocean ✦ Sunsets ✧ Stormy Weather ✦ Sweaters ✦ Dressing nicely ✧ The feeling of having achieved something ✦ Independence ✦ Dogs ✧ Coffee ✦ The color maroon ✧ Chinese food
D I S L I K E S
✦ Basketball ✧ Neon colors ✦ Tea ✦ His father ✧ Traffic ✦ Spicy food ✦ Loud chewers ✧ Being told to calm down ✦ Being late ✦ Milk ✧ Sushi ✦ Being up early/mornings ✦ Slow/bad drivers ✧ Bad hair days ✦ Burnt food ✦ Smell of burning whatever ✧ Smell of gasoline ✦ Noisy kids ✦ Over excited squealing ✧ Morning breath ✦ Ignorant people ✦ Condescending people ✧ Dirty environment ✦ People who constantly seek attention and pity ✦ Rude people ✧ Liars ✦ Pickles ✦ Pasta other than spaghetti ✧ Seeming vulnerable ✦ The use of the word 'retarded' ✦ Anything type –phobes, –ists , or –isms (i.e. homophobes, racists, sexism, etc.,) ✧ Pushy people ✦ Unnecessary negativity ✦ Unappreciative people ✧ Soda ✦ Reptiles ✦ Insects ✧ Not feeling in control of something ✦ Math ✧ The color purple
H O B B I E S
✦ Playing sports
✧ Writing
✦ Painting
✧ Watching sunsets
✦ Helping/giving back to those in need
✦ Driving for long periods of time
✧ Jogging
✦ Learning new skills/hobbies
✧ Listening to ocean waves crash
H A B I T S
✦ Spending habits Trey has a jar where he puts all his spare change. He and his brother don't buy anything more than what they need because money isn't something they have an excess of.
✧ Drugs/Alcohol As an athlete, drugs aren't the type of things Trey should be messing with. He drinks occasionally with Greg, casually, but he doesn't often get drunk. He needs to stay sober to take care of his brother and to stay on the team, and that includes any type of smoking.
✦ ANSWER
W E A K N E S S E S
✦ JT Jamison gives Trey a soft spot and he's sensitive to his needs or to his mentioning. Don't mess with JT around Trey or you might not make it to tomorrow.
✧ His Family Trey swears it by him that he doesn't have a family anymore. He just has JT and Greg. This is another sensitive subject to him.
✦ His Anxiety Trey's anxiety is always getting the best of him and showing the worst of him. He hates having anxiety – he feels it slows him down a lot.
S T R E N G T H S
✦ JT Jamison is what makes Trey the happiest. Seeing his brother have a good day, seeing his brother safe and knowing he's taken good care of, it makes Trey happy. JT keeps Trey going.
✧ His Father Believe it or not, but ever since his father ran out on him and Jamison, Trey has never tried harder to be everything his father was not. The fact that his father abandoned him made him strive to be better.
G O A L S
✦ Free himself of his repressed sorrow and anger
✧ Bring awareness to mental disorders and their treatments
✦ To fully care for and support his brother and himself
A S P I R A T I O N S
✦ Be the founder of an organization dedicated to helping those in need and those living with mental disorders/disabilities
✧ Get into a good college and graduate
P H I L O S O P H Y
✦ Failure will never overtake me if my determination to succeed is strong enough ✦
― Og Mandino
---
---
" Most of us have far more courage than we ever dreamed we possessed."
― Dale Carnegie
---
---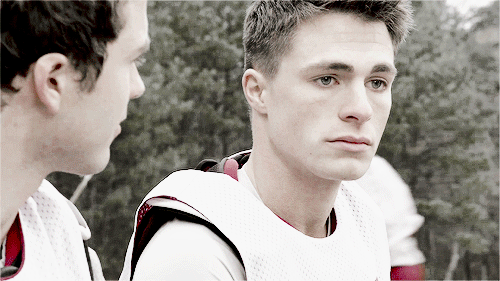 █
█
█
█
█
█
█
█
█
█
█
█
█
█
█
█
█
█
█
█
█
█
█
█
█
█
█
█
X
▌
▌
▌
▌
▌
▌
▌
▌
▌
▌
▌
▌
▌
▌
▌
▌
▌
▌
▌
▌
▌
▌
▌
▌
▌
▌
F A M I L Y
X
&
X
S I G N I F I C A N T
X
F I G U R E S
X


Clark Garrison | 52 | Father | Restaurant and Bar Owner | Location Unknown



X


Victoria James-Garrison | Deceased | Mother



X


Jamison Truman (JT) Garrison | 14 | Brother | Living in Beverly Hills



X


Gregory Hames | 49 | Father Figure | Living in Beverly Hills | See History
H I S T O R Y
Traysons past is not one that he discusses with anyone. This is perhaps one of the most secretive parts of him – he knows that if he were to share such intimate details of his life it can be used against in the worst possible ways, or even in ways unintended to be harmful that still result in catastrophe.

From what he can remember, he used to have a happy childhood. He and his family lived in Arizona for quite some time before moving to California. Trey went to a prestige private school for several years, until his mother got sick. When Trey was younger, he idolized his father and wanted to follow down his pathway, scoring a dream of owning his own chain of restaurants but things quickly changed. Trey lived a happy life, until everything went to shit that is. He lived as an only child for just a few years; at the young age of four, he was introduced to a growing belly and was told it was his newest sibling. 9 months later he was again introduced to the same sibling, only this time it wasn't a belly, it was a little boy named Jamison. For the first few years of their lives as brothers, everything was joyful. However, by the time Trayson was turning 7, his mother was very sick with cancer. Jamison was only 3 at the time and didn't retain much of what was happening in the moment. Though Victoria, the boys' mother, kept fighting strong for 5 years, she passed away when her boys were just 12 and 8.

At first the boys' father stayed strong and supported the family through tough times. He took over their mother's roles and played both mom and dad for the now family of three. As the years went by however, things got more difficult. When Jamison turned 10 years old he was diagnosed with very early onset schizophrenia. The responsibilities became too much for Clark Garrison, the father, and he abandoned his boys a year later and left them to fend for himself; where he is currently living is unknown to the boys nor do they care to find out. At the barely ripe age of 15, Trey and his brother, Jamie, were living on the streets with no shelter, no food, no money, and no means to find their way. Jamie's schizophrenia was worsening without medication and the boy's father was nowhere to be found.

The two lived on their own for 18 months before Trey was able to get a job as a dishwasher for a restaurant. The boy saved his money in order to afford medications for his brother but was barely able to afford enough to feed himself. Noticing the boy was always dressed in rags and smelled grungy, Trey's manager decided to follow him to his house – discovering the boy was homeless and taking care of his brother on his own, he asked Trey one day what his home life was like. Trey lied and said that his father had lost his job so things were tight and that was why he was working so often, to help pay for his brother's medication and treatment. The manager weeks later gave Trey an envelope and told the boy it dropped off by an anonymous man and he had no idea what was in it. Trey opened the envelope once he was with his brother to discover a few bulks of hundred dollar bills, a signed lease, and a key to a small apartment outside of Beverly Hills in Beverly wood with a note attached reading: This money is for rent, for food, and for anything you need to take care of. The key and lease is to your new apartment. Take care of yourself and of him. – Your friend. Trey thanked his manager upon seeing his name on the lease.

Trey worked for Greg as a dishwasher for a few more months, then got promoted to cook, then to server. Trey continues to work for Greg in his restaurant but now works for him as a server and bartender. Greg quickly became a father figure for the two boys and check in on them often. He helped them get back in a good place and helped them get back into school. He encourages Trey to be the best he can be and to continue fighting for what and those he loves. He's been supporting Trey in his journey to start an organization to help those in need.

Today, Trey lives differently from his Upper Middle Class life and now sits alone in his lower middle class life that not many of his classmates know about. His life is left pretty private from others because he fears that someone will take his brother from him if they find out. He lives with just his brother in a small apartment not too far from the school that Greg pays for. The two never grew up with any pets but Trey considers getting a service dog for JT often because of his disability. With the money Greg lent him, Trey was able to buy a used Jeep. He still works for Greg at the restaurant after school and on the weekends.
---
---
---
---
How has your year been for you thus far?
"The year is always rough for me. I have a lot to do between work, school, and my brother but I don't know… I guess we'll have to wait and see how it all goes."
What are you most looking forward to this year?
"I think I'm mostly looking forward to just graduating and getting the rest of my life started, you know? I just need to get to the next level"
How do you feel about Spirit Week? Which day out of the week is your favorite?
"I don't mind it. As an athlete I have to involve myself in it, but I wouldn't go to say I have any favorites about it."
What group or clique are you part of and how do you feel about them?
"I take part of the jock group so I'm in with the A-Listers. I don't know if I belong in the A-Listers per say but being part of the athletics is what keeps me going so I'm not going to complain."
Are you happy with your place on the social ladder? Or would you like to be a part of any other clique, if so, which and why?
"Like I said, can't say for sure if I belong but I'm not going to fight it. If I were to put myself somewhere other than the jocks it'd probably be the loners. I don't really make myself seen a lot and I think people only know me because I'm on the team."
So what does your schedule look like this year?
"Well, my GPA is a 3.73 right now so I'm taking a few classes to keep that grade up because I need to get into a good school – hopefully by scholarship."
1. Marketing II
2. Speech and Debate II
3. English 12 Honors
4. US Gov Honors
5. AP Environmental Science
6. Journalism Foundations
7. Geometry
8. Navy Junior ROTC III
9. Lunch
---
---
O T H E R
Fᴀᴄᴇ Cʟᴀɪᴍ ✦ Colton Haynes
Pᴏʀᴛʀᴀʏᴇᴅ Bʏ ✧ Chandz

ⒸⓄⓅⓎⓇⒾⒼⒽⓉ ⓌⒶⓇⓃⒾⓃⒼ

character basic form © aurei
modified form ઽ૮૨Α
modified form for this roleplay : Chandz
---
---