---
Real Age:
19
Occupation:
College student
Gender:
Male
Orientation:
Bisexual
Appearance:
Owen stands at an average 5'9. He has a rather lanky, and thin build, something which he often gets mocked for. Though he is standing on the verge of adulthood, he looks slightly younger than his age. He has quiet the youthful appearance with people often mistaking him for a younger teen at around the age of sixteen or younger. In real life he has a head of messy dark brown hair, which he keeps fairly short. His eyes are simply a plain shade of brown.
Reason for playing LAIOS:
LAIOS provided Owen a chance to be something more than what he was in the real world. Where he was weak he could be strong. Where he was nervous, he could be confident. Where he was normal he could be extraordinary. Owen had used games to escape from reality, and be someone better before, but LAIOS was the first place where he could live a truly different life in a truly different world, and there was no way Owen could pass that up.
---
---
---
Avatar Sex:
Male
Level at Start of Roleplay:
76
Race:
Beast-Wolf
Element:
N/A
Class:
Defender
Role:
Knights of Lore guild leader
Occupation:
♫




Guild:


[font=garamond][size=100]Knights of Lore
Hex code:#aaaaaa
---
---
---
ஐ
ஐ
ஐ
ஐ
ஐ
ஐ
ஐ
ஐ
ஐ
ஐ
ஐ
ஐ
ஐ
ஐ
ஐ
ஐ
ஐ
ஐ
ஐ
ஐ
ஐ
ஐ
ஐ
ஐ
ஐ
ஐ
ஐ
ஐ
ஐ
ஐ
ஐ
ஐ
ஐ
ஐ
ஐ
ஐ
ஐ
ஐ
ஐ
ஐ
ஐ
ஐ
ஐ
ஐ
ஐ
ஐ
ஐ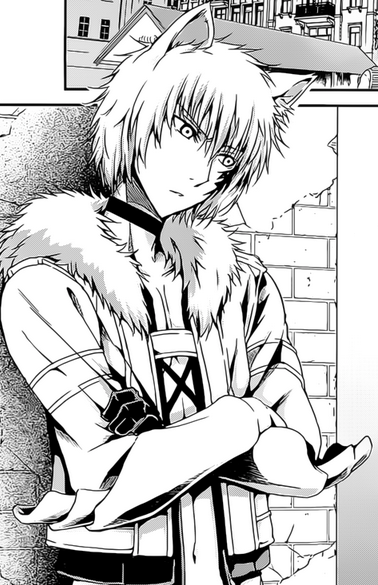 [img]380x580%20IMAGE[/img]
In Game Appearance
When Owen was creating Goliath he based the Beast on the concept of a lone wolf. As such he is fairly large standing at about 6'6, and is heavily built. Goliath has a perpetually messy head of silver hair that reaches slightly below where his ears would be. Goliath was made to be as intimidating as possible so as to differ from his real body as much as possible. As such his facial features are rather rigid, and tough. Though he still manages to have a gruff handsomeness to him. Goliath has a piercing set of dull gray eyes. Goliath is a Beast made with wolf features. He sports a pair of wolf ears sitting atop his head, and a rather large wolf tail, all covered in gray fur. In addition to this Goliath also has rather sharp more pronounced canines, as well as a rather dangerous pairs of claws. Goliath has several patches of shaggy gray fur adorning his body, and his feet though still predominately human are slightly paw like in appearance. Since he is a Beast character his avatar has gone through little growth from their base appearance. Though due to his level his body, the parts not covered in fur anyway are covered in several markings. In addition to his markings he also has the sword and shield tattoo identifying him as a Knight on his left shoulder.

As a Defender Goliath is most comfortable in large heavy armor. His armor is rather ornate with quite a few fancy markings, and a red gem placed in the center of the chest, and it somewhat resembles true knight armor. Though Goliath himself is rather large his armor somehow manages to actually make him look larger, and he has had it customized to comfortably fit his tail without actually exposing it. When not in armor he can often be found wearing clothes in dull neutral colors often shades of grey or brown. He will often wear a grey flowing jacket with fur on the collar.
Skills:
⚜

Armor Slash-The ability to cut through an enemy's armor, dealing a devastating blow to their defenses, allowing the opportunity for massive damage.



⚜

Shield Me -This ability will drastically increase his own defense as well as the defense of the closest party member.



⚜

Silver Tongue- This skill makes him a smooth talker, able to talk his way into better deals with merchants, and out of trouble with any one he may have disagreements with. He has leveled this skill to 65, he is considered by many to be a charming fellow and can be fairly persuasive.



⚜

Cooking- He is able to mix ingredients and cook meals to regenerate health. He has leveled this skill to 55 making him a rather good cook within the game. He is able to find several ingredients, and knows how to mix a lot of them. He is able to replicate several real world flavors.
Enhancements:
⚜

Gloves: 40% increase to magic resistance.


⚜

Body armor: Regains 15 health points every 10 seconds, speed is 20% higher.


⚜

Leg Armor: Carrying capacity increased by 80


⚜

Lance and shield: Sleep-Adds sleep counter to make opponents fall asleep.


⚜

Boots: health increased by 70 points.
---
---
---
ஐ
ஐ
ஐ
ஐ
ஐ
ஐ
ஐ
ஐ
ஐ
Likes:
♦

LAIOS-Though he and his Knights occasionally assist the other guilds in escaping he genuinely loves the game world he's stuck in.
♦

His Knights-He loves his guild and everyone in it. As far as he's concerned they're more like family than anything else.
♦

Music-He loves music, and always wanted to try and learn how to play an instrument. Unfortunately he has little talent, and he sounds simply dreadful. In LAIOS however he had a chance to actually be decent, hence his in-game occupation.
---
[/right]
ஐ
ஐ
ஐ
ஐ
ஐ
ஐ
ஐ
ஐ
ஐ
Dislikes:
♦

Player Killers-He hats them, and as far as he's concerned they're monsters. He will not hesitate to attack if he finds one.
♦

Soloists-He doesn't really hate solo players though he does think them foolish. Should he see a solo player he will often try to convince them to join the Knights or at the very least form a party to better protect themselves.
♦

Bullies- Really he just hates when people pick on those weaker than themselves.
---
ஐ
ஐ
ஐ
ஐ
ஐ
ஐ
ஐ
ஐ
ஐ
Strengths:
♦

Strength-As a Beast Goliath boasts increased strength and power.
♦

Defense-Goliath is a Defender this he has incredible defense. He is incredibly hard to cause real damage to him and he is difficult to take down.
♦

Heightened Senses- As a Beast Goliath has much sharper senses than many of the other players.
♦

Charasmatic- As powerful as Goliath is physically he is also quite the charmer. For the few situations he can't fight his way through he will certainly be able to talk himself out of it.
---
ஐ
ஐ
ஐ
ஐ
ஐ
ஐ
ஐ
ஐ
ஐ
Weakness:
♦

Slow-Goliath is not the fastest character. He tries to offset this with an enhancement that increases his speed but but it's not always enough. He often has a hard time hitting faster opponents.
♦

Magic-His resistance to magic isn't as good as it could be. It's another weakness he tries to fix with an enhancement but those with strong enough magic can easily overcome it.
♦

Reckless- Due to his sheer strength and defense he often thinks he can overcome any opponent. Often believeing that he can outlast his enemies through endurance alone. As such he has a tendency to rush into fights he can't win.
---
ஐ
ஐ
ஐ
ஐ
ஐ
ஐ
ஐ
ஐ
ஐ
Fears:
♦

Losing those he cares about- LAIOS is a very dangerous place and both Goliath himself and those he knows are in constant danger of dying.
♦

Being unable to protect others-He is a Defender and styles himself as a protector of the weak. As such he fears not being strong enough to protect others.
♦

Heights- In real life he is absolutely terrified of heights. It's the main reason he didn't choose the demon race.
---
---
---
---
ஐ
ஐ
ஐ
ஐ
ஐ
ஐ
ஐ
ஐ
ஐ
ஐ
ஐ
ஐ
ஐ
ஐ
ஐ
ஐ
ஐ
ஐ
ஐ
ஐ
ஐ
ஐ
ஐ
ஐ
ஐ
ஐ
ஐ
ஐ
ஐ
ஐ
ஐ
ஐ
ஐ
ஐ
ஐ
ஐ
ஐ
ஐ
ஐ
ஐ
Personality:
Flirty ღ Confident ღ Protective ღ Compasionate
Owen is a shy rather introverted fellow. He rarely speaks unless spoken to preferring to engage in more solo activities such as games. However this isn't so much out of a desire to be away from people but more of a side effect of his extreme nervousness. He is incredibly anxious around others and those who don't immediately assume him to be rude find him to be rather timid. What people don't see however is the friendly, kind boy who simply suffers from doubt and a lack of self esteem.

Goliath however was designed specifically to be everything Owen wasn't, and in his opinion Goliath is the much better person between the two. Where Owen is timid, weak, and nervous Goliath is brave strong and unwaveringly confident. Just about the only things that Goliath has retained from Owen would be his friendly and kind nature. Unlike with Owen whose friendliness is hidden beneath a layer of anxiety Goliath is friendly on the surface at almost all times. He is rather boisterous and has a lively energy about him. However he is also fiercely protective of those he cares about. When there is danger or someone he cares about is in trouble he will completely abandon his friendly easygoing demeanor. Instead he will be rather stern and serious, very much no nonsense. His Knights know him to be approachable, understanding and fair. Goliath is also far more flirtatious than Owen due to his confidence and will often flirt with men and women though in a rather respectful and somewhat playful way.
---
---
---
ஐ
ஐ
ஐ
ஐ
ஐ
ஐ
ஐ
ஐ
ஐ
ஐ
ஐ
ஐ
ஐ
ஐ
ஐ
ஐ
ஐ
ஐ
ஐ
ஐ
ஐ
ஐ
ஐ
ஐ
ஐ
ஐ
History:
Owen comes from a rather stressful and difficult family. He is the youngest of three children and seems to be the least favored. He has had very little support from his family, who instead often meets all of his choices with nothing but disapproval. This has led to Owen developing a great love of games particularly RPGs where he could be anyone but himself.

He got LAIOS not long after its public release, and was quite excited to be able to play in a more lifelike virtual world. His desire to be anyone other than Owen James led to the creation of Goliath who was as different from Owen as possible. Owen named Goliath for strength and built him as a powerful wall who could dish out almost as much damage as he could take. When he was completed Goliath was a powerful, and confident character who wouldn't ever need to rely on anyone due to his sheer power and defense.

When the game became locked Owen was at first ecstatic. He would never have to go back to being Owen again. He spent the majority of his time venturing out into the world of LAIOS alone gaining as many levels as possible to ensure his own survival. However it didn't take him long to see just how many people were getting hurt here. Though he loved the world he was trapped in and was more than capable of surviving it became clear to him that this wasn't true for most of the others. He decided that they could use his newfound strength and as as such he formed the Knights of Lore. A guild dedicated to protecting others and assisting anyone they could. After some time the guild became one of the most important things in his life. He began to stylize himself in the image of an actual Knight and as far as he was concerned the Knights were his brothers.

Currently he spends most of his time at the guild base foreseeing the day to day operations of the Knights. He primarily focuses on protecting those that need it though he makes sure that his Knights acquire as much information as possible knowing how useful knowledge can be in this situation. Though he will occasionally offer his assistance to the Phoenix Blight and the Lunar Glads he really only does so because he recognizes how dangerous this whole situation really is. He considers escaping the best way to protect the players that still remain.Truthfully he loves the game world so much that if the situation was less dangerous he'd probably be fighting to stay in the game instead of the other way around. Occasionally when he has the time he will run out in s party of his Knights to complete quests and gain levels.
---
---
---
Face Claims:
Hinata Shintan-Kaichou Wa Maid-Sama!
Bete Loga -Is It Wrong to Try to Pick Up Girls in a Dungeon?
CS Design:
© By: FaddedFox ©
Played By:
By: Blueshadow
Rules