»Name«
Sarah Di Cecca
»Age«
18
»Gender«
Female
»Nationality«
Italian
»Orientation«
Bisexual
»Play-by«
Faery Assistant #1, FC: Ariana Grande
»Appearance«
Sarah has straight long hair that she dyed red a few years back. Like her original hair colour, her eyes are brown and plain. On each side of her face she has a

dimple

that is distinctly visible when she smiles, which she tends to do often. Some days she likes to tie her hair up in a high ponytail and keep her hair out of her face. She likes to wear what's comfortable, but it has to be

cute

too. Although her style is cute, it isn't what one could call trendy or elegant. It's casual and inexpensive. When she feels like it she wears some light makeup. Maybe a bit of eyeliner, foundation, and some mascara. Other days she can just go barefaced if she's not up for makeup. In addition, each of her ears are

pierced

with a black stone stud.
»Personality«
Sarah is a fun-loving girl who loves to laugh and have fun. She's what one could call beautiful but unfortunately she has a small brain. Once people get past her slow mind, they find out that she light up the room and can make the atmosphere fun and exciting. She can easily make people laugh and feel like they're already close friends despite knowing them for less than 10 minutes. Along with being slow-minded, she's kind of naive. Guess that comes with being stupid.
»History«
Sarah was born and raised in a small town in Perrysound, Ontario. A Canadian. Her parents work abroad and are never home. She was raised by her grandmother, but when Sarah turned 14, her grandma started showing signs of Alzheimer's. Probably growing up with someone who only remembered her 4 days a week aided in her mind's minimal capabilities now.

People may have been acquainted with her due to her beauty, but because of her flaw in intelligence, they soon steered clear of her. They gossiped and not too long after everyone knew her as the

"dumb beauty"

. Everyone thought she was incapable of thinking for herself, and all those she tried to befriend would quietly make up an excuse or tell her they couldn't because she was stupid. At first she didn't think much of it, but after a while people started to bully her about it, and she started to

hate

herself and life itself.

One day she saw the advertisement for 'My World' a virtual game where you could be somebody else. She hadn't played many games, but this seemed promising. Curious, she stepped into the store and the person advertising it had the best persuasive skills she had ever seen. In the end, she was walking out of the store with the game in her hand.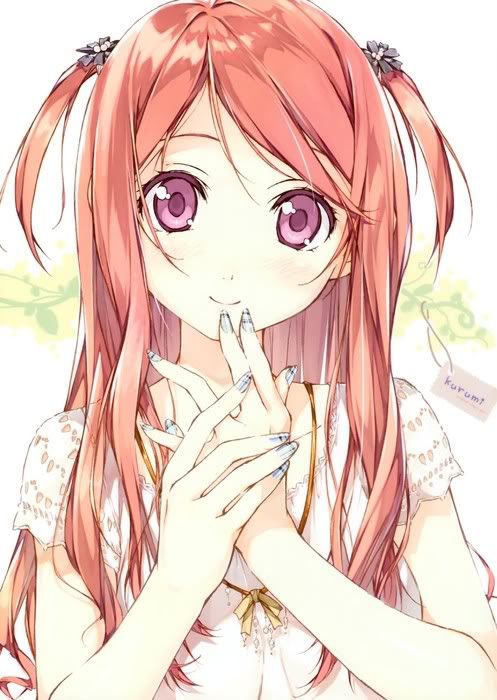 »Avatar Name«
Evelyn
»Avatar Appearance«
When Sarah entered My World and was creating her avatar, there was one thing she wanted it to have: her red hair. The one thing Sarah liked about herself was her hair color, and as a result Evelyn inherited her creator's hair. Evelyn's hair is usually kept down and flowing naturally. In addition, the tint of her eyes is also similar to that of her hair, but more of a cute bubble gum colour. Her appearance in My World somewhat reflects who she is: a spacey and slow-minded person. The race she chose for her avatar was a

faerie

. She has translucent white faerie wings that shimmer in direct sunlight. Usually she wears black leather boots with a bit of a heel. Easy to clean, and the easiest place to hold/hide her dagger. She dons either a pink, red, or white dress the majority of the time. Yes, it's strange to wear something that could hinder one's fighting, but what does she care? We're forgetting she's kind of idiotic. There's a belt around her under-bust and her katana is hanging on it from a string.
»Guild«
Faery Guild
»Main Element«
Fire
»Weapon(s)«
She uses a katana. In her opinion, it's simpler to use. There's a dagger hidden in her boot, but only because someone advised her to do so.
»Skills and Abilities«
Azionare – A buff that boosts attack of both her and her allies.
Flaming Arrow – Conjures up a flaming bow and shoots arrows of fire.
Dragon's Breath – Breathes a mid-ranged burst of fire.

Even in the gaming world, she retains her stupidity. Therefore, her skills are more brawn than brains. Needless to say, she is not someone the group could count on for intelligence.


Azionare

is a power up she uses to boost up the attack power of her and her allies. When first activated, those affected will be surrounded by a thin red light. After a second the light will dissipate and a marking will appear on their foreheads to show the skill is in effect.


Flaming Arrow

is a long-ranged skill that she likes to use to avoid close combat. Unfortunately the skill requires focus, something that she doesn't have very much of. As a result, her accuracy when using this skill is low.


Dragon's Breath

is a mid-ranged skill that she uses when she gets rash or desperate. Similar to a flamethrower, it covers a large area, but it requires a lot of energy and burns energy very quickly. Normally she uses short bursts, but if she tried to hold it longer she could probably only use it for a continous 7 seconds.

»Password«
BLUE