---
---
---
---
---
---
|Name|

James Pratt

|Nickname|

None

|Age|

26

|Sexuality|

Straight

|Gender|

Female

|Face Claim|

Bradly Cooper
---
---
---
---
|Hair|
Brown
|Eyes|

Brown
|Height and Weight|

5'8 & 112 lbs

|In Depth|
James in 5'8 and weighs 112 pounds. He dresses like a normal dude in t-shirts and jeans. He only wears suits or stuff when at important meetings or anything.
---
---
---
---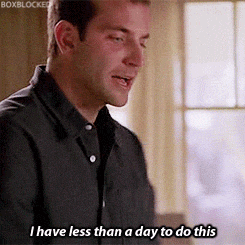 |Personality|
He normally is a pretty decent guy. He likes to be with his wife. He is normally pretty happy. He is sometimes one to pick a fight but its because he is nervous and doesn't like things that are told of what he is meant to do. He really just has the norms. Like he is pretty decent at trusting, stubborn (a lot of stubborn) and well he is pretty nice most of the time. It just depends on the day he is very moody and emotional it goes in phases.

|Likes & Loves|
❤Football || His job he loves it absolutely.
❤His Wife || Cora he married her for a reason.
❤Smoking || He knows it's bad for you he just can't help himself.
❤His Unborn Child || He wants the baby he really does he just is a bit nervous is all.
❤Kenny Rogers || He is an awesome singer and he loves country music.

|Dislikes & Hates|
✘Seafood || Its just gross.
✘Worms || Too Slimy
✘Horror Movies || He would rather have the comedy movies thank you.
✘Nature || Too many things bugs.
✘The Elevator || Stuck, problems, problems.

---
---

[center]
---
---
[font=garamond]
James was born to his parents in Brooklyn he then on a date met Cora. He loved her instantly and they got married and have now conceived their first child. He has always loved Football so in Highschool he got a scholarship and went into professional football. And that's what he does for a living. He smokes and he knows it worries his wife but he likes it way too much to have any problems with it really. He can't give it up because it's a nasty habit. He has been smoking more since he knew that there was going to be a baby. He only does it because he is nervous if he will be a good father or not. His wife was meant to be a mother him on the other hand is not the type to settle down and have kids. He wanted to retire and treat his wife to traveling and life. But this is just too much. [/center]
---
---