◤
◥
◣
◢
|Name|
Katherine Isaacs

|Nickname|
Kat

|Age|
23

|Sexuality|
Bisexual

|Gender|
Female

|Face Claim|
Blake Lively
|Hair|
Blonde

|Eyes|
Blue

|Height and Weight|
5'3" & 125 lbs. (Before the baby.)

|In Depth|
Katherine is quite short and petite. She tends to try her best to look good every time she goes out in public, makeup, never goes out in her pajamas, and always wears jewelry. She tends to wear short skirts, shorts, and dresses and reveals a lot of skin, but not enough to be called a prostitute, stripper, or whore. If her boyfriend or girlfriend feels uncomfortable with her going out dressed a certain way, then she changes into something else. Most of the time she has her hair let down and doesn't do much with it because she feels it looks good naturally. Though on hot days she tends to wear her hair up more than anything. So mostly during the Summer she would be seen with ponytails, buns, braids, etc. Katherine has a huge fascination with leather jackets and heeled boots, so most of the time she will be seen wearing those. But when she isn't in her boots, she's usually wearing stilettos.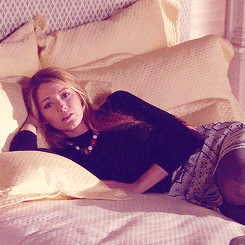 |Personality|
Katherine is a very outgoing kind of girl and always loves to have fun. Whether it's going out to parties, hanging out with her friends around the house or going out on shopping sprees. Although she tends to be very hot tempered, she is also one of the nicest girls you could ever meet. She thinks of everyone else before herself. Though sometimes people tend to use her because of this, she has a hard time noticing these things. Katherine is a huge animal lover, so whenever she sees a stray animal she tries to take it home or takes it to the ASPCA to be taken care of and adopted by a nice, loving family. When it comes to kids, she just loves them to death. Kids are her world. Which is why she got her job at a daycare.

|Likes|

❤ Any kind of coffee
❤ Books, poetry, etc.

|Dislikes|

✘ Being told she can't do something
✘ Being looked down upon because of her sexuality


Katherine was born into a very average family. Her parents stayed together throughout their entire lives and they all loved each other the way they should. Her parents always put Katherine before themselves. Though she was an only child, she always hoped she would end up with a brother or sister, but that never seemed to happen. As she grew older, she came to find out that her own mother became her best friend. She could talk to her about anything and she would always understand what she was going through.
During high school, she was raped by one of the guys on the football team after one of the games. For a while she didn't have the guts to tell someone about it, but finally she went to the police department and turned him in. She pressed charges on him and later won the case. Thankfully everything went well enough for them to find DNA on her clothes and bruises upon her body from where the male had hit her and held her down. Ever since she became very untrusting towards guys, but that was until she met her boyfriend. When she met him, she felt an instant connection and couldn't seem to think of a day where she was without him.
A few months later she met her current girlfriend at a bar and immediately began feeling these strange feelings toward her. At first she didn't seem to understand where these feelings were coming from because all her life she always thought she was into guys. But now everything was just plummeting down into dust. Not only was she pregnant with her boyfriend's baby, but now she was hiding this pregnancy from her girlfriend and having problems understanding her sexuality.
One day she finally got confused and stressed out enough about everything that she just up and left her boyfriend without a single word and hasn't spoken or seen him in three months. Katherine has no clue how to tell her boyfriend or girlfriend about this pregnancy, but she knows she won't be able to hide it forever. When it becomes noticeable that she is getting bigger and pops a baby out of her, everyone will know whether she wanted to tell anyone about it or not. Even though she loves kids to death, she's been contemplating on whether or not she should give this baby up for adoption, but she also knows that it's not just her decision; it's something she has to talk to the father about as well.