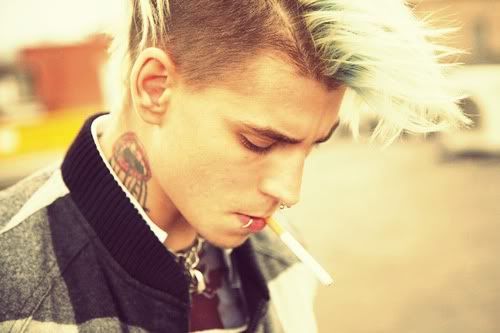 Punk is the name he goes by in the Code Black.
Eighteen
071597
There was heavy pounding on the door of the house that was pristine and beautiful on the outside, but in a bit of a disarray on the inside. Daniel was rushing around, trying to hide all of his artwork and his guitar. It was pointless. They would find it anyways, he was sure of that. Eventually, the officials and military busted his door down. "Stop right there! Daniel Robert Chief, you are under arrest for the creation of vulgarity in our clean city!"

"That's only if you fuckers can catch me!" He yelled and threw a bookshelf down to obscure their walking area and he busted open a window, climbing out, and running for his dear life. He really didn't know why he was prolonging the inevitable. They would catch up to him eventually and throw him in the Providence. He just hoped that maybe he could escape. But escape where? What would he do? Change his appearance and somehow get someone e to change his name? It wouldn't happen. But he kept running anyways.

But those military monkies were everywhere. They cut him off, and he turned down another street just to be faced with another troop of them. He was surrounded. They tackled him to the ground and cuffed him. "C'mon, you little punk. You're going to the Providence." Daniel thought a moment. 'That has a nice sound to it. Punk.' He thought to himself as he was pulled up off the ground and led off to the Providence. They didn't let him take anything. They threw him into an apartment there and said he was to live here and had to build his own life here.
All this because he wanted to express himself?
That's a bit much, isn't it?