F I N C H K A W A S A K I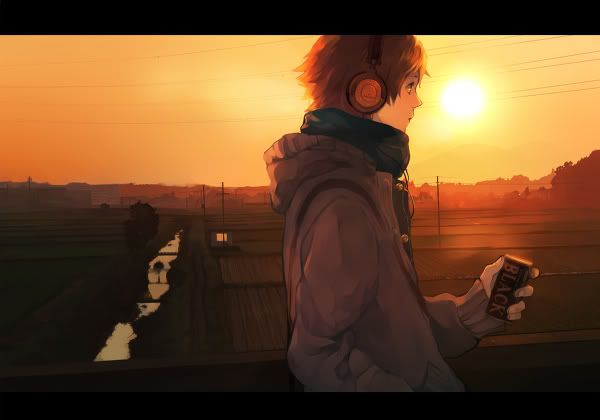 Name:
Akiko Finch Kawasaki
Nickname:
Finch. Akiko is a girl's name so he prefers to go by his middle name, though both are kind of silly. He was ridiculed incessantly in grade school because of his name. He is moderately embarrassed of it.
Age:
16
Gender:
Male
Appearance:
Finch stands at an intimidating 5'5" if you happen to be intimdated by young boys on the shorter side of the spectrum. He's a scrawny little thing, no more than skin and bones, his knobby knees, protruding clavicle, and rib cage not at all veiled by the thin layer of his pale, milky skin. He wears many layers to hide his fragile stature as well as to warm the constantly cold, anemic child. Still, he's not unattractive. He reads rather cute, actually, if you're into that sort of thing. He's got a dazzling smile, complete with pronounced dimples and chubby cheeks. His brown eyes always seem to sparkle with a certain lightness that he possesses, his best trait (his genuineness and sincerity) there in plain view for the whole world to see. His locks of brown hair lay on his head messily and without much care but it doesn't seem to matter when he's grinning from ear to ear at you.
Personality:
While Finch was in the gifted program and always came home with shining As, he can come off as rather... well... dim witted. The boy lacks common sense. He is oblivious to the darker side of existence, all innocent and pert despite glaring errors staring him in the face. He's painfully positive, refusing to acknowledge how shitty everything and everyone around him really is. That said, he's unbelievably friendly to the point of it being quite annoying to a certain type of people. Even worse, he's a persistent little bugger. Once he's found someone he's drawn to, he latches on and refuses to let go no matter how many times they tell him to leave them alone like a helpless little puppy dog following someone home. He makes silly observations at inconvient times. IE: "Finch, you've really disappointed me. You said you'd be home last night and you neve-" "Hey, mom, have you ever noticed how fluffy the cat's tail is? Feel this!" He's also very, very clumsy, able to trip on absolutely nothing. He's got a horrible blush that makes him turn tomato red and, with how stupid he can be, it's on his face rather often. He's one of those people who can tire you out, but is so compassionate and good of heart that it's heart to stay mad at him. He really does want the best for everyone and will bend over backwards to appease literally anyone, stranger or enemy alike. He'd been scolded by his parents constantly for meddling with the "wrong crowd" but his eye doesn't see the indicators of "bad eggs" like everyone else's. If he sees true evil happening, though, he will fight back fiercely. Essentially, he's the type to chat up with a guy in a mugger's outfit until he sees him mugging an old lady in which he will yell at said mugger and possibly get the snot beaten out of him. He trusts until shown wrong- sincerely adhering to the mentality of innocent until proven guilty. Regardless of how perky the young lad is, there's a darkness lingering inside him. He is very deeply traumatized by his past; he just hasn't unlocked it yet. He covers up his real feelings with positive thinking, rejecting any confrontational thinking on his part. Ignorance is bliss, after all.
Likes:
everybody getting along, people, math, literature, sweets, baking, pies, sunshine
Dislikes:
insults, when he falls over something, injustice, pain
Power:
Finch has got gravity nullification, something that allows the boy to, ironically enough considering his name, fly for short periods of time. Furthermore, used right, it can cause everyone in a room to begin floating and can put the enemy off guard and vulnerable whilst drifting through the air. While he doesn't use this, it can go the other way around. He could, for example, crush a person under the weight of tons of gravity. He realized this after he'd accidentally smashed a mouse after a painful memory came to him. He cried for the little thing and gave it a funeral. He has vowed never to use it. Unfortunately, his power seems to be in sync with his emotions. If, for some crazy reason, you were able to get him angry, it could unleash the darker side to his power. Luckily, Finch doesn't really get angry, now does he?
Skills:
He's good at comforting people and at talking, but that's more of a part of his personality than a skill. He's very smart and is good at writing poetry and the such but has never shared any of his works. He's also a great baker!
Brief History:
Ah, Finch doesn't remember. Hopefully he never will, either. His life was a happy, promising one. The only real hiccup came with the discovery of his sexuality, but he had a strong support system and understanding parents for that. Then, about last year, the perfect student, wonderful child, and loving boyfriend was kidnapped. There was no conspiracy or secretive lives his parents had lead. He was simply a statistic- an unfortunate victim to a mentally derranged man. He had stayed in the man's attic for about a week, sexually assaulted several times but otherwise unharmed. They caught the man and rescued the boy. It seemed a dream come true. However, he was left mentally scarred. When they first asked him what had happened, he insisted that he couldn't remember. As they began to prod, he had a mental breakdown and suddenly he was suffering from post traumatic amnesia. He couldn't remember anything- his parents, his boyfriend, his name. He went into a panic, was sedated, and then brought home. When he awoke in his own bed with his parents by his side, they tried to explain but he was too overwhelmed to listen. Chaos followed, as he was running out the room, then tumbling down the stairs where he would suffer from traumatic brain injury, go comatose, and eventually, a year and a half later, have been let on to the after life. He was a tragic hero, mourned by the entire city, even an icon to the state and country. He was a fallen hero- a celebrity in his death. He awoke once more to see that girl who kicked him in the head in this strange academy. His original kind, happy-go-lucky, friendly persona came back to him first and he was aware of his own identity. His memories, however, are still an enigma to him. He keeps getting fragments of memories back that prove painful seeing as how they're glimpses into a past he can never go back to. He deals with it well, but there's a sadness inside him. At this point, he remembers his old school, most of his child hood, and the fondness of his parents. He remembers nothing of high school, of his past
boyfriend
, or of his kidnapping.
Extra:
He's really forgetful, and often can't put names to faces. He forgets to eat much too often, which explains why he is so ridiculously skinny. He's always cold, and shivers very easily.