---
---
█
█
█
█
█
█
█
█
█
█
█
█
█
█
█
█
█
█
█
█
█
█
█
█
█
█
█
█
█
█
█
█
█
█
█
█
█
█
█
█
N A M E
Dyson Moon

N I C K N A M E S
Runt, Pipsqueak, Apollo

P H Y S I C A L

0

A G E
21

A C T U A L

0

A G E
100

G E N D E R
Male

S E X U A L I T Y
Heterosexual

S P E C I E S
Werewolf

R A N K
Noble

P A C K

0

R A N K
Omega
█
█
█
█
█
█
█
█
█
█
█
█
█
█
█
█
█
█
█
█
█
█
█
█
█
█
█
█
█
█
█
█
█
█
█
█
█
█
█
█
█
█
█
█
█
█
█
█
█
█
█
█
█
█
█
█
█
█
H E I G H T
5'10

W E I G H T
160lbs

H A I R

0

C O L O R
Dirty Blonde

E Y E

0

C O L O R
Blue

A P P E A R A N C E
Dyson and Scarlett are day and night that you'd hardly believe they are twins. He's fair haired with beautiful baby blue eyes and an adorable smile that easily invites people in. Girls giggle when he enters the room but everyone drools when his sister walks in. Dyson walks in her literally dark shadow as an omega and generally looks as shy as he is. His wolf appearance is snow white with glowing blue eyes. The Yang to Scarlett's Yin.

M A R K I N G S
Dyson is most noted for bearing the pack mark on his left forearm like every other pack member after they trigger their werewolf gene and survive long enough to be a part of the House of Moon. He's also noted for having many different scars. There's one on his lower lip from when it got busted open, a thin scar on the left side of his neck from a blade, and ten puncture marks in his abdomen from claws. There are various other scars from training but these one's are the most prominent.

A T T I R E
Dyson is known to be seen in the finest clothes when out fulfilling his duties for his family as a diplomat. He'll wear perfectly tailored suits when meeting with other noble families and joining his uncle as they meet with the high council during the war. Though at the camp he's taken on more of a lumberjack style for comfort.

B L O O D S T O N E
Dyson's bloodstone is identical to his sister's and was given to them by their uncle with the intent of killing them.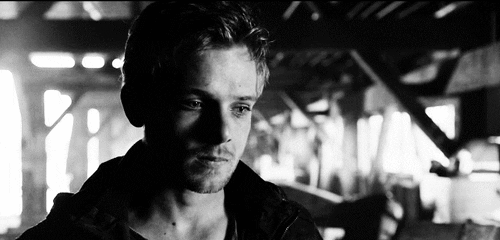 █
█
█
█
█
█
█
█
█
█
█
█
█
█
█
█
█
█
█
█
█
█
█
█
█
█
█
█
█
█
█
█
█
█
█
█
█
█
█
█
█
█
█
█
█
█
█
█
█
█
█
█
█
█
█
█
█
█
█
█
█
█
█
█
█
█
█
█
█
█
█
█
█
█
█
█
█
█
█
█
█
█
P E R S O N A L I T Y
Growing up feeling weak and inferior has taken it's toll on Dyson and the way he interacts with people. He comes off very timid and soft spoken after years of being told his thoughts don't matter when he's in his sister's shadow. He learned to keep his head down and submit around other pack members because he was the lowest rank but he also gained one great advantage over them... Intelligence.

Dyson is hands down the most intelligent member of the pack but also the most underestimated. While keeping his head low, he learns from people. He discovers weaknesses and how best to interact with them. This has made him an incredibly charming and well spoken young man capable of manipulating leaders without them even knowing. The only one in his pack aware of his intelligence is his sister, Scarlett. She still treats him like an omega but she also has hidden respect for him and even keeps him as a right hand man the few times she breaks from fighting the war. She's the only alpha known of that will willingly go to her omega for advise. Even if they do butt heads all the time and get into bloody fights.

Of course his charm has proven useful on women as well. He's still acts very shy and soft spoken around women but he's also very sweet and gentle which has been used to his advantage. Many women within the werewolf faction desire Dyson because marrying him means a huge power play for them since they'll be part of the House of Moon along with being the most respected members for birthing the next alpha. Dyson is completely aware why women throw themselves at him and uses this to his advantage. But he's not a complete player. He charms and takes women out to prestigious events but he does not lay with them nor does he ever take advantage of them. He will only lay with whomever he is arranged to marry since Dyson has no say in love when he's of noble blood.

Dyson's kindness and generosity are known throughout the faction. He's especially popular with the lower class for distributing rations and reading to children. He even convinces his sister to join him every so often since it builds up a popular reputation for their family. Dyson is extremely opinionated but is never allowed to express his opinions because he's the runt of the pack. He hates the way the social class system is but he knows nothing can be done to change it so he simply just helps the lower class as much as he can since that's all that can really be done.

But a man is not without their faults and Dyson has many dark faults. Being the omega means he is physically the weakest member of the pack along with having the least amount of control over his wolf giving him a short temper and destructive outbreaks. He's a kind man capable of committing horrible acts if he loses control making his own inner darkness his greatest demise over all the silver in the world.
█
█
█
█
█
█
█
█
█
█
█
█
█
█
█
█
█
█
█
█
█
█
█
█
█
█
█
█
█
█
█
█
█
█
█
█
█
█
█
█
█
█
█
█
█
█
█
█
█
█
█
█
L I K E S
Chess -

I'm currently unbeatable


Smoking -

It's done for presentation


Scotch -

Done for presentation


Tailored Suits -

A well tailored suit makes you feel like you can conquer the world


Archery -

I'm not terrible at it


Spears -

It's a simple weapon that's easy to use. Even for a weakling like me
D I S L I K E S
Vampires -

It's in my nature


Demons -

Now why would I enjoy such horrid creatures?


His Uncle -

My uncle is a cruel and horrible man that never deserved the love my father gave him. I'm glad Scarlett took away his alpha status


The War -

Where is the logic behind this war? Why must we repeat history for the sake of one factions ego?


Nobility -

The whole class system is absurd


Pack System -

I hate having to be born weak
H O B B I E S
Chess -

The perfect game of strategy


Painting -

It's a great pass time when I'm not out kissing the asses of stuck up noble wolves


Piano -

Let me play you a waltz
F E A R S
His Uncle-

What he's capable of and what he has done gives me every reason to hate and fear him


Losing Scarlett -

I cannot lose my sister. I need her


Himself -

I fear what I am capable of doing
█
█
█
█
█
█
█
█
█
█
█
█
█
█
█
█
█
█
█
█
█
█
█
█
█
█
█
█
█
█
█
█
█
█
█
█
█
█
█
█
█
█
█
█
█
█
█
█
█
█
█
█
█
█
█
█
█
█
P O W E R
✫ Fire Manipulation
- Dyson is able to control and manipulate already existing flames along with make embers and ashes turn into the flames by making them hotter.
S T R E N G T H S
✫ Intelligence
- He's the most intelligent member of his pack
✫ Charm
- He's smart and charming enough to manipulate many people if he so pleases
✫ Archery
- He's actually a quite talented marksman despite being so physically weak
✫ Strategy
- There's a reason he spends so much time playing chess
✫ Underestimated
- Being underestimated all the time has it's advantages
W E A K N E S S E S
✫ Omega
- Being an omega makes him the weakest member of the pack and the personal punching bag of the other members
✫ His Uncle
- He's uncle has done many terrible things even after losing his spot as alpha and many of those terrible things were done to Dyson
✫ Control
- He has no control over his wolf
✫ Scarlett
- She's his sister and he cares for her deeply. She's also his alpha
✫ Combat
- Dyson is completely lost when it comes to anything that doesn't involve strategy or archery
0
0
█
█
█
█
█
█
█
█
█
█
█
█
█
█
█
█
█
█
█
█
█
█
█
█
█
█
█
█
█
█
█
█
█
█
█
█
█
█
█
█
█
█
█
█
█
█
█
█
█
█
█
█
█
█
█
█
█
█
█
█
█
█
█
█
█
█
█
█
█
█
█
█
█
█
█
█
█
█
█
█
█
█
█
█
█
█
█
█
█
█
█
█
█
█
█
█
█
█
█
█
█
█
█
█
█
█
█
█
█
█
█
█
█
█
█
█
█
█
█
█
█
█
█
█
█
█
█
█
█
█
█
█
█
█
█
█
█
█
█
█
█
█
█
█
█
█
█
█
█
█
█
█
█
█
█
█
█
█
█
█
█
█
█
█
█
█
█
█
F A M I L I A L

0

T I E S
Gregory Moon|Father|Gregory was a kind and gentle man that raised Dyson with compassion and love like any father should. He never loss his temper and always managed to stay kind when others decided to kick him around. He even accepted his own death without any fight. Dyson misses him dearly.
Victoria Moon|Mother|Victoria was kind to her children but rarely around. They hardly noticed when she disappeared and had no idea of her indiscretions and nor do they know that Gregory allowed it.
Peter Moon|Uncle|Peter is a horrible man plain and simple. He forced Scarlett to kill their father right before Dyson's eyes for the sake of 'tradition' and has broken his sister psychologically with his abuse since she were a child. Dyson wishes he were strong enough to put an end to that man.
Scarlett Moon|Twin Sister|They spent most of their childhood seperated training for the day they would fight to the death and one would become the alpha. She easily defeated him and Dyson watched helplessly as she was forced to take away the great man he had ever known with the same sword their father had given her for her birthday but Dyson never once blamed her for it and never once resented his sister. He still cares for her deeply and understands she had no choice.
Deucalion|Half Brother|Neither Dyson nor Scarlett know of their brother. They didn't even know of their mother's love affair with a demon that resulted in the birth of a hell hound. He now lives as the personal guard dog of the demon princess.

H I S T O R Y
Dyson and Scarlett were born into the life of absolute privilege. They were part of the nobility along with the most high regarded members of their pack just for being born twins. They received anything their hearts desired and absolutely loved it. They were also as close as siblings could be often playing tag in the castle gardens whenever their father and uncle brought them along for business. They were inseparable until the day training began... Scarlett and Dyson were quickly separated during the beginning of their training when their uncle decided to take Scarlett and train her himself. Dyson doesn't know what happened to her during training but he did see the scars and bruises that graced her skin whenever they were with the other young wolves.

Dyson had it so much easier during his training. Their father was a very kind and soft spoken man with too much love to give even to his cruel twin brother. He'd spend every morning playing a game of chess with Dyson until lunch where they would sit outside and eat little sandwiches together. After all that, he would begin Dyson's combat training. He taught Dyson to be a great marksmen to compensate for his lack of ability in close quarters combat he also had Dyson learn to wield a spear for it's long reach and ease of use for the inexperienced. Soon enough every other werewolf activated their gene and determined their place in the pack before the weak were killed off. Now it was time for the twins to face off...

Their father had presented them each with new gifts. Scarlett received and new sword while Dyson received a beautiful bow and spear. Dyson and Scarlett went to opposite ends of the arena in front of their pack members along with any other wolves that wished to see such a huge event. Dyson fired three arrows as soon as the fight started but Scarlett moved to quickly for him. Two misses but one managed to land in her left shoulder.The fight went on and Dyson continued to fire and Scarlett continued to dance around with grace as she managed to dodge each arrow until she eventually closed in and landed her own strikes on him.

The fight when on for what felt like forever with Scarlett gaining the upper hand. She cut him in various places but gave him the opportunity to grab his spear only to have it broken in half. She knocked him to the ground and cut his throat but Dyson managed to trip her and knock the sword away. The fight turned into bare fists and it was obvious that Scarlett was not going to hold back on her brother. She wailed on him with hard hits as her appearance became more savage and she finally ended the fight by sticking her new wolf claws into his gut and letting out a mighty howl along with Dyson as both of their wolves were fully awakened and it was obvious from Scarlett's red eyes that she was the new alpha and every one cheered as she stood up before her brother and offered him a bloody hand to help him get up.

Things took a turn for the worse when their uncle stepped down into the arena with their father wrapped in chains. He brought their father to ground and grabbed Scarlett's sword. He handed it too her before turning to the audience and declaring that they had no need for their father as omega anymore and it was time to eradicate the weakest member as per tradition. He commanded Scarlett to kill their father while Dyson screamed begged her not to. Scarlett hesitated and did her best to resist but whatever their uncle had done to her during their training... Gave him some sort of hold on her. She cried as she lifted the sword and dropped it down to chop off their fathers head. She immediately let go of the sword after and ran into her brothers arms. He never hated her for it and comforted her. Instead he blamed the true perpetrator... Their uncle.

Dyson and Scarlett were soon thrown into a new life where Scarlett trained to be a better leader and Dyson was kept close to his uncle's side as they went to various meetings because he was aware that Dyson knew something he didn't want him to know. When Scarlett decided to join the war, their uncle presented them each with a bloodstone ring in hopes of killing one or both of them. Unfortunately that didn't work and Scarlett went on to fight the war as a great hero and Dyson stayed back discussing with leaders in hopes of bringing peace as soon as possible. They were eventually called join the old camp of Equilibrium completely unaware of the powers the possess.
---
H E X C O D E :
#13435C
C R E A T O R :
Tigerz
F A C E C L A I M :
Max Thieriot