Julia Nilsson
---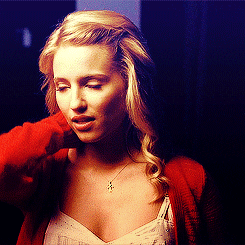 Full Name: Julia Genevieve Nilsson
Nickname:Julie, or Jules
Age:Twenty-five
Previous Occupation:Journalist, and wannabee reporter
Sexual Orientation:Heterosexual
---
---
Personality:
Julia is a kind individual with the makings of a great reporter. Save for the fact that she can't lie, is clumsy and is constantly fooled by false sob-stories. She is friendly, and quite the social butterfly, but she is always being manipulated and used for the personal gain of her so-called 'friends'. She is passionate about journalism, and very curious, unable to abandon something once it has piqued her interest. She is strong-willed and brave, but doesn't know when to quit, as her stubbornness keeps her from giving up, despite whatever obstacles block her path. Before she left her family home and fortune in order to pursue her dream of being a reporter, she was her small-town's golden girl, spoilt, wealthy and proud. Now she is humble, middle-class and a total klutz.
Strengths:
Julia possesses very few qualities that might help her in the possibly fatal circumstances that await her, as she is neither a warrior nor a killer. She is very quick on her feet, and is fairly capable when it comes to self-defense. She is a pretty likable individual, and charismatic in her innocence. She is determined, and does not back down easily, and is quite intelligent.
Weakness:
Julia is somewhat faint-hearted when it comes to death and gore. She is also overly curious, and asks too many questions. She is bold, but sometimes too headstrong for her own good. She always tries to see the best in people, even when there is little good to see. She is quite clumsy, and an awful liar.
---
History
For the first eighteen years of her life, Julia lived in Cherry Hills Village, Colorado. Her parents, Samuel and Lorna Nilsson were some of the town's wealthiest occupants, a top-class surgeon and a talented psychiatrist. Julia was the middle child, with a younger brother, Thomas, and an elder sister, Candice. Julia was passionate about journalism since she was nine, when she caught sight of Donna Rozen, a beautiful reporter famous for her cutting-edge stories and hard truths. Julia was captivated, and since that moment, has longed to pursue a career in journalism. However, her parents were less enthusiastic about the idea, as they wanted their daughter to pursue a career in the medical industry, like them. Being a rather controlling and demanding pair, they refused to allow Julia to study what was necessary in order to best help her chances of making it into journalism. So what did she do? She left, taking her savings and hopping on a bus to New York. Once she got there, she realized that she hadn't quite thought the plan through, but with a help from her now-best-friend, Mackenzie Wyatt, she was able to find somewhere to stay, as well as a job at New York Daily News as an amateur journalist. For the past seven years, she has slowly been climbing the ladder,working hard in order to ensure her rise to the ranks of reporters. She is now one of the company's best and brightest. Still not a reporter, but working on it.
---