---
---
---
---
---
✖ Full Name ✖:Alastair Williams
✖ Nickname(s) ✖:Al, Ali
✖ Age ✖:19
✖ Gender ✖:Male
✖ Height ✖:6' 4"
✖ Weight✖:190lbs
✖ Romantic Interest ✖:TBA
✖ Sexuality ✖:Heterosexual
✖ Nationality ✖:British
✖ Alignment ✖:" I do what must be done to survive"
✖ Face Claim ✖:Nobuto Nakajyo/ Bus Gamer
---
---
✖ Physical Description/Clothing Preference ✖:
Body|| Alastair naturally dominates the space around him with his presence. Standing at 6',4" broad shouldered and weighing in at 190lbs he can often intimdate people despite not wishing to. His slightly wavy black hair falls just short of shoulders, and he sports a trimmed goatee to complete the look.His body is lightly toned from constantly doing manual labor, and a lot of it.

Attire|| Alastair often wears a simple set of jeans, a plain tank top and a leather jacket. This is always accented with a stylized belt, a necklace and a set of rings that are very dear to him. Due to the manual labor he always does Alastair constantly wears steal toe capped boots for health safety.
✖ Birthmark/Piercing/Tattoo/Scar/Noticeable Features ✖:Alastair has rough calloused hands from his work, and small scars along his forearms
✖ Use A Weapon? ✖:His own hands Or an axe under his Phobos power..
✖ Phobos✖:Daemonophobia-The fear of demons.
From this phobos Alastair gains the power to shift his form to resemble that of a demon gaining its physical abilities, the ultimate stage of this being a full demonic transformation. But the higher the progression of transformation, the more panic sets in. This means in higher transformations he relies on his shade to guide him as he simply does not know what to do. (He has never reached the final stage as of yet)

Stage one: Increase in muscle mass, granting greater strength, resilience and endurance and an increase in his sense but most notably in his sense of smell and hearing. His eyes will start to show blackness creeping in round the edges.

Stage two: This stage causes his skin to thicken forming a natural armor, horns begin to bulge under the surface of his skin and his also gains the ability to shape his darkened finger tips into talons turning his hands into claws. The blackness is now more prominent in the eye. This stage also sees an increase in this effects of stage one.

Stage three: This is the point at which is becomes hard to tell what Alastair actually is, the effect of the previous two stages are enhanced once again and in addition this this the horns have now broken the skin ( but are still very small) and at this level his can manifest a demonic Axe

Stage four: FullDemon transformation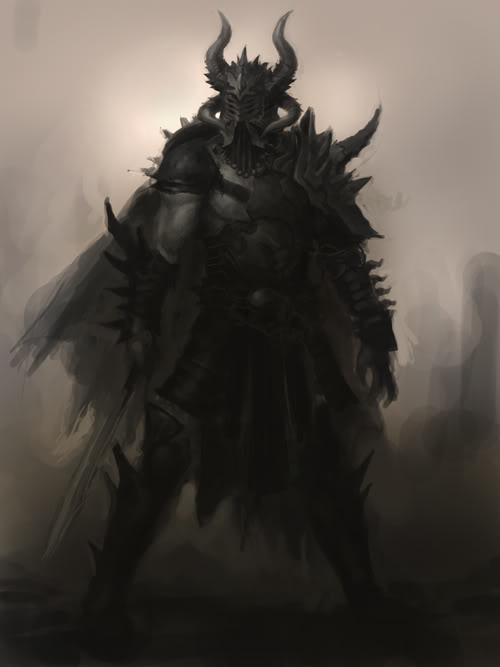 ✖ Shade ✖:Demon Executioner-Alastor.
Demons are manifestation of evil, violence and chaos and Alastor serves as an executioner, in humans myths he was never described but was given the title of the Chief executioner to the monarch of hell while in other myths he was the embodiment of blood feuds and a kin to nemesis. However despite his tremendous killing potential, he acts very haphazardly, throwing caution to the wind. He is very quick to make fun of Alastair, or anyone else for that matter and often will cause trouble or problems just for fun. Due to them both sharing the same name the shade insist of being call Chief while Alastair often gets called his apprentice despite the fact he tends to leave crucial information out of his advice leaving Alastair to find it on his own.

✖ Hobbies/Skills ✖:
Riding/ Working on his bike
Very calm and logical thinker, even if a tad slow and more hands on.
Weight Training.
Trained in the basics of metal fabrication
✖ Personality ✖:Alastair is a carefree person, but very relaxed and down to earth. He is often content in what he choose what to do and has no trouble in working when its need to be done, telling himself shit happens and carrying on whenever things get bad. He struggles to empathize with people, though often gives good advice as he talks straight and always to the point ( which may earn him the scorn of others sometimes). Sometimes he will joke with people a little too far as he see words as just merely words and never things to be taken to heart.
---
---
☢ Likes ☢:Rock/Metal music, His bike, Having a free day
☢ Dislikes ☢:Needless Worrying, People who talk behind his back Or people who wish to fight him because of his size
☢ Flaws ☢:Can let jobs pile up on him.
Can't connect emotionally with people
Often intimidates people he meets.
☢other Fears☢:Deep Water, Heights (a little bit), Extreme cold
☢Secrets ☢: Alastair keeps the fact he dropped out of school a secret as he knows people often will look down on that fact.
.
---
---
☢Bio ☢:Alastair learned to be independent at a very young age, coming from a working class family, where both his parents worked he was taught swiftly how to look after for himself. This independence fostered his confidence. His social interaction within his school life was fine. The most notable instance in his childhood was when, during a weekend Alastair and a group of friends decided to sneak into the cinema. Except one of the group got the screen numbers wrong and instead of seeing the film they were meant to, they had walked in on horror film. The demonic scene etched into his mind Alastair never told anyone what happened he just tried his best to sleep at night, which often proved hard with such a horrific scene playing over and over in his head.

As he grew into his teen years, he found himself taking on a part time job quite early, to help put some money in his pocket for what ever he wanted. However the pay was not very good and Alastair wanted more and so by the time he was 16 he holding down two jobs already. Seeing no point in continuing with education he dropped out to relieve the stress on him and so he could focus on his two jobs, despite the protest of his parents. Not long after dropping out he managed to find a job in factory, which gave him the basic skills to work in there and a decent pay. Coupled with the one or two shift he put in at the docks a month and Alastair was earning good money. By the age of 17, he owned his first motorbike, by 18 he full passed his test, and by 19 he was onto his second motorbike and still working hard.
☢ Other ☢: