---
---
---
~~~
Theme Song||
Dog Days | Within Temptation
||
Angry/Battle Theme||
Tell Me Why | Within Temptation
||
Emotional/Sorrow Theme||
Payphone (Piano Cover) | Maroon 5
||
Death Theme||
Rain |Olafur Arnalds
||
~~~
---
---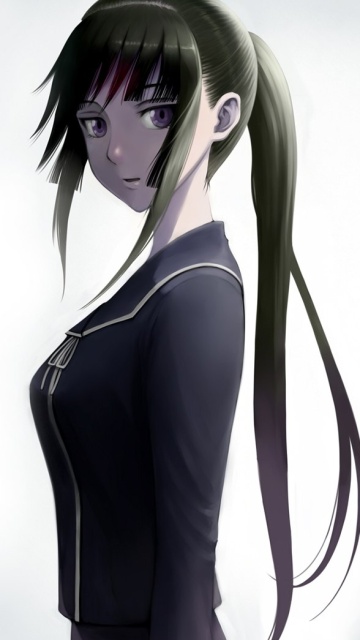 ✖ Full Name ✖:

Raine Anabella Dionne
(The "e" in Raine is silent.)



✖ Nickname(s) ✖:

Bella - Rae - Silent Treatment (She doesn't like this one.)



✖ Age ✖:

18



✖ Gender ✖:

Female



✖ Height ✖:

5 ft. 8 in.



✖ Weight✖:

121 lbs.



✖ Romantic Interest ✖:

None currently.



✖ Sexuality ✖:

Heterosexual



✖ Nationality ✖:

1/3 French, 1/3 English, 1/3 American



✖ Alignment ✖:

Neutral Good



✖ Face Claim ✖:

Yomi Isayama/Ga-Rei Zero


---
---
✖ Physical Description/Clothing Preference ✖:

||Appearance|| Raine is a slim yet fit girl slightly taller than average for her age. Her skin is light and her hair is black, running down to her waist, and usually tied into a ponytail or worn straight. Her bangs cover most of her forehead, and they accent her purple eyes. Her legs are long and a bit toned from her practicing Tae Kwon Do.

||Clothing|| She was taking a nap in her school attire when she awoke in Noctrosa, so that is what she's currently wearing. She will wear anything comfortable though.



✖ Birthmark/Piercing/Tattoo/Scar/Noticeable Features ✖:

None.



✖ Use A Weapon? ✖:

None currently, but she would prefer an edged weapon if she had to fight.



✖ Phobos✖:

Raine has Developmental Apraxia of Speech, or DAS for short. Due to this, she eventually developed Glossophobia - The fear of public speaking, or speaking in general.

Raine's greatest fear, source of frustration, and almost all of her negativity comes from her DAS. She fears trying to speak because she could terribly embarrass herself and bring more bullying/teasing towards her. Her abilities are sound related, and she can manipulate sound in ways like:

Increase/Decrease the volume or intensity of nearby sounds
Sonic bursts
Hear sounds at greater distances and be able to endure loud noises better

The draw back to her abilities is that teammates can easily be caught in the crossfire due to the way sound travels, and in areas with little to no air, her powers are unusable (sound needs air to travel through). Also, loud noises aren't exactly good for situations where you want to keep quiet.



✖ Shade ✖:

Raine's Shade is a large black parrot named Desmond. It's large enough for Raine to ride on comfortably, but any more passengers could be difficult. Desmond is 5x more loud and talkative than Raine is, and unlike other parrots, it doesn't repeat everything it hears; it actually speaks fluently, which is a good and a bad thing. The problem with Desmond is that he has a hard time keeping quiet, making him and Raine complete opposites; Desmond is more like the life of the party, while Raine is the person who wouldn't even go to that party. Desmond still gives helpful advice and lends a hand when needed, but he can be annoying at times. A few other facts about him is:


Can read Raine's thoughts and body language well enough to speak for her if needed
If making physical contact with Raine, he can act as an amplifier of sorts for her sound abilities
Can fly as well as any other bird
Desmond isn't a jerk, but he gets full of himself sometimes
✖ Hobbies/Skills ✖:
Practicing Tae Kwon Do
Playing Violin
Quick Thinker
Can write, text, and read faster than the average person (due to the fact that is the main way she communicates)
Cooking



✖ Personality ✖:

Raine is a quiet and helpful girl with a (usually) good heart. She tries not to speak when she can, and usually isolates herself if she thinks that a lot of social interactivity is about to take place. She holds others needs before hers, and tries to come up with the best solution for everyone. She's always at conflict between being the helpful social person she really is, and the isolation she tries to create due to her conditions and phobia, which can make her seem frustrated at times. Actually, she's incredibly frustrated with her disorder, and may accidentally snap at someone if her temper is lost. When she cools down, she'll quickly apologize though. Naturally, Raine is very quick to act, because she doesn't have words to rely on. Her actions definitely speak louder than her words.

---
---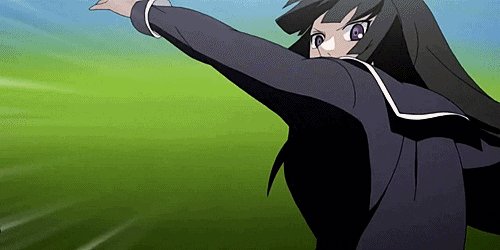 ☢ Likes ☢:

Practicing to get past her speech disorder, playing violin, helping others, reading, Tae Kwon Do, the rain, spending time with friends.



☢ Dislikes ☢:

Being bullied/teased for her speech disorder, her Shade when he gets loud, being unable to help, bees, wasps, scorpions, or anything with stingers.



☢ Flaws ☢:



Easily gets frustrated with her limitations
Her nerves get the better of her sometimes
Any situation where verbal skills are required, she can't do it
Her isolation issues makes it tough for her to get close to others
☢Other Fears☢:
Any bug/insect with stingers
Failing to make a difference
Giving in to her disorder
Death
☢Secrets ☢:
Though she isolates herself a lot, she wants to be more social
She's considered suicide in the past
Has seriously injured a bully in the past out of rage
Has a really bad temper that rarely surfaces
---
---
☢Bio ☢:

Raine was born into a happy family as an only child. Her infancy was a good one with no problems, but her parents started to get worried when she still hasn't said her first word at 3 years old. After several tests at a nearby hospital, doctors diagnosed her with Developmental Apraxia of Speech. This was the beginning of Raine's hardships; a life where communication was key, but she was incapable of it. Her parents tried her best to raise her with love and kindness, but it was hard if they didn't always know what Raine wanted. Soon, they came up with a communication system for her; note cards. Everywhere Raine went, she always carried a small note pad and a pencil, so she could write down what she wanted to say. This required for her to learn how to read and write well, because that was her main form of communication.

When school began, her parents were conflicted; send her to a normal school, or a "special" one. After much debate, they decided a normal school would be best for their daughter's self esteem. After all, she could read and write at a much higher level than anyone her age. The first couple of years went well, but soon other students began to catch on that Raine just wasn't a quiet girl in class; she was physically incapable of speaking. Soon, ridicule and teasing came her way. It grew worse as she got older, and Raine grew frustrated and depressed about her situation. What could she do when she was being teased and bullied, tell them to stop? One day, a bully got a hold of her note pad and ripped it to shreds. This caused Raine to skip school that day, running out into the rain sobbing. The police eventually found the soaked girl and brought her home. Her parents were deeply worried, and Raine didn't want to go through the hardships anymore. At this point, Raine became depressed, and it freaked her parents out when she told them she didn't want to live anymore.

Her father came home one day and said he had three solutions for an outlet; Tae Kwon Do for stress relief and self defense, learning to play the violin as a hobby and a way to express herself, and speech therapy. Raine attended all three for some time, and soon grew to enjoy these. In speech therapy, she decided to try and overcome her disorder, and never give in to it. She played her violin whenever she was down, or wanted to impress her few, close friends. Tae Kwon Do was a good stress outlet, and she enjoyed it.

One day in middle school, some of her bullies approached her, calling her by her school-wide nickname "Silent Treatment". They continued to tease her until she snapped. All she wanted at that moment was to let someone else know the pain and frustration she felt of not being able to speak. Using what she learned while letting out a cry of sorrow and frustration, she spun on her feet and roundhouse kicked the "leader" of the group straight in the jaw, breaking it and sending him flying back against the lockers. Everyone else immediately scattered, and the bully couldn't speak or eat properly until his jaw healed. She was no longer bullied, but now everyone in school was afraid to approach her, and she was completely ignored. Raine felt alone, but soon grew accustomed to it; it was better this way. She didn't have to worry about communicating with anyone if no one was around for her to speak to. Deep inside though, she ached for some social interaction, and her few close friends she had weren't always around. This had her feeling conflicted for quite some time.

Her life continued this for several years until in her last year of high school. School lasted half a day, and she came home and decided to take a nap. When she awoke, she wasn't in her room...



☢ Mental Evaluation ☢:

"Raine is a good girl with good intentions, but her... limitations seem to get in the way of her showing it. She has a lot of pent up frustration, but she seems to be holding up well. Earlier reports show that she was depressed for some time, but it's been replaced by willpower to combat against her disorder. However, she seems to also have developed Glossophobia, and deeply fears trying to speak to others. This conflict inside of her is a massive conduit of stress and it is detrimental to her mental and even physical health. I recommend trying to slowly expose her to social interaction, to help her overcome her Glossophobia. If we don't, overcoming her disorder will be impossible. Continue to take Tae Kwon Do lessons, and going to speech therapy, and we might see a change for the better. If that doesn't work, we may have to put her on medication".

"I hope it doesn't come to that doctor, Raine is a strong girl, she's just struggling right now. She'll pull through it, I know she will."

"I would like to believe you Mr. Dionne, but she needs help from others now more than ever, she can't continue to go on like this... understand?"

"...Yes doctor."

"Good. I wish her the best of luck. I'm surprised she hasn't developed high blood pressure or separated herself from society completely."



☢ Other ☢:


- Is really good at charades and reading body language