.:Name: Reggie Booker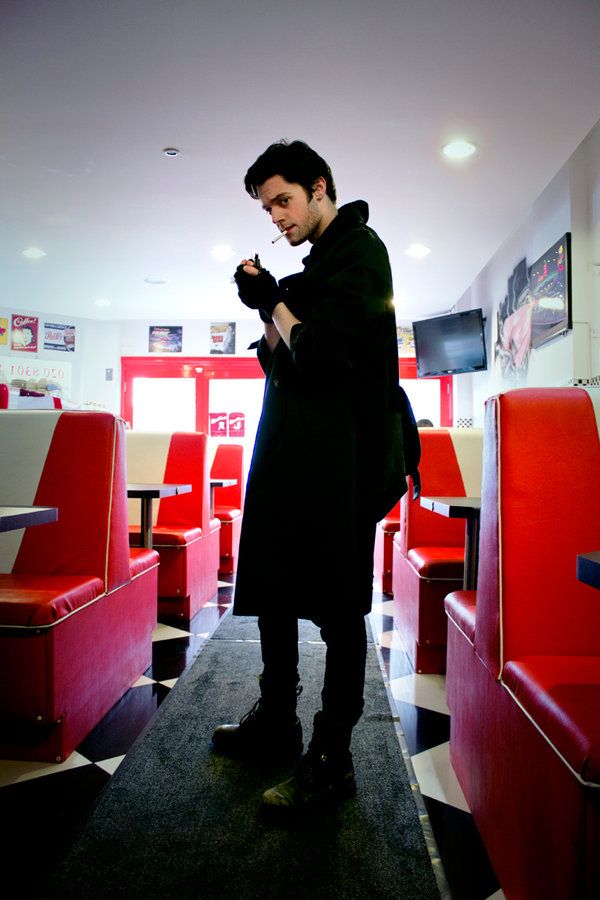 .:Gender: Male
.:Age: 18
.:Status: Anti-hero (super, border lining villainy and heroics)
.:Personality: Reggie's the kind of person who'd put self preservation above all, making him a less than stellar hero, but not all together a villain as he won't go out of his way to conquer or kill people that he feels don't deserve it. To him, every action is a means to an end and can be justified as such. He's somewhat selfish, but tries to put that aside as he feels it makes him look childish. However, it's sort of grafted to him due to the fact that he was an orphan at age seven. He doesn't know how, but he found himself without a family one day.
.:Appearance: Reggie stands at 6'1" and weighs 147 pounds without a strand of fat on him. He keeps his hair trimmed fairly well (all though refuses to get rid of his sideburns) and has long scars down his back that are covered by his shirt and jacket. He wears jeans, a sleeveless black shirt and a black over coat with combat boots. He also keeps a pair of finger-less gloves on when he's not seriously fighting as a self restraint. He keeps his powers to his finger tips when wearing them so they don't get ruined and he can practice more controlled variations of his abilities.
.:Superpower: Pyrokenesis (Fire creation/manipulation - Right hand) and Cryokenesis (Ice creation/manipulation - Left hand)
.:Weapons: His lighter and a steel rod.
.:History: Reggie's history is a haze, a mash of pain and absent pieces. Even to him, his past seems out of reach, a lost story that always hangs just past your sight. He remembers having a mom and a dad, a family that he was a part of. Then suddenly, he didn't. Or rather, he couldn't remember what happened to them. It seems like one day he woke up in a hospital, completely alone save for the steady beep of a heart monitor.
Slowly doctors poured into the room and Reggie became concerned. He was a kid, his entire world revolved around his family and they weren't there. This place scared him, as did the men and women in white coats and face masks surrounding his bed. He bombarded them with question after question. What happened? Why was he here? Where were his parents? Why did he feel so strange? The doctors ignored them all save for one.
They lied to him, told him his family's car had been hit by a truck and that his parents were resting in another place in the hospital. He knew they weren't telling the truth. He wasn't in any pain, not plugged into any strange machines or had the small pouches hanging over his bed like he had seen in so many T.V shows to help keep the patients happy. He could feel his anger building, so much so that the doctors had to restrain him. It threw him over the edge. Suddenly his right arm was enveloped in flames, the fire burning through the leather strap while his left arm was freezing, crystals of ice slicing their way through the second belt.
He broke free, his flames engulfing the room. It suddenly occurred to him though, these flames didn't hurt him. They were his, he controlled them and they obeyed him. The glass wall of the hospital room burst into shards that flew into the hallway. As the flames died behind him, he heard the doctors call for help. Two of them lay dead and a third was badly burnt but that's not what Reggie wanted. He just wanted to get out. He ran and ran, out of the hospital, as far as he could and never looked back.
.:Other: Reggie's always looking for people to work with. Seeing as how he can go to either end of the spectrum, he doesn't care who he teams up with as long as it furthers his own goals.
Reggie cannot be hurt by flames or ice he makes and has a resistance to them if they are created in any other fashion.