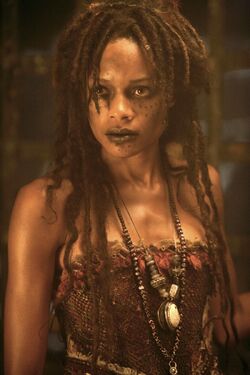 Given name:
Araminta Moses
Nickname:
Minty
Gender:
Female
Age:
30, give or take. They didn't keep very close records down on the plantation.
Good guy or bad guy? Explain:
'Ah've met so many are bad, by the law of averages Ah reckon Ah must be one of the good. But Ah don't follow nobody's law of good and evil now, not even the Lord's; Ah am truly a free woman.
Position:
Witch, healer, outcast
Personality:
Wary and aloof, Minty nonetheless feels an obligation to use her healing powers on whoever asks for her help. She understands that some people have to treat her different in public than they do in private, and doesn't hold such behaviour against anyone.
Skills:
Herbology, healing, foraging, trapping. Speaks Comanche
Personal relationships:
Lives alone a few miles from Splitcreek, feared and ridiculed by townfolk as a witch, actively loathed by the local doctor, pharmacist, and priest, but gets secret visits from women from the town who need her knowledge of herbs and folk cures.
History:
"Ah was born 30-some years ago. Ah 'member the end of the war on Mexico but not the start, an' Ah was bout a girl of five at that time. Ah 'member Daddy talkin bout the armies at Fort Gates an' the run on cotton for to make bandages.
"So Ah guess Ah was 15, 16, when Ah was married away to Thomas, he was Masser Epsom's whipman. That mean he still a slave like the rest of us, but he live in a real house an' have real shoes. You'd think Ah would like bein' a lady lady but Ah din't like bein' away from Daddy an my all brothers an' sisters. But he chose me, an' Ah had to. An' Ah had Thomas a babby real quick, an' Ah saw him but once before they took him away. To sell for a slave or to put in a stew, the Devil knows the difference.
"So when my belly cramps tell me my nex' babby is comin', this is round the time Jefferson Davis put himself up as President an' the big war start, Ah slip away to Brazos River. Ah tell you, friend, that rough ground is not easy when you're holdin' in your screams an holdin' in your babby tryin' to be born, but the river eased my pain. Ah swore to God and the Devil Ah would not bear another slave, and so when that babby came, I choked her dead with the cord that tied her to me still. Ah see Ah shocked you, friend. An' then Ah et her, while she still warm. Well, Ah was not gonna leave her there for the gators, now. Ah don't know which of God and the Devil cursed me, but since that day Ah have borne neither blood nor babe, nor aged a day. But birthin' that babby just bout broke my back, an' Ah crawled four days home.
"Losin' that babby turned Thomas meaner than mean, though he did not love the first enough to stop him bein' taken away, an' he got mighty jealous. Ev'ry time he thought Ah looked at another man, he would burn me here, under the eye. An' ev'ry time he thought Ah spoke to another man, he burn me here, under the mouth. Ah will not show you where he burn when he thought Ah lay with another man...
"Well now, the war was going hard on the greybacks, an' with near ev'ry man away, there was no-one to stop Thomas but he pulled on that whip harder an' harder. But the Comanche were comin' deeper an' deeper into Coryell County an' one day they come to Masser Epsom's farm. Thomas thrown down his whip an' ran but still they rode him down whoopin'. This big ol' black bastard land right in front of me, his back broke too an' helpless as a babby, an' Ah took up his whip an' choked him dead with it. A Comanche sees me an' straight away took me for his wife. Ah was a widow for 'bout six hours straight, hee hee hee!
"Those red people were better to me than black or white ever were. When Ah couldn't give my warrior husband a babby, he took a new wife and Ah joined the medicine women. Ah wasn't jealous, he'd done right by me, an Ah learnt bout herbs an' healin', poisons, fevers, what's good to eat, how to set a bone, an Ah learnt dances to relieve the pain of my back. The day Ah delivered my warrior husband's new wife of twins was the finest of all my days, an' they were good days, eatin' an' dancin' an' singin'.
"But after the Civil War, the Union Army had no fight, an' when there an army, there gotta be a fight, an' they came to take, take, take the Comanche land. My warrior husband was killed at Blanco Canyon an' most the tribe went to live in Fort Sill, not much better than slaves. Ah took one look at that an' Ah lit out. The twins and they mammy lit out. She wasn't gonna raise them under the whip of the white men killed they daddy. But the winter that came was a hard one on the plain, hard an' cold, an' first one an' then the the other of them babbies died for the hunger. Well, there ain't nuthin' medicine can do for an empty belly. Or a broken heart. Or a rope aroun' your neck, which is how that poor little Comanche mother choked out her last.
"So that was the end of the plains for me. Ah wandered an' Ah wandered all the way 'cross the country, stoppin here an' there til Ah found this ol' spot by the river. There was a deadman still lyin' here but he wasn't usin' that bed no more. So come lie yourself down, friend, an' tell Minty what ails ya."
Appearance:
Minty is petite and frail, almost childlike, standing only 4'11", with wild, tangled, dark hair. Her large eyes and sultry lips are usually cast downwards in an unfriendly pout, but occasionally a flash of mischief disrupts her dour expression. There are black tattooed dots below her eyes and mouth. She moves slowly, sitting, standing and bending with obvious back pain. Her clothes are cast-offs given as gifts, meaning her wardrobe varies from shapeless, repurposed shawls to ragged ballgowns. She also wears an odd assortment of bangles, beads, and necklades that jangle softly as she moves. Her voice is high-pitched and strangely child-like, a strange contrast with her bedraggled appearance.
Her rough hut is surprisingly sturdy, and its interior is an Aladdin's cave of trinkets, candles, pots of salves and ointments, bushels of herbs, and a strange-smelling smoke.