Full Name: Kayla Reach
Nickname: Kay or Rea
Age: 18
Birthdate: July 5th
Where you are from: Chicago/Illinois/United States
Role: Human. Weapon - Dagger or short blade. Animal - a male Vermilion Flycatcher (red and brown bird)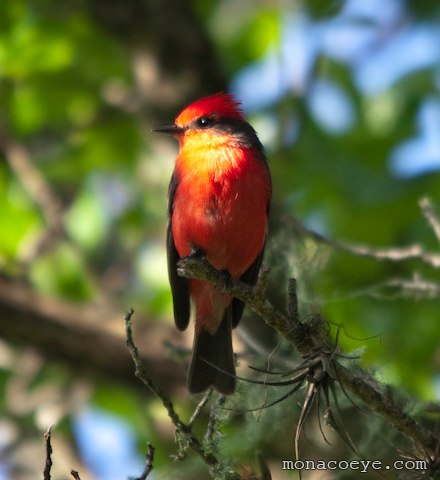 Likes: Animals, nature, people, music
Dislikes: Factories, crowds, mean and rude people, people who lie and take advantage of her
Description: Skinny, but not too skinny. Long black eyelashes and red hair. Smooth, soft light brown-tan skin. Her height is 5'8" and she weighs 190lbs. She usually wears jean short-shorts and a soft baggy tee-shirt.
Personality: Kay is the shy, kind if loner. She smiles all the time because she believes it's healthy. She would rather sit outside in the sun and watch the birds rather than be stuck in a dark place all day. She always feels like someone is watching her or making her do something she doesn't want to do. She doesn't know why she feels like that and doesn't tell anyone about it. She tries not to talk to people much because shes scared she'll say something wrong then they'll hate her. To sum it up, she's very shy and a little paranoid. Or is it the other way around?
History: Kayla was a rather quiet child. She didn't really have any...human friends. She spent her days on the rooftops of the skyscrapers. She would got up on the roofs with the birds and look out over the lake. Her family was very poor and was living half way on the streets. Her parents made her go stay with her rich aunt in a big pent house in one of the most expensive apartment buildings in Chicago. Her aunt wanted Kay to dye her hair a different color. Kay picked a bright red color when her aunt wanted it to be jet black.
One day when Kay came back to her aunts house, her aunt said she was going to a new school. It took them a while to get to the school, but they got there. Now, Kay stays at the school and usually spends her days going to class then going out side for some air and sun.
Misc: She can sing and loves music. She can also play a lot of instruments.