Lynus Saravia
Role
Male 1
Gender
Male
Age
15 years of wonderful life
Personality
Lynus is not the average boy; he has the common sense of a three year old and the memory of an elephant. It never seems like he is paying attention to what is going on around him, but he would surprise you and recall the smallest of details about something that had happened months ago that no one else seemed to remember. He doesn't really care about this talent of his, never doing his homework and often falling asleep in the middle of a test where the ones he had answered seriously were correct. He normally draws on his homework and tests, putting down answers that are meant to make others laugh, although, they simply cause him trouble.

He always seems to be floating on clouds, always smiling and being all around happy for no particular reason. Whenever an adult yells at him for not being responsible or doing as they say, Lynus tries to make the problem seem lighter by telling a joke or a memory. This often gets him into more trouble or makes the adult sigh in resignation. He is often compelled to share his happiness with those around him, but they often reject it or yell at him for being an idiot. Unfortunately for those sour sports, he is too stubborn to give up, Lynus isn't the best at reading other's emotions and when it came to things like drama, he is completely oblivious to what he's supposed to do. This causes problems for the fun-loving boy that he can't deal with.

He is a sensitive child when it comes to the opinion of those he cares about. Being insulted by someone he doesn't really know makes him laugh in their face and normally skips away cheerfully. If he is insulted by a friend or family member, Lynus, more often than not breaks down into a sobbing mess. Although, there are exceptions to that rule, he is called annoying or stupid he simply nods and doesn't take it seriously.

Lynus is very gullible and falls for lies easily, it took his parents the longest of time to convince him that aliens weren't going to take him away if he didn't wear a tin hat. Although he stopped wearing that hat, he never stopped believing in aliens or that Area 51 held captive aliens that humans experimented on. He also thinks that he has a traveling bogie man under his bed that is extremely shy so Lynus is never bothered by the monster. He has a firm belief in many different superstitions and is highly paranoid of things regarding his death and the government.
Brief Description
Lynus is a short-stack for standing at a height of 5'5, but he has high hopes in being 6'1, it's a long stretch but no one has the heart to tell him. He has the weight of a small 103 pounds, which is surprising from the monstrous amount of sweets he eats on average. He has wiry limbs that flop about causing him to have almost no grace at all. With this small frame he is often thought to be a little kid, instead of a teenager, not that he really minds.

He has wildly cut neon green hair with a wide patch of yellow in the middle of his bangs; they accidentally frame his feminine face perfectly. From the lack of brushing, his hair sticks out in random directions that would give hairdressers all over the world heart attacks. The eccentric color had been caused by a dye mishap when Lynus tried to dye his hair an obnoxious green, he accidentally washed out a part of the dye out a bit too quickly, leaving him with a patch of bright yellow. In the end, however, he had fallen in love with the look the yellow and green gave him and decided not to fix it.

His eyes are each a different color of green, they are a few shade apart from each other that was caused by heterochromia iridum which he had inherited from his father, who also had oddly colored green eyes. They are extremely wide and seemed almost out of place on his face, they were often bright with glee or some sort of positive emotion, never seeming to dim. Dark brown eyelashes surrounded his eyes, dark brown was the true color of his hair, making them pop out even more.

His style, along with everything else about him was random and had no order to it. One day Lynus would wear a crisp black tuxedo, while the next he'd be decked out in sweat pants and an old, ratty T-shirt that should have been thrown out years ago. His foot wear was also out of order from shoes like neon pink flip-flops to steel-toed boots that wrapped around his calves. The only thing that was constant about his attire was candy cane necklace given to him by a friend on his birthday.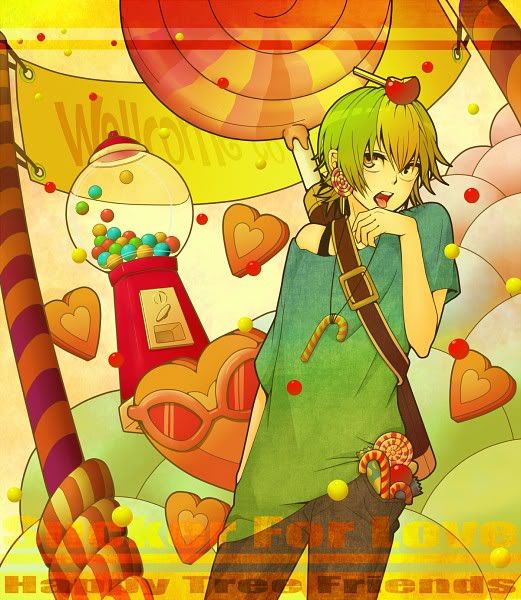 Likes
Panda stuffed animals, candy (anything sweet really), unnatural green colors, talking, chaos, loud noises, climbing tall things, and hanging upside down. He is also very into playing games and sports, anything that lets him move around.
Dislikes
The sound of people eating, any food that isn't at least a little sweet, walls, the color white, work, sitting still, and cars.
Phobia
Lynus is terrified of eating or drinking something that is bitter, so he has gone through his life avoiding coffee, tea, and most vegetables. He is deeply afraid that if he drove a car, he would get into a crash and kill himself and others. When it's quiet, he gets really worried that someone is near Lynus about to assassinate him, so taking tests often make him freak out.
History
Lynus grew up in a well situated household. His mother was a hippie at heart and always seemed to oppose on the career choice his father had chosen for himself, a lawyer. She never liked how it kept him at work for long hours and didn't really care for the large amount of money it provided. His mother was a gardener for a rich family. She would often complain about how terrible the weather was, but at heart she truly loved her job.

He has an older brother, who is out of college and is pursuing the life of a future software engineer; Lynus found his career choice very boring and never seemed to be able to show his brother the error of his ways. His brother was about seven years older than he was so their parents always doted on Lynus more than his brother, Clyde.

At the age of 13, Lynus was sent to the hospital because he had passed out from malnutrition, the lack over the everyday needed vitamins caused him to faint in the middle of school. He was then sent to a psychiatrist to determine whether or not he was anorexic or simply stupid. The psychiatrist decided he had an eating disorder and that he was to be sent in patient for four months. Within two weeks Lynus was able to annoy just about every single patient and doctor, they were all eager for him to get out of the institute.The doctors all agreed that he was simply the pickiest eater on Earth with a naturally high metabolism they sent him back into society. Then continued onto going to the academy.
Soulmate
N/A
Other
Lynus carries a stuffed panda around wherever he goes, he's had this panda since he was a small child. He strongly supports panda habitat protection and often protests against deforestation.
Matryoshka
One, two, three, four!

A message I've thought much too much about,
Maybe it'll reach somebody, who can say?
Certainly, I've always been this way,
A patched up, crazy matryoshka

A package sung by a headache
Time may pass, but the hands are at 4
Don't tell anyone;
The world will turn upside down

Ah, I feel broken apart
Throw out all your memories, too
Ah, how I want to know,
To the deep down...

Um, well...
If you please, dance more and more
Kalinka? Malinka?
Just play the chord
What should I do about such feelings?
Can't you tell me? Just a little?

Loud and clear, 524
Freud? Keloid?
Just hit the key
Everything, all's to be laughed at
Hurry, dance, with all your foolishness

Clap your hands, not entirely childish,
And watch, to this purposefully-crazed tune
Certainly, I don't care either way
The warmth of the world is melting away

You and me, rendezvous? Rendezvous? Rendezvous?
Oh, or out on a hopping adventure?
With a crooked gait, one-two, one-two

Ah, I'm ready to burst out;
Catch every part of me
Ah, with both your hands,
Catch me for me

Um, well...
Listen a little - it's something important
Kalinka? Malinka?
Just pinch my cheek
It's just that I can't control myself
Should we do more fantastic things?

Pain, hurt, but no, don't cry
Parade? Marade?
Just clap some more
Wait, you say, wait, wait
Before we drop to just one...

You and me, rendezvous?
Rendezvous? Rendezvous?
Oh, or out on a hopping adventure?
With a crooked gait, one-two, one-two

Down with a sickness?
Show me your song!
See how today...
I'm still a patched up, crazy matryoshka!

If you please, dance more and more
Kalinka? Malinka?
Just play the chord
What should I do about such feelings?
Can't you tell me? Just a little?

Loud and clear, 524
Freud? Keloid?
Just hit the key
Everything, all's to be laughed at
Hurry, and dance no longer!

Smooch, smooch...