♦

Rosemarie Hathaway

♦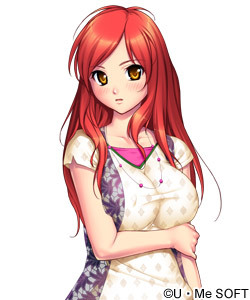 Theme:
Play On | Carrie Underwood
Image Song:
Here I Am | Camp Rock
♦
GENERAL INFORMATION
♦
Role:
Miss Popular to Nada
Gender:
Female
Nickname(s)/Alias(es):
Many know her as Rose. The only people that ever call her Rosemarie are her teachers and mother, that is, until the accident. Sometimes people get away with Rosie, but not many.
Age:
17
Love Interest:
The Quarterback at first, but now that that's over and done, she's not interested in anything anymore.
♦
APPEARANCE
♦
Height:
Five Feet Seven Inches
Weight:
120lbs
Build:
Rose is rather skinny, since after the accident she stopped eating. But she managed to maintain her well-proportioned figure.
Hair Color:
Cherry Red
Eye Color:
Sunny Amber
Scars/Tattoos/Piercings:
She's got a tattoo of an everlasting knot across her collarbone. Her belly-button is pierced with a dolphin pendant, and her ears always have silver studs in them.
Description:
Rose is a very well-balanced girl, or at least she was. Now, her once golden amber eyes are haunted with depression, and her once tan skin is washed out and pale. The hair that defined her at the school still hangs down to her waist, but it seems as though the color dimmed in that as well.

Although she appears to be exhausted and perpetually saddened, her body still maintains its natural figure. Her shoulders are small, making way to a nicely sized chest and a slim waist. Her hips widen out into natural, slim, curves, and her thighs are skinny to reveal long legs. She's tall, but not as tall as most other people at the school. She generally leaves her hair down to reach her waist, simply because she doesn't care enough to make herself look good anymore. She never wears makeup anymore, so she appears plain and the brightness that used to draw people to her is gone.
Preferred Clothing:
She wears a grey v-neck t-shirt and skinny black jeans over her black converse. Not even close to her cheerleader uniform, she embraces the darkness she feels inside and projects it on the outside.
♦
MENTALITY
♦
Oddities:
Onychphagia
Ever since the accident, Rose has found this need to bite her fingernails over and over again, until there's barely a fingernail left. Her nails are ragged and chewed, and she just cannot seem to stop.
Skills:
She's quite flexible from being Head Cheerleader, and can tumble like no other.
Likes:
Cats || Quiet || Art
Dislikes:
Questions || Needles || Prying
Hobbies:
She doesn't have any hobbies anymore. She just doesn't care.
Phobia(s):
She's horribly afraid of death, and anything with more than four legs.
Sexuality:
Heterosexual
Personality:
Once upon a time, Rose was fun to be around. She was a bright, happy, cheerleader, with the whole world ahead of her. But after the accident that took her mother and everything she had, the old Rose is forgotten. Now, she doesn't smile, she rarely opens her mouth, and she hasn't tumbled in months. Depression has consumed her, and the shadow of her old self has been locked away. Right after the accident, Rose was a mess, but she still was strong. It wasn't until everyone turned against her that she really lost it. She went to her mother's grave and sobbed for hours. Since then, she hasn't so much as made a peep. The only remnants of a still living soul are the constantly chewed fingernails from her anxiety.

No one goes near her, she went from the absolute most popular to the absolute least popular. She spends her after hours at her mother's grave, or at the group home that foster care placed her in. No one talks to her there either, and they always eat the food before she can get to it. She's not in the best place, but some part of the old her is still alive. It's just waiting to be awoken again.
♦
BACKGROUND
♦
Relationship Status:
Single
Family:
No one
Personal History:
Rose was born on June 21st, 1994 to Theresa Hathaway. She had a good life, living alone with her mom in a big house. Many people wondered how her mother could afford it, and honestly Rose never knew. She had a theory that her father was supporting them, but never asked her mom. Rose had never met her father, and the only thing she'd known about him was his name. Mark Cuso. When she was 12, she tried looking for him, but to no avail. She couldn't find any record of him anywhere. Her mother and her got into a fight about it, and Rose was forced to give up the search. After that, she never thought about him again.

Entering freshman year in high school, she was quick to achieve popularity and become Head Cheerleader. Not long after that, she began a relationship with the quarterback and nothing could be better. But, when she was a junior, her house burned down in a horrible accident, with her mother trapped inside. Rose had been at cheerleading practice at the time, and the police had shown up to tell her the news. No one could believe it, and when Rose reached out for help, she got nothing in return. They took away her spot on the squad, and her so-called boyfriend left her buried in the dirt. She was forced to recreate herself, and she became a lifeless shell of the old Rose.