---
---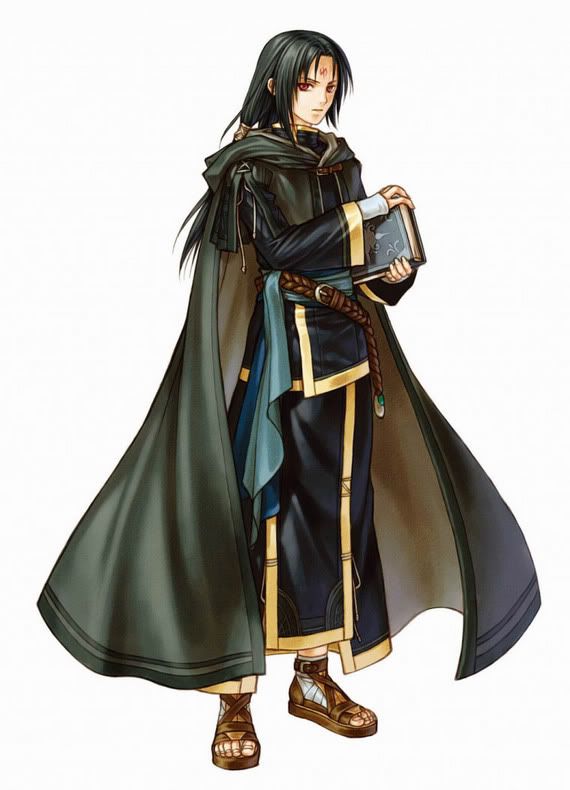 ---
Name
Morengar

Epithets
The Deathless One, Keeper of the Afterlife, The Eternal Watcher

Gender
Male

Appears to be
Twenty-six

Sexuality
Demisexual

Role
God of the Dead
---
Morengar stands at 5'11", sporting a lean build clad in concealing black robes. Most of the gods hadn't really seen his face, just a hood with an almost featureless mask with green eyes. With the mask off, he could probably be considered handsome, if a little pale, with dark red eyes and long black hair tied back to keep it out of his face. A blood red rune can clearly be seen on his forehead, an emblem which he is commonly associated with.
---
Morengar has been known for being one of the more reclusive deities, eternally watching over both the living and the dead from his crypt-like domain. Throughout his immensely long life, he has changed very little, always devoted to his duties as a god. Displeased at how the majority of the pantheon have forsaken their original purposes, he worked with the other dissenters in an effort to bring them back to the old ways, before gods and mortals fought each other. And we all know how that turned out.

He appears to be emotionally detached compared to the others, refraining from becoming too attached to individual short-lived mortals, although he has shown kindness towards them as a whole, having taught them how to properly care for the dead and build monuments to the fallen. However, his stoic demeanour and tendency towards blunt honesty have made him unpopular with the younger and more petulant gods.
---
Being the guardian of the dead, Morengar can communicate with the souls of the departed, although in this mortal form it is not the trivial matter that it once was. He can also wield dark-elemental magic, having taken it up when the world was still young and the other elder gods had turned their noses up at it. Lastly, he may freely become ethereal and vanish from the corporeal plane, although ever since his banishment he can only keep this up for a short while.

Being an embodiment of inevitability, Morengar's strongest virtues are his patience and determination. If he sets his mind on something, he will do everything in his power to make it happen regardless of how long it might take. He even knows a thing or two about medicine, having passed on such knowledge to mortals in their very early years so that they might live just a little longer.

Being unfamiliar to having a human form, Morengar is still learning about his new physical limitations, and sometimes forgets that he needs to eat and sleep now. Since he oversees a process which is a universal constant, he is often uncertain of how to react when presented with entities or concepts that are much less orderly in nature.

Prefers solitude and study to being out among the crowds. Practices alchemy whenever he can spare the time. He is also known to have a love of recording history, with some rumours claiming that these records go back as far as around the time the very first gods were formed.

Has a strong hatred of those who seek to desecrate burial grounds, from the greatest mausoleum to the most humble peasant's grave. Also reacts with slight irritation towards mortals thinking themselves smart enough to cheat death.

While not fearing death or physical injury, Morengar is... worried, shall we say, about what might happen to the afterlife without him to watch over it.

As one of the oldest of the gods, Morengar looks upon many of the younger deities with disdain, criticising their decadent nature. He much prefers the elder gods like himself, although even he cannot deny that many have turned against the mortals. As for the mortals themselves, he admires their collective feats and accomplishments despite their very limited lifespans.
---
---