There is a midsize city hidden in the mountains called Rose Creek, it gets its name from the large creek with the same name that runs right smack through the middle of the city. This city is surrounded by mountains to the east and west, thick forests to the north and south.
Rose Creek possesses a large built-up area, extending over a large, rectangular surface. Splitting the town vertically the river running smack down the middle. The whole place is Eastern in style, with its buildings being mildly reminiscent of neat Medieval ones. Located east on the edge of the town, on top of a hill overlooking the hole city, a horizontal road where events and parades are held, is Asherton Cathedral, one of Rose Creek's most important and distinctive landmarks. In the northernmost part of the city, sitting all most the center of the city is Sliver Fir Park which is 843 acres or about 6% of Rose Creek total acreage, including 7 different water bodies, a playground for the youngsters, large fields, large woodlands full of assortment of different trees, its a popular hangout or most.
To the west edge of the park, is Golden blossom café with a great view of the cherry trees in the spring. In the southeastern section of the city is the train station, which, to the west, has the HalfMoon Hotel Bar, the Toy Store Tinkers and another small stores; north from the station, on the town's western border, stands the rose creek mall, next to that is the night club Neon Rose, one of the hot spots of the night life.
Places to Know
The Neon Rose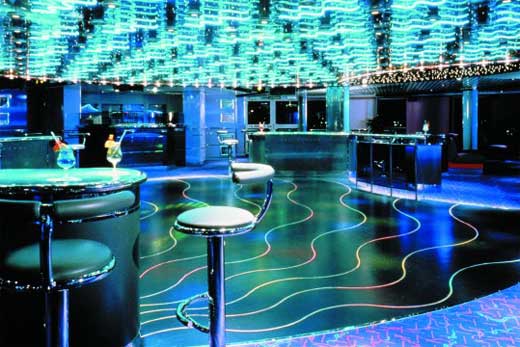 Its the definition of a nightclub lively from 8pm to 5am. Pretty much everything is tolerated within this club, wild VIP parties, as well as a few occurrences of fighting. Music varies from House, hip hop, techno, and pop remixes. The lighting is wild, and your first drinks are free.
[Girl] is a sweet, young model child. Everyone thinks she has a perfect life along with her perfect grades, and perfect everything. She is sick of being who her parents want her to be. So what does she do? Empties her savings and runs away. Technically not running away since she's an adult, but in all the same aspect. She leaves to a town far away, gets herself an apartment and decided she needed to support herself before she got too relaxed.
[Boy] is the complete opposite. He's a little older, drinks all the time, always in trouble, doesn't remember where or when he lost his v – card, typical hot headed bad boy. A guy thinks he's the hottest guy around, gods gift to the hole world. He gets into fights more then a MMA fighter does in a mouth. He's what they call a player and a heart breaker. All he does is uses girls for sex. But what happens when there's a new girl in town? She's sweet, innocent, and very smart.
This town seems to all fine and dandy at first sight but if you look a little deeper there is part that is hidden, a darker side to this lovely city. A gang by the name of Sliver thorn Group, a strong group with member in all walks of life and friends in very high places dwells in the darkness. unannounced to the people The Neon Rose sprung up almost in the blink of an eye.
She gets a job at a local nightclub, just making sure everything how it should be. She can see past his crazy good looks and will not take a moment to even THINK about dating him. But he won't give up so easily. He does everything he can to make the girl like him. Will he fall in love & get sensitive? Or will go through all this trouble to use her like the rest? What will happen when she find out about his dark past and his secrets?
Only Time will tell...........................................................................
Roles
(m/f)= the role can be male or Female
The shy Girl- Taken by me
The bad boy-
(m/f)owner of club/leader of the gang/parent of the bad boy-
The friends of the bad boy
(m/f) DJ -
(m/f)DJ's girlfriend/ boyfriend-
Character Sheet
Name:
Age:
Gender:
Role:
Appearance:
Height:
weight:
Body type:
personality:
Likes:
Dislikes:
Fears:
Secret:
History:
Taking place in...
0 posts here • Page 1 of 1
0 posts here • Page 1 of 1
Arcs are bundles of posts that you can organize on your own. They're useful for telling a story that might span long periods of time or space.
There are no arcs in this roleplay.
There are no quests in this roleplay.
Here's the current leaderboard.
There are no groups in this roleplay!
Welcome home, Promethean. Here, you can manage your universe.
Arcs are bundles of posts from any location, allowing you to easily capture sub-plots which might be spread out across multiple locations.
You can create Quests with various rewards, encouraging your players to engage with specific plot lines.
Settings are the backdrop for the characters in your universe, giving meaning and context to their existence. By creating a number of well-written locations, you can organize your universe into areas and regions.
Navigation
While not required, locations can be organized onto a map. More information soon!
There are no groups in this roleplay!
By creating Collectibles, you can reward your players with unique items that accentuate their character sheets.
Once an Item has been created, it can be spawned in the IC using /spawn Item Name (case-sensitive, as usual) — this can be followed with /take Item Name to retrieve the item into the current character's inventory.
Give your Universe life by adding a Mob, which are auto-replenishing NPCs your players can interact with. Useful for some quick hack-and-slash fun!
Mobs can be automated spawns, like rats and bats, or full-on NPCs complete with conversation menus. Use them to enhance your player experience!
Current Mobs
No mobs have been created yet.
Locations where Mobs and Items might appear.
You can schedule events for your players to create notifications and schedule times for everyone to plan around.
Add and remove other people from your Universe.
The Forge
Use your INK to craft new artifacts in When Opposites Fall in Love. Once created, Items cannot be changed, but they can be bought and sold in the marketplace.
Notable Items
No items have been created yet!
The Market
Buy, sell, and even craft your own items in this universe.
Market Data

Market conditions are unknown. Use caution when trading.

Quick Buy (Items Most Recently Listed for Sale)
Newest
Trending
Most Followed
None
Discussions
Topics

Replies
Views

Last post
Most recent OOC posts in When Opposites Fall in Love
Guess Nekohina wasn't down for it in the end. Shame.
@ Comrade your character is more then acceptable, Wonderful job on it.
I certainly got no objections, though if Twisted Fate finds my character acceptable, you might wanna look it over and let me know if the backstory that's pertinent to your character is alright with you. If not, we can talk it out and meet halfway and such.
Well then Comrade, if there's no objections perhaps I can see about shortening your wait
Well, I got some shit up. I'll fill in more information once a profile gets submitted for her 'kid'.
It a large role to fill with running the Nightclub, being the head of the gang, and a perent you got you hands full, so have fun with it.
I'll go ahead and do a profile for the parent/gang leader type thing. I do so love playing as parents.
This is the auto-generated OOC topic for the roleplay "
When Opposites Love
"
You may edit this first post as you see fit.