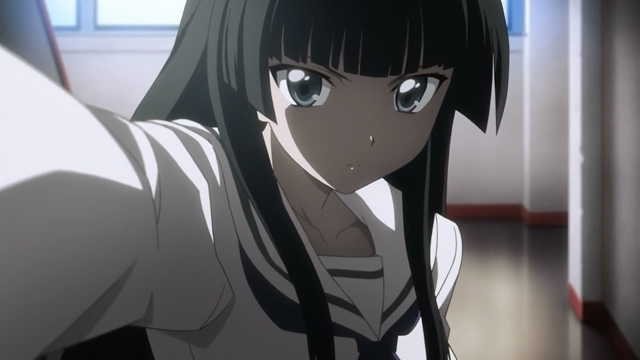 | Full Name |
"Banshee" - 9.3CGA
| Role |
The Assassin
| Age |
18
| Physical Description |
Banshee is about 97lbs and stands at only 5' 1". Her eyes are silvery/gray, her hair black (coming down to her waist) and her skin is extremely fair as if she's only received maybe a week's worth of sunlight in her entire life. On a normal day Banshee wears a fully body wrap and nothing else. For every mission the staff dresses her differently to blend in with the scene she'll be entering, but besides those occasions she has only her body wrap. Very lean because she's very underweight. She has a B cup but her body wrap makes her appear completely flat chested. Extraordinary curves, having a distinct hourglass figure (due to extensive physical training). She has two major scars: the first behind her left ear in the shape of a crescent moon just like the shape a girl's hand would make if she were tucking her hair behind her ear. The other is on the back of her right leg and looks as if someone tried to flay her calf muscle. On her upper left arm there is a titanium band that cannot be broken or removed - in it is a needle that will send her into a medically induced coma, which can only be removed at the lab.
---
---
| Likes |
♥ the "Good" music
♥ dressing up
♥ being active
♥ being outside
♥ laughter
| Dislikes |
✖ inactivity
✖ the cold
✖ chains
✖ the "Bad" music
✖ tranquilizers
| Personality |
Banshee is relatively passive until the 'bad' music starts playing in her ears, which in response makes her extremely aggressive. Distant and innocent in the most unlikely way, Banshee has no experience with humanity other than knowing that humans exist and they are all different. She has never had a lengthy conversation with one, long term interactions with one (aside from the scientists' tests) and has only ever known the names of her targets. Due to having never been taught to speak (except for the few words she's picked up on over the course of her life) she typically emotes through gestures, occasionally accompanied by sounds if she's trying to make a point. Typically she is quiet and a deep thinker. It seems that Banshee has a faint sense of humor and a fondness of laughter, but rarely shows it because of rare opportunities.
| Theme Song |


[url=LINK TO SONG]Song Title[/url] - Artist
| History |
9.3CGA was the illegitimate child of a man and a woman who, after her birth, dumped her in a truck. She was found a day later, half dead, and brought to the government. A man took her in and no one thought anymore of it. But had they looked closer they would have found that this man's name was Doctor Havared and he was researching Weapons of Mass Destruction. His life-long dream was to create a WMD that would not malfunction, would not be detected and was easily controlled. He reasoned with himself that if he made an assassin out of this baby girl, she would not be detected nor would she malfunction. She could kill a controlled amount of people and once it was time for her to cease, there would be ways of stopping her.
Doctor Scott Havared was a part of a dark branch of the government. A 'Dark Branch' was basically a branch of the government no one knew about, no one heard about and no one talked about. "Out of sight, out of mind," was their motto and they performed the necessary, but slightly illegal duties while the government who owned them turned a blind eye to the public. So from the moment 9.3CGA could walk, Dr. Havared and his small group of scientists began to train her. Her training schedule was intense and she did not have time to spare.
From 4:30 to 5:00 she stretched and warmed up, from 5:00 to 11:00 she practiced various martial arts. From 11:00 to 12:00 she ate, 12:00 to 12:30 was stretching, and then from 12:30 to 8:00 there was more training, but with weapons as well. At the end of the day, 8:00 to 9:30, she ate, washed then went to sleep. Her body has grown used to this ritual after years of strict mandating so she naturally wakes / sleeps at the designated times.
She had mastered every form of martial arts practiced by man at the age of six but only knew a few words of the English language, most of them curse words or fragments of insults. About that time Dr. Havared decided it was time for her to practice with weapons. The group found that, because she had no other activity to focus and devote herself to, she was extremely adaptable and a very fast learner. Swords, knives, guns, poison, explosives; everything available she was trained to use. 9.3CGA even memorized the workings in such machinery that she would be able to make one out of scraps if need be. If you were to give her an unsharpened pencil she could figure out how to kill someone with it in three and a half minutes (which had been timed by the scientists).
But what would be the best way to induce her now killer instincts without losing control of her and endangering themselves? The solution was noise and the group proceeded to train her according to music. The scientists installed two computer chips; one in the inside of her left ear and the other in her right. The chip installed in her left ear would play slow, calming piano and string instrument music. Whereas in the right ear it would play a jumbled mass of drums, cymbals, brass instruments and other panic-inducing sounds at a frantic pace. They found that as long as the calm music was playing, she remained normal and placid, simply going along with whatever was happening around her. But when the violent beats played in her other ear it sent her into frenzy where she destroyed everything until it was turned off.
This was unfortunate because her level of destruction terrified the other scientists. The co-leader, Dr. Sarah Kastin was having an affair with Dr. Havared and she supported the other scientists' idea to find a safer way to subdue her. She, allied with the others, convinced Dr. Havared to do something and in a moment of weakness (or more accurately, a night of weakness) he agreed. Shortly after he created a titanium band that he fit around her upper left arm. It had a needle inside of it the, at the press of a button, would sent a needle into her arm. The liquid the needle injected sent 9.3CGA into a medically induced coma that she was revived from only after the needle was removed. The needle can only be removed at the lab though so this button is only pressed when the mission is complete.
The WMD group was contacted shortly after this invention was in place, when 9.3CGA was roughly 13 years old. They were assigned the task of taking out a dangerous drug lord who was beginning to threaten protected areas. He was throwing a party for himself and his gang to celebrate their success, so they decided to send 9.3CGA on a test run. They dyed her hair blonde, put makeup on her and dressed her in busty, reviling clothes and she was accepted into the party as a hooker. As planned the man approached her and began to feel her up. 9.3CGA felt uncomfortable, as would be expected, but because the calming music was playing she remained mostly unresponsive.
Before it got too far though the music switched and she went on a rampage, killing the target first. But the WMD group decided this still wasn't quite enough and let her loose on the entire room. One man had a knife on him and tried to drive it through her temple, but only managed to cut her behind her ear before she liberated it from him and furthered her spree. She killed the man and massacred almost the entire party before the WMD group decided her mission was complete and tranquilized her. When the police arrived at the scene the total body count was 43 people dead and 19 people injured, all of whom died of their injuries a matter of hours later. No one who came into contact with 9.3CGA lived.
When she woke she was in a cell, the comforting music playing in her ear again. She made the connection that the only way to get rid of the bad music was to kill as many people as she could when it started to play. 9.3CGA succeeded in her next two massacre missions, her total death rates rising 152 people. It was on one of the missions she had heard the word "Banshee" screamed in regards to her and she liked the way the word sounded. In her mind she decided that this was her own name; Banshee.
For every mission she goes on she is dressed differently and is given a different identity. So no one but she and the WMD group know who she is. On her seventh killer mission she was to murder a witness. When she entered the house she was attack by two body guards. One she killed but the other drove a large carving knife into her leg, nearly severing the flesh. But she yanked the weapon from her calf and drove it through his throat. Then she killed the witness and was taken back to her cell, unconscious, her wound left to heal on its own. Since then she's had many more missions and all the time in between she's spent talking to herself in her head.
Her most recent mission, however, there was a fluke far greater than a knife wound. She'd been sent to kill the Prince and had been approaching where he sat at a piano when, suddenly, he began to play and drowned out the sound of the bad music. She was confused - was she to kill him? But he was the producer of the good music. What if by killing him the only music that ever played was the bad music? In her state of shock she dropped her weapon, startling the people near her as they realized what she was. Suddenly she was tackled to the ground by a heavy man and upon impact the "bad" music was suddenly silenced. Screams of panic rose from the crowd and people were running in every direction. Her head struck the stone floor and everything went black.
When 9.3CGA awoke, she found herself in a dimly lit stone-walled room with iron bars as a door and a solid metal chain that tied her left foot to the wall. All of this was strange, but the only thing 9.3CGA cared about was the fact that there was absolutely no music playing. A man she did not recognized her visted her and trying to communicate and she got across to him that her name was Banshee, though nothing else. A few weeks passed and this man continued to visit Banshee, teaching her words and how to communicate; soon she was able to say common phrases and put a voice to her thoughts, though she was continuously asking about the "music" and where it had gone.
Banshee does not know how long she's been in the cell but she's not particularly frightened. If anything she is confused and curious. Her target, the prince, was the producer of the good music. Did that mean that there was a bad music producer too? Where were they? And where had the music gone?