---
---
| Full Name |
Slade Lux Arcadia
| Role |
Prince
| Age |
20
| Font Color |
#C4180F
| Face Claim |
Hisoka Kurosaki
| Physical Description |
Perhaps owing this to his noble lineage, Slade is a very aesthetically pleasing person to look at. He stands at an average 5'9" and weighs about 115 lbs, giving him a thinner build that compliments the harmless face he owns. With a sharp chin and flawless fair skin like his, he's certainly known to be handsome, but not very intimidating. His round, emerald eyes and medium-lengthed hair are actually a common trait among males in the family, with him not being unique in this respect, though it does still turn heads nonetheless. For the most part, his face is littered with either a determined expression or a happy one due to his normal disposition, but on occasions, even he can twist into an angry or serious look.
Though Slade could certainly afford to wear whatever he wants, he is known to stick to a few different outfits for certain occasions. His most common apparel has him wearing a doublet like most royalty wore. He personally has an interest in wearing capes, something he's loved since he was but a younger child and so will do so whenever he gets the chance. However, due to recent events, he now wears an armor plate on his chest for protection.
---
| Likes |
♥Peace
♥Capes
♥Strawberries
♥Piano
♥Interesting people
♥Hope
| Dislikes |
✖Excessive Violence
✖Death
✖Disorder, disorder
✖Sweet Potatoes
✖Boring People
✖Despair
| Personality |
Though he can sometimes be a bit headstrong and curious, Slade still holds a princely air about him. He can be charismatic when he needs to be and is often friendly unless otherwise provoked. He is very capable of making people feel comfortable and safe around him, even upon meeting them for the first time and is quick to assist those in need. Needless to say, Slade is genuinely a good person and does what he can to show this. He's a bit naive and believes that in just about everyone, good can be found. Naturally, this makes him an optimist and he likes to see the best of a situation. A strong trait of his is an inability to give up on just about anything. Promises, bets, people. Once he starts something he will finish it no matter what is thrown at him. However, he becomes a lot more serious when his family and friends are put in danger, and has no qualms about rightfully punishing those that attempt to harm them which is perhaps the only way he might genuinely get pissed.
He is very observant and notes even the smallest things about a person. More than just about anything else, he likes to learn the truth behind the person, the reason why they tick and what has led them to this point in time. For the most part, if you've got something you want off your chest, Slade will hear you out and he genuinely loves hearing a story or two about someone's past. Secrets, of course, are kept to him as well as he's not one to ever break a promise if he can help it. His word is absolute, in that regard.
Because of his position as a member of the royal family, Slade takes his position seriously and often does his best to look proper in front of the masses. His true nature is a bit less mature than people would think and it is only when he's alone with his bodyguard can he truly relax and enjoy himself. These prove to be his favorite moments. That, and of course, he loves to eat -- strawberries especially. Interestingly enough, while he is much less likely to peek on girls he does have a tendency to have naughty thoughts when his favorite fruit are being eaten by pretty women. Perhaps in an odd way, Julian has rubbed off on him.
---
---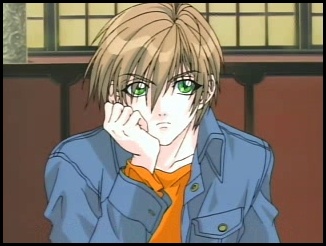 | History |
---
As a prince of a kingdom, Slade has truly had little to worry about except the occasional assassination attempt, all of which, obviously, have failed up to this point. Slade was born into the royal Arcadia family a couple of decades ago and was given just about anything he could possible want. Only the finest foods were given to him to eat, he was allowed anything in the kingdom he could possibly want, and he had the best friend he could ever ask for. Truthfully, aside from the attempts on his life, there wouldn't be anything interesting about him.
Except... well, Slade was a curious prince. Getting everything you wanted was truthfully boring and unexciting and Slade, though most wouldn't be aware of this, loved excitement. At young ages, he often snuck out of the castle to go explore the outside world. Sometimes he would do this accompanied by his friend, sometimes he would go out alone. He liked talking tot he various kinds of people that the world offered him. They were all so interesting, they all had obvious flaws and none of them were the same. But eventually speaking to random people on the street just wasn't enough to sate his curiosity. As a teenager, he started visiting the dungeon and talking to the people there. Criminals, some of which were known to murder, had very interesting stories to present to him. One man stole because he had no other means to get the food he needed to survive. Another man had caught his wife sleeping around and couldn't control his anger. Some were even the very assassins sent to kill the prince himself, though ironically, because of how little they knew or just how good they were at hiding information, they were the most boring of the men there. As he grew, Slade realized he loved seeing all kinds of people and knew that everyone had a story. Foreign nations were full of these new, interesting peasants whom were even more interesting than the ones in his kingdom! Slade knew that he had to ensure his kingdom could have positive relationships with others, that way more and more people would visit! Slade's dedication to making his kingdom a friendly and open place had begun, but even then... it seemed people wanted him dead.
Though there were much more attempts on his life than he could remember, the newest one stood out the most out of any. As he was playing the piano in front of a crowd, he looked down to see what he could identify as an assassin. But the thing was... she had stopped, obviously due to his music. More than anybody else had ever, this woman inspired curiosity within the young man. Why didn't she kill him? What about the music stayed her hand? And later -- Why couldn't she speak?
Everybody had a story, but not everyone's was so interesting! What answers could he reveal from her, and would he be able to help her? Suspicions led him to believe she wasn't exactly a run-of-the-mill assassin.
|Anything Else|
Years of attempts on his life has made Slade realize he needs to be fit. He possess basic martial arts skills and is physically fit. Because his job isn't to beat people up or harm them, he likely would only prove to be a real threat to another, normal human being with little training, but he is very good at evasion and running away, and has good stamina. On top of this, he can now keep a cool head under extreme circumstances and isn't likely to panic so even against those much more capable in combat than him, he might last a minute or two.