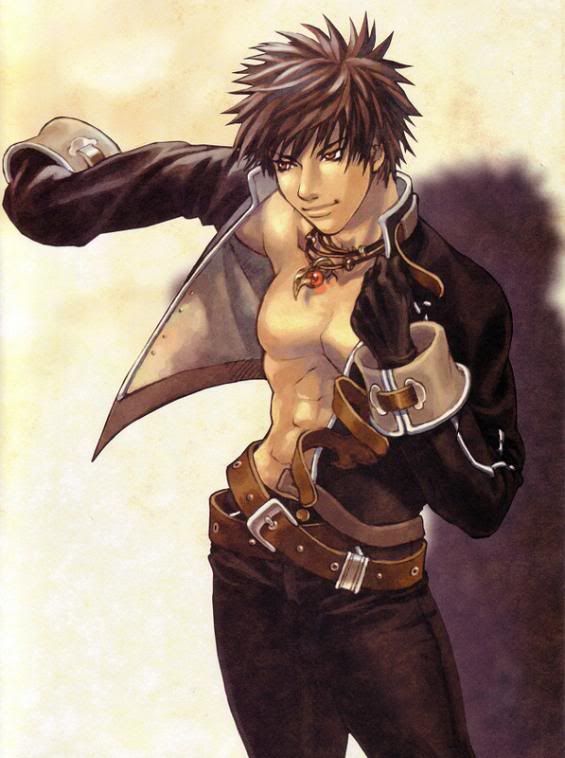 Name: Malcolm Locke
Age: 19........he assumes.
Gender: Male
Personality: Malcolm is a very optimistic person. He is usually find smiling and laughing. He loves to make other people laugh and smile as well. It is very hard to insult Malcolm or get under his skin. If it was easy, he probably would have killed himself by now. He is a very strong person, able to tough out any situation and rarely let's anything get him down. He does have a rather skewed look on morality for he has stolen from people and killed some in self-defense. He never has attacked anyone. All he truly wants to get out of life is to brighten peoples life, even if it's only for a few moments. However if you do really try to fuck with him and really try to get under his skin and you won't leave him alone. If you are just hell bent on making his life a living hell, he will beat you to within an inch of your life....if your lucky. He has fought numerous times for his life, from crack addicts with knives to demented bums with pipes. He has killed people and taken their clothes. He killed a bum in self defense over the corpse of a rat. He has tasted and lived desperate his entire life and he takes absolutely nothing for granted. Which is the reason he never complains. There is once thing that makes him angry, when people take what they have for granted. When kids complain about how they only got this much money for their allowance or how they hate their parents because they won't let them do so and so. These people are ignorant in his eyes. Even though he has lived a horrible life, all he really wants is to make sure that other people never feel the misery he has felt his entire life. He just wants to have a friend so maybe he can share his brief moments of true joy with people.
Talents: Is skilled in hand to hand combat. Incredibly fit. Is very skilled at forging documents and signatures. Is very knowledged of the streets and has many underground "contacts" for lack of a better word. Very skilled electric or acoustic guitar player.
Weaknesses: He is very easy to drown when his body is in any density other than his normal one. If he stays in his phasing form for longer than 5 seconds, he could phase right through the ground and die. There is also a time delay when he shifts density. Instead of snapping to different settings, thinnk of his body as having build up to one density, and then lower back down into another, so there is a good open area for attack.
Species: Star Cursed - Malcolm can completely control the density of his body. He can make his body incredibly dense, weighing hundreds of pounds and making him incredibly strong and incredibly hard to hurt. Or he can go the complete opposite way and make himself so light he can glide on wind currents. He can even cause his body to have no density for several seconds allowing him to walk through walls. Physically it doesn't look like he changes at all, though.
Family (may or may not play a role): None
Weapon of choice (if any): His body.
Appearance: Malcolm's skin is incredibly tan from all the years spent outside. He has very masculine facial features. Strong jaw and chin, yet still has a bit of a boyish look to him. His skin is rather tough and full of scars and callouses. His hands are actually so messed up from all the fights and disgusting places he's put them that he has to wear gloves so people don't feel weird around him. His hair is always and array of messy spikes. He has no idea why they are like this and no matter what he does to it, they always come back. His body is very toned and muscular from working out every day for about 5 years. His lifestyle causes him to almost constantly moving so his body is a representation of that. He is a bit bulky in the muscle standard, but not even remotely unsightly.
-
Height
:Six ft. Two Inch.
-
Weight
:220 lbs.
-
Eye Color
: Hazel
-
Hair Color
: Brown
History: Malcolm remembers he had parents and a house, then he didn't have either. He has been homeless as long as he can really remember. He remembers walking around a lot. Several people let him sleep here and would feed him and try to help him. Though he would always leave before they would try to call the cops and take him away. He remembers taking food and clothes and learning how to fight from several veterans he shared alleys with. He remembered learning to read from various libraries he went to. After reading a book on the enlightenment, he made up his own name. It's the only life he knows, which is probably why he doesn't miss his old one. He doesn't remember when he came to Rollen. He just remembers walking from places that were very cold, to places that were very hot. He decided to stay there because he really wanted to go to school and read more books and learn things.
Since he had "bunked" with an ex-CIA agent.......or a crazy guy, he knew how to forge documents. He was actually really good at writing, he was able to forge almost anyone's signature. It was just a talent he had. He forged birth certificates and other necessary items that he read off a pamphlet for the school and got what he needed at a Fed-ex office. He even gave two carton of cigarettes to a nice demented homeless couple to pose as his parents. He told them that he was 15 years old and they enrolled him at the school as a freshman about half way through the year. He still slept in alley ways and had to fight and deal with some fucked up people, but he felt happy. He had straight A's in all of his classes because he wanted to excel and had nothing better to do. It distracted him from his life.
He still drank and smoked. He had been drinking from a very young age and he wasn't going to stop now. He smoked also from a young age and again, wasn't going to stop now. He was now also addicted to school. He would often get to school early and shower in the science chemical shower, unless the locker rooms were unlocked. He kept up the charade very well. No one suspected that he was homeless. He made a few friends, joined the track team and weight lifting. Got a few jock friends that way. Though none of them would pick on kids around him, because they knew how he felt. He even made a facebook to keep up the charade.
After the night of the Meteor, he found himself stuck under one of the bleachers he was sleeping under, floating in mid air. HE found that he could shift his density and mainly used this ability to screw around with. Since nobody really knows him or lives with him, no one has even been able to figure it out.
Theme Song!:
Unstoppable
by Foxy Shazam