BASIC
-
Full Name:
Baterlina Contess Tru (If asked for her name, She'll say "Contessia", as she despises her first name)
-
Nickname(s):
Bat, Batty, Contessia
-
Age:
She isn't exactly sure, but she believes she is around the 100 year mark.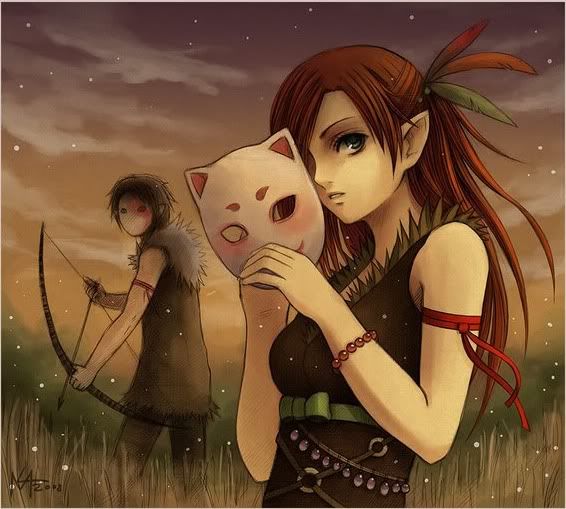 -
Gender:
Female
-
Race:
Elf
-
Role:
Assasin
APPEARANCE
-
Hair and Eyes:
Baterlina's hair reaches her chest, and is it slightly curly. It is the color of rust, and is very thick. Her eyes are a deep green colour, and she considers them her best features. They are surrounded by long eyelashes, and are quite large compaired to the rest of her facial features. She tends to express her emotions with her eyes, and has often been told she is an "Open Book" because of them.
-
Complexion:
Baterlina's skin is a pale ivory colour, and is lightly dusted with freckles. She has a long scar going along her lower left jaw, and she got it from when she fell of a chair as a child. She also has a long scar going straight diagnoly across her back, from when she was playing with her brother's sword as a child.
–
Height and Weight:
Baterlina is 5'2, and weighs 134 pounds. She considers herself chubby, as her cheeks are chubby.
-
Body Type:
Baterlina is on the curvier side, but rarely wears tight enough clothes to show them off.
PERSONAL INFORMATION
-
Favorites:
She loves fluffy things, as well...they're fluffy! She also loves candles, as her mother used to burn them when she was a child. She also likes The Dark, because enjoys being concealed, and everything seems so much more quiet at night. She also likes the rain, as it always helped her sleep as a child. Also, she enjoys walking, it helps her clear her mind.
-
Least Favorites:
She hates tight clothes, as they restrict her.
-
Hobbies:
She doesn't really have any hobbies.
-
Weaknesses:
She isn't good at long distance running.
-
Strengths:
She is skilled in archery and Hand-On-Hand combat. She is also very stealthy, and she if she doesn't want to, she won't be noticed.
-
Habits:
She has a bad habit of biting her nails.
-
Personality:
Baterlina is a quite girl, whom would much rather be out in a tree, than sitting inside. She has quite a pessamistic outlook on life as well (Will be expanded)
---
GENERAL INFORMATION
-
Quote:
"I've come to find that if you try, it doesn't do much"
-
Theme song:
Scissor Sister - She's My Man
-
Weapon:
She always has a daggar strapped to her thigh, even when she is pretending to be the Princess.
-
Potential Interest:
As of now, the Elf Prince.
Possibly Later: Human Prince
MOUNT
-
Full Name:
Marline
-
Nickname(s):
Marcie
-
Age:
3
-
Gender:
Female
-
Personality:
Marline is forever faithfull to Baterlina, and has a fierce personality. She is always full of energy, and loves to run.
-
Description:
She is a Dappled Grey Mare, with a long white mane and tail.
PEACHES