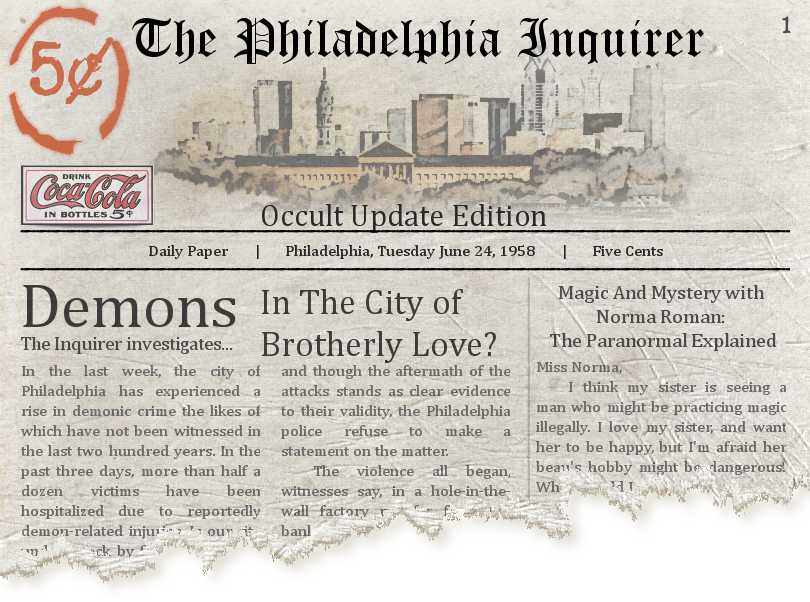 ::
OOC
::
Wikiblog
::
Rules
::
WIP Critiques
::
GMs: ::
Nannyhap
::
RhiannontheDane
::
It stank. The PPD's forensic pathologist hadn't made it fifty feet to the crime scene before it hit him like a wave, the balmy summer night emphasizing the spoiled scent of rotting meat that hung heavy in the air. Forcing himself not to gag, Billy pulled a dirty handkerchief from his pocket and held it to his mouth and nose. Ducking under the yellow police tape, he nodded and murmured greeting to the grim detectives there to meet him.

Bracing himself against the edge of the dumpster, Billy raised himself to the tip of his toes as he shined the flashlight's stark beam onto its grisly contents. She'd been gutted—that explained the smell, certainly, and even after more than five years of medical training, he found himself fighting the urge to retch again at the sight before him. The naked body of the ingénue was twisted grotesquely. On her blood stained chest was a sigil, the calling card they'd seen before, and with it, the unnatural way her limbs were tied behind her back. Her organs spilled out onto black polythene bags, congealed blood glistening on the slick surface. The dark and sticky reds and blacks contrasted sharply against the pale of her mottled flesh. He grimaced; it was almost pretty, in a way. His gaze lingered on her face—her expression was blank and all beauty she may have carried in life was lost, her eyes rheumy and bulging from her grey cheeks. Clicking his tongue, Billy fell back onto the balls of his feet.

"Well, gen'lemen," he said with false cheer, flashing the detectives a toothy grin, "I think we can rule out natural causes, how 'bout you?"

"I don't know," a figure from the shadows replied, stepping forward to peer with little surprise into the dumpster behind Billy. He turned to the group of policemen and smiled slowly. "I'd say dying after something like that would be perfectly natural." With a sneer, he added, "Or were you not asking me?"
---

---
Demon attacks are on the rise in Philadelphia, reaching numbers that have gone unseen since the inception of its highly trained Occult Division. A large section of the city's industrial district has been shut down due to demon infestation, and grisly murders, which had been kept to a minimum up 'til now, are suddenly a dime a dozen. Perhaps the most disturbing pattern of this already trying time is the tendency for corpses to turn up with their hearts missing, even in the unlikely event that the rest of the body is intact.
Understandably, the public is in an uproar.
Some say that it's vampires seeking revenge for being outcast from society. Others, perhaps more educated in matters of the occult, are aware that the attacks come from extremely young demons, although this does not put their minds at ease. Some are even claiming that the goings on in Philadelphia are a sign of the end-times, a sentiment which local law enforcement is trying (with little success) to stifle.
For the brave young men of the PPD Occult Division, the question is not what—they're already well aware that the attacks are demonic, and even that the demon threat plaguing their city can be easily bested with simple banishing and containment methods. The more important question, as far as they're concerned, is
how
; even after they're banished or killed, it seems that more demons step out from the infected area, as though they were an innumerable army.
Not to mention the familiar ugly mugs walking around town, most of whom should have long since rotted away to naught but bone.
As if matters couldn't get any worse, now the Feds are getting involved, adding bitter resentment and old scores to a workload already tripled by stress, exhaustion, and a late June heat wave. Things don't look good for the city of Philadelphia....
Your mission, should you choose to accept it...
...is to help save the city of Philadelphia, and potentially the entirety of the Overworld, from the threat of demonic invasion by aiding in the banishment and containment of these uncooperative demons. If working out in the field where you have to stick out your neck (and try very hard to keep it from getting hacked to bits) doesn't sound like your cup of tea, you might also try contributing to research on the creatures plaguing the city. How did they get here? Why do they just keep showing up? Or, if you're a parapsychologist, what is their favorite color?
But what if you don't want to help
save
the city? You might be a cultist or a thug taking advantage of the current situation. You might be a demon fresh out of the Sandlot, eager to destroy the new toys some merciful entity has bestowed upon you....
...or you might just be trying to survive.
Welcome to Philadelphia, June 1958. Enjoy the ride.
---

---

Philadelphia:
The year is 1958, an eventful year even at its surface. In the last six months, America has launched its first successful satellite (Explorer 1), the first crossing of the Antarctic has been completed, and Elvis Presley has just been inducted into the U.S. Army. Coca Cola and the Sunday paper still cost the same amount—five cents apiece—and color televisions are still rare in the average household. As a matter of fact, it isn't
un
common for the average Joe to get his news from the morning or evening radio shows.
But this isn't the calm, peaceful world that your grandparents might remember. As a matter of fact, it isn't too peaceful at all. For as far back as history can recount, and perhaps even farther than that, mankind has been plagued with a sort of curse breathing just down their necks. All-seeing, but mostly unseen, demons have haunted the known world since the day the first true humans were born, and it's been said that they will haunt it until the last of mankind dies.
Demons walk amongst the general population, integrating seamlessly, for the most part, with the world around them. Throughout the years, they have become so adept at blending in with the human population that certain measures have become necessary for human survival, in the paranoid human mind. It was for this reason that magic was first discovered and harnessed for human use, and magic has remained a primary defense against both Infernal and non-Infernal threats for a very long time.
In recent years, some government organizations have adopted the use of cooperative demons, mostly to combat those that don't feel so charitable towards the human race. Organizations such as the Federal Bureau of Investigation and many police departments throughout the United States employ demonic individuals known as Infernal Field Agents, whose primary duties include sniffing out and negotiating with Infernal threats and, in some cases, fronting any physical violence that may occur because of them. Government organizations with Infernal specializations focus on relocating the threat in question in order to minimize the damage on the general population.
Up 'til now, demons in heavily populated areas have largely been under control, and in the last three decades or so, civilian interference with, awareness of, and casualties due to Infernal incidents has been greatly reduced. In recent weeks, however, strange things have been happening in Philadelphia, including a surplus of young demons with little rhyme or reason to the pattern of their attacks. These demons, while not especially powerful, are great in number, and have been wreaking havoc on Philadelphia's industrial district. Add to that a slew of folks who, as far as any records show, are quite dead, and you have a recipe for disaster on your hands.
While there are many differences between this Philadelphia and the one you may be familiar with, certain issues such as racial discrimination and sexism remain
in the kitchen
as controversial as ever. Though employers in AU Philadelphia allow a handful of multiracial and female applicants into fields otherwise dominated by white males, these positions are rare at best and remain few and far between.*
*Note: This is not included in order to deter individuals from creating female or non-white characters. We here at the Snakes and Ladders headquarters are dedicated to historical accuracy, but not so much to prevent having fun. We don't expect it to be much of an issue in game, but we want to ensure players understand the backbone of the world they will be playing in.
---

---
Listen up, kids! Important note coming through!
Since we've already had two character submissions, I want to make it clear that
all characters should be submitted to the WIP thread before they are submitted to the tab
. If you don't want to submit your WIPs for all to see, you're welcome to PM them to Nannyhap and RhiannontheDane. We'll be giving out a lot of advice on most submitted characters, both critiques and normal ole suggestions, and it's easier for us to do so in those formats. It also keeps the tab from being cluttered.
Not chiding anyone so much as reminding you guys. I guess it's not posted very clearly (although I think it's bolded in the rules.)
Back to your regularly scheduled technical information!
Please keep in mind that
this is primarily out of character information.
Not all characters, especially human characters, are going to be aware of all or even most of this information, and no human character at the start of the game will know precisely what's going on with all of these extra demons, until the situation is investigated. Feel free to misinform your characters however you like, regarding this info or any of the information found on the Wikiblog. As long as you understand that the game will still work as the GMs have planned,
your character can believe whatever he or she likes.
Demons and Other Supernatural Entities
As has been mentioned on multiple occasions throughout this roleplay, the most prominent feature of this AU is demons. The ratio of demons and other supernatural entities to normal humans has not been precisely determined by the scientists of the day, but many estimate that there is at least one supernatural entity per every group of ten normal humans. This includes demons, vampires, ghosts, and otherwise unclassified supernatural beings.
Those wishing to play demon characters should give the About Hell page on the Wiki a good readover, and while players are encouraged to create and submit their own demonic species (all rights will still remain in the hands of the player), those who don't wish to go through all the hassle are urged to choose from the list of available species posted on the website.
Players wishing to play supernatural entities who have not been specifically addressed, such as werewolves, vampires, ghosts, and other creatures may do so
only with the permission and explanation of the GMs
, who will be addressing these matters shortly if all goes as planned.
Players who have already created human characters will be given preference when new supernatural characters are submitted.
Magic
Magic is prevalent in this AU, as it serves as the primary line of defense against demonic threats. The GMs are leaving this notion open to interpretation. Magic is very likely different for each wizard, sorcerer, and religious leader who uses it, based on their upbringing and training. In the case of religious leaders, their magical styles will likely be heavily dictated by the styles of magic used in their denomination. The first player to choose a religious leader within a denomination will decide the basics for all subsequent individuals.
Players who have been with the roleplay or other Snakes and Ladders roleplays before will be given preference regarding wizards, sorcerers, and religious leaders, as these are high-power characters. This does not mean that the GMs will turn down a good character from a new player, however.
What the Hell (pun not intended) Is Happening?
This information is
strictly out of character
, as no human on Earth (and very few demons) actually know what is going on. To keep things short and simple, a hole has opened up in Philadelphia's industrial district, leading to a realm of Hell known as the Sandlot, where young demons fight to the death to earn their way into Hell's ranks. These wild young demons, though weak and susceptible to faith-based magic, are almost endless in number, and they're pouring into Philadelphia at an alarming rate. They believe themselves to have discovered a new area of their stomping ground, and treat its inhabitants with the traditional amount of respect afforded to a food source.
Along with young demons, a number of damned souls are bubbling up from the depths of the Abyss as well. These are men and women who were primarily evil in life, and have remained so in death. Murderers, thieves, rapists, and frauds who have, according to record, been long since dead (or, more disturbingly, never existed) are now roaming the streets of Philadelphia alongside the living, and they are much harder to distinguish than the demons that have emerged with them.
---

---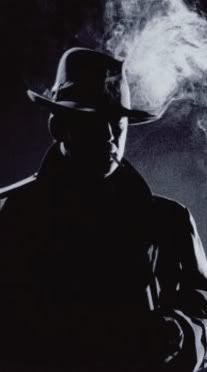 Several roles have already been filled by the GMs, who are playing numerous characters in order to move the plot along. These characters, and other filled roles, will be listed first, with open and available (unnamed) roles listed below.
The roles listed below are by no means the only roles available in the game
, nor do they all need to be filled before we can begin. They're merely meant to give you some ideas, to let you know how many of each kind of character we want, and to tip the scales in favor of human characters, which we are giving preference in this roleplay since it's their world being invaded. The list will be updated as roles are filled or opened, so you should check back regularly! Available roles will also be listed on the "available roles" page of the Wikiblog, but it's likely that the tab will have more up-to-date information.
The Philadelphia Police Department Occult Division
Roles Available
Police Detectives (x2)
Police Officers (no limit)
K-9 Unit Officers (x5) (PM Nannyhap or RhiannontheDane for info)
Secretaries (x3)
Forensic Pathologists/Forensics Technicians (x2)
Police roles outside the Occult Division are also welcome
, though you'll have to let us know that that's what you mean to do!
The Special Occult Branch of the FBI
Bruce Faulkner - Wizard/Special Agent
Caius Groverfield - Infernal Field Agent/Special Agent/Instructor/Wizard
Theodore "Ted" Harrison - Special Agent
David Harrison (no relation) - Special Agent
Philippe Deladrier - Special Agent, assigned to Philadelphia
Amber Haydon - Investigative Specialist and aspiring Wizard, assigned to traditional FBI office in Philadelphia
Anthony LeBlanc - Wizard/Instructor/General Messer of Things.
Dolan Whitacre - Information Clean Up/Top Brass (shh)
Available Roles
Special Agents (x5)
Consultant/Specialist (x1)
Parabiologists (x2...get it? get it?)
Parapsychologists/Psychiatrists (x2)
Rehabilitated Sorcerer (x2) (PM Nannyhap or RhiannontheDane for info)
Wizard (no demon) (x3)
Wizard (with demon)
Demon (with above wizard)
Infernal Field Agent
Interns (x3)
Secretaries (x3)
Civilian(ish) Roles
Norma Roman - Investigative Journalist/Columnist/Occult Specialist
Viridiana Wordsworth - Wizard/Librarian (Philadelphia branch of the Arcane Archives)
Available Roles
Mayor
Other Government Official (PM with request)
Pro-Infernal Citizen/Activist (x5)
Anti-Infernal Citizen (No limit)
Neutral Citizen (No limit)
Religious Leader (x2)
Rogue Wizard
Private Investigator
Licensed Wizard (x2)
Cultist (x3)
Vagrant (x3)
Vigilante Demon Hunter (x2)
Other Roles/Other Demonic Characters
*
Aside from those listed above, no demon roles are currently available. Check back soon!
*Note: Regarding demon characters, preference will likely be given to players who have already created at least one human character already, although ultimately
we will still aim to pick the best profile
.
---

---
Any character sheet may be used for this roleplay
, so long as it addresses all non-optional information requested in the suggested sheet. For those of you who like to stick to your guns on what the GMs have decided, the suggested character sheet is below.
Please note that a considerable number of fields are optional
before flipping out about the length of the sheet. Thank you!
Code: Select all

[size=120][b]Basics[/b][/size]
[b]Name:[/b]
[b]Aliases:[/b]
[b]Sex:[/b]
[b]Age/Date of Birth (if known):[/b]
[b]Species:[/b] (Please specify if your character is a demon or a damned soul. If a demon, please specify any known subspecies.)
[b]Voice:[/b]

[size=120][b]Appearance[/b][/size]
[b]Physical Description:[/b] (Text descriptions are better than images. Visuals are user's discretion, but no very recognizable/anime images, please. Exceptions for recognizable images will be made for images from noir films, since that fits with the intended genre)
[b]Distinguishing Marks:[/b] (Scars, tattoos, etc.. Optional field. Delete if unused.)
[b]Mannerisms:[/b]
[b]Wardrobe:[/b]
[b]Other:[/b] (Anything else you find important to the character's appearance should go here.)

[size=120][b]Personality[/b][/size]
[b]Moral Alignment:[/b]
[b]Intelligence:[/b] (Including wisdom and common sense.)
[b]Demeanor:[/b] (Give a description of how s/he acts towards others.)
[b]Attitudes:[/b] (Give a description of how s/he acts inside his or her own head.)
[b]Likes:[/b]
[b]Dislikes:[/b]
[b]Quirks:[/b]
[b]Flaws:[/b]
[b]Philosophy:[/b] (Optional)
[b]Hangups:[/b] (Optional; what wigs your character out, or causes them to lose control of their brain-pans and react on instinct?)

[size=120][b]Social[/b][/size]
[b]Occupation:[/b]
[b]Relationships:[/b] (Optional)
[b]Economic Status:[/b] (Optional)
[b]Opinions:[/b] (Optional; any important social opinions your character feels the need to express.)

[size=120][b]Combat and Abilities[/b][/size]
[b]Combat Prowess:[/b]
[b]Equipment On Hand:[/b] (Assuming your character doesn't have time to stop by the house, what does he or she usually have to work with?)
[b]Special Abilities:[/b] (Optional—not applicable for most human characters.)
[b]Special Training/Aptitude:[/b]

[size=120][b]General History[/b][/size]

[size=120][b]Professional History[/b][/size]
(Including training.)

[size=120][b]Other History[/b][/size]
(Optional; any specific event that you feel the GMs and other players should know about goes here.)
---

---
Roleplay Specifications
This roleplay requires a firm grasp on the English language, with a posting minimum of 300 words. Likewise, unless you're playing multiple characters, or it only happens every once in a great while, we ask that
posts exceeding 1500 words are cropped to a more manageable length.
While we appreciate a good wall of text as much as the next lasses, we expect several players to join this roleplay, and longer posts will only make it more difficult to set a regular posting frequency. Basically, if you've got a good grasp on English and are willing to work with the GMs and other players to assemble believable characters, you'll probably be accepted.
While the GMs are
not limiting the fun to to advanced players
, roleplayers who consider themselves advanced are welcome and even encouraged to join.
Communication
The most important part of this roleplay is
OOC activity
, with the GMs, with your fellow players, basically with anyone you might be working behind the scenes with. Participation in the main OOC thread and other forms of OOC interaction are
not optional features of the roleplay
; rather, that's what enables the GMs to hold it together and direct it as you, the player, would like to see it run. Likewise, communication between players
should never make another player uncomfortable
, so please keep any disagreements you might have with one another to a private medium, and leave your IC scuffles in the IC. Remember, if you have any questions or problems, you can shoot a PM to Nannyhap or RhiannontheDane, and we should be able to sort things out in a grown up manner behind the scenes!
Characters
Characters should be
believable and consistent with the setting.
Rhiannon and Nan have done a lot of research to work this AU up to the point it's at, and anything you can't find on the Wiki presently is going into the behind-the-scenes workings of the world. What does this mean for you? Well, it means that if your character has a gun, it should be one appropriate to the era, and if your character has a job, he should be the proper age to have earned that job (and dress/groom himself appropriately!). It means that you need to understand that
we may reject characters such as female police officers
, not because we're sexist, but because such roles were seldom if ever filled by women in the late 1950s. Things like that.
If you use historical references such as web articles and wikipedia pages, the GMs would be happy to post them on the "historical resources" page of the Wiki, so that your fellow users can make use of them as well.
Demon roles will be limited in availability.
* The GMs have the right to reject any demon characters submitted when there is no demon position open, as it isn't fair to submit your sheet beforehand as a "placeholder." This rule will
only be waived for exceptional demon characters
, if we have any submissions, and these characters will
not
occupy the upcoming demon roles. Although characters operate on a first come, first serve basis, the GMs will ultimately select the character with the better profile if it comes down to it, so make sure to put your best effort into it.
Please let us know you're making a character before you submit! Although we're sure you can figure out the process all for your bad self, the GMs like to hear the ideas that are being bounced around and make room for new characters accordingly, as well as provide any help you may need with the character creation process. As a matter of fact, a thread will be available for players to submit their WIPs for GM review. While it is not necessary to use this thread,
we request that both of the GMs review your character sheet before you make your final submission to the tab.
*Note: High powered roles, such as wizards, demons, and characters in positions of power will be judged more stringently than mundane human characters.
Demons returning from the original Snakes and Ladders roleplay will automatically be accepted
, and will not count towards filling the available demon spots.
Sensitivity
This roleplay will be touching upon subjects that should be handled with maturity and class, such as sexism, racism, and religious discrimination. While the GMs do not wish to place an outright ban on slurs and other unkind comments in these areas
in the IC areas of the roleplay
, any intolerant behavior that seems to translate into the Out Of Character bits of the roleplay will be met with an iron fist. Please operate within RPGs rules on this matter, and don't
actually
be racist sexist meanieheads.
Roleplay Etiquette
Naturally, as in any roleplay situation, this game will involve more than just a small handful of people. As such, it is important to be respectful of other players, both in character and out of character. In addition to the usual rules of RP etiquette, which I'm sure you're all well acquainted with (such as avoiding god modding, power playing, Mary Sue characters, and the like), the GMs have a few requests of their own that they would like to mention.
While the natural progression of character relationships is appreciated and even encouraged, keep in mind that the nature of this roleplay is not a romantic one. No, we won't kick you out for diabetes-inducing sweetness and romantic interaction, so long as these things are kept at a realistic level and do not become the primary focus of your character's attentions.
Ignoring other roleplayers in the IC or the OOC discussion is frowned upon; if your character is ignoring another character, rather than you simply ignoring a player's post, please mention it directly.
Please refrain from playing other people's characters without their consent (or the GMs' consent, if they have been absent for a sufficent amount of time). The only time when it is appropriate to take control of another player's character is when the roleplay needs to progress at a slightly faster rate and they are not available to post, but try to get their permission first.
Permission should also be requested before moving into combat situations with characters that are not already hostile. Permission isn't required to engage in combat with hostile NPCs.
If you need to drop the roleplay, or are planning on being absent for a long period of time, please drop in and leave a note in the OOC so that your characters may be temporarily controlled or detained, or, in the case of a complete RP drop, permanently replaced. In this case, "a long period of time" is defined as longer than three weeks.
The GMs reserve the right to request the removal of any characters/players not acting in accordance with these guidelines.
9 posts here • Page 1 of 1
9 posts here • Page 1 of 1
Arcs are bundles of posts that you can organize on your own. They're useful for telling a story that might span long periods of time or space.
There are no arcs in this roleplay.
There are no quests in this roleplay.
Here's the current leaderboard.
There are no groups in this roleplay!
Welcome home, Promethean. Here, you can manage your universe.
Arcs are bundles of posts from any location, allowing you to easily capture sub-plots which might be spread out across multiple locations.
You can create Quests with various rewards, encouraging your players to engage with specific plot lines.
Settings are the backdrop for the characters in your universe, giving meaning and context to their existence. By creating a number of well-written locations, you can organize your universe into areas and regions.
Navigation
While not required, locations can be organized onto a map. More information soon!
There are no groups in this roleplay!
By creating Collectibles, you can reward your players with unique items that accentuate their character sheets.
Once an Item has been created, it can be spawned in the IC using /spawn Item Name (case-sensitive, as usual) — this can be followed with /take Item Name to retrieve the item into the current character's inventory.
Give your Universe life by adding a Mob, which are auto-replenishing NPCs your players can interact with. Useful for some quick hack-and-slash fun!
Mobs can be automated spawns, like rats and bats, or full-on NPCs complete with conversation menus. Use them to enhance your player experience!
Current Mobs
No mobs have been created yet.
Locations where Mobs and Items might appear.
You can schedule events for your players to create notifications and schedule times for everyone to plan around.
Add and remove other people from your Universe.
Orphanage
By marking a character as abandoned, you can offer them to your players as pre-made character sheets.
A ladywizard with an unusual mind.
Investigative Specialist of the FBI Occult Branch and aspiring Wizard.
The Forge
Use your INK to craft new artifacts in Where The Sidewalk Ends. Once created, Items cannot be changed, but they can be bought and sold in the marketplace.
Notable Items
No items have been created yet!
The Market
Buy, sell, and even craft your own items in this universe.
Market Data

Market conditions are unknown. Use caution when trading.

Quick Buy (Items Most Recently Listed for Sale)
This is the city's first line of defense against demonic attacks and other occult threats. The brave men and women of the PPDOD put in long hours to keep the city and her residents safe from harm.
The headquarters of the SOB, where much of the lab work and behind the scenes government action will be discussed/taking place.
For GM Updates Only!
The Philadelphia base of the traditional FBI. In the event of an emergency, they will likely be involved.
A branch of the national arcane library, responsible for compiling all public magical knowledge.
The most frequented breakfast spot for the PPDOD, Al's is the only human-owned diner in Philadelphia currently open 24/7.
A nightclub almost entirely owned and operated by the demon population of Philadelphia.
An area of Philadelphia's industrial district which has been closed off to civilians due to a high number of supernatural incidents. Citizens are advised not to go walking near the quarantine zone alone after dusk.
The City of Brotherly Love!
Capital of the nation and home to the headquarters of the SOB.
Discussions
Topics

Replies
Views

Last post
Most recent OOC posts in Where The Sidewalk Ends
There have been no posts in the OOC topic for this roleplay!