The Philadelphia Inquirer seems to be having better luck in this world. Keep an eye on this location for GM plot-hooks and summaries of recent events. We're looking to do a post, complete with newspaper clipping, for each of the major events in the roleplay, followed by a GM explanation and summary. Keep your eyes peeled!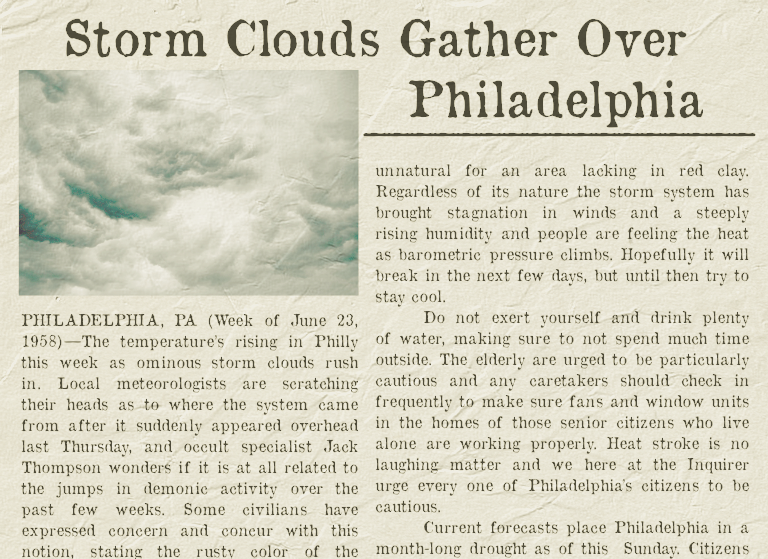 ---
June 24th, 1958: Our Story Begins
---
Storm clouds are gathering over Philadelphia, and the winds that carry them bring with them rumors of a growing Infernal threat right here in our city. Reports of attacks from all manner of supernatural creatures are on the rise, from vampire and werewolf bites to instances of brutal and gleeful dismemberment, supposedly perpetrated by demons. If ever there was a time to say that the world had gone mad, that time is now.
The reason? No one is quite sure, but
several districts in Philadelphia's industrial areas have been closed off
without explanation, and the city has
imposed a curfew
to keep its citizens safe. Confusion and panic are beginning to spread throughout the ill-informed masses; tales of Russian spies, American betrayals, and a full-scale Infernal takeover are just some of the rumors flying between the citizens of Philadelphia. Though no one knows exactly what's going on, everyone can agree that
something
is certainly happening, as
instances of supernatural violence in Philadelphia have increased to levels never before seen in American history.
Something big is going down, and the Philadelphia Police Department (traditional
and
Occult Division) is in way over its head.
It would be one thing if the human inhabitants were the only ones being targeted, but things are becoming more complicated than that.
Registered vampires are turning up dead
, which is less surprising than it might seem, but several of them
aren't getting back up again
. In the morgues, the bodies of individuals with no vampiric ancestry are rattling in their drawers,
only to be found dead a few blocks away
after observant morgue technicians release them from their care.
Even Philadelphia's Infernal underground has been getting a bit nervous. Anxious whispers wind their way through the city's numerous back alleys, making their way as far as the ears of Philadelphia's finest—as if it weren't worrying enough that native supernatural beings were having trouble keeping their heads on their shoulders, paranoid demons (along with sorcerers who have found themselves in their service) have been
showing up on the PPDOD's front door to report suspicious activity
, and even known criminals whose faith in the police is all but nonexistent have started asking for the help of Philadelphia's occult division. Reports are varied in nature, and
some
even include
rumors of long-dead criminals roaming the streets once more
.
One of the first warnings from the Underground of something amiss occurred about three weeks ago when street magician (not licensed to practice as a wizard, but generally viewed as harmless) Barnaby Huxley was picked up by the PPD for selling faulty protection charms in the form of small, poorly crafted fetishes made of leather thong, twine, and something that looked suspicious like dog's teeth, garnished with a few bedraggled pigeon feathers. When brought in for questioning, Huxley, who is on first name basis with many officers in the OD, proclaimed that he was selling them because
"even the mundies know something's up."
He later went on to add that all of his normal customers were all jumpy or skipping town, and that he was only selling the charms in an attempt to gather enough cash to leave until "whatever this is blows over." He was released after questioning and promised to come back and report anything he found to be suspicious. His reputation as a coward and a sneak, however, makes that seem like something of an empty promise.
While just as nervous,
the more cynical of Hell's employees seem convinced that this is part of some grander scheme on the part of the upper tiers.
The PPD heard this first-hand when Officer Holowicz of the OD came to his superiors and said that one of his sources (outed demon Henry Juniper, status: cooperative) came to him at his home some days ago, saying, "I don't know what those fat cats up on Tier Four think they're playing at, but I don't like the smell of it." After being pressed further he told Holowicz that there were rumors
that somehow a link had been created between the Sandlot and Philadelphia
. "The kids down there, Frank—they're half-wild. If someone doesn't step in soon—hm? Do I think this is an accident? Please. This came straight from the top."
Adding to the stress of the current situation,
the city of Philadelphia and its surrounding areas have been in a drought for the better part of the last two months
, likely owing to the intense heat wave that has been plaguing the city for some time. On day our story begins, the anticipated high is 97 degrees fahrenheit, nearly twenty degrees higher than the city's average in June. Efforts to conserve, such as a ban on the use of garden hoses and the discontinued maintenance of public swimming pools in the area, have been imposed, but these measures haven't managed to give the sweating public very much relief.
In response to recent events, the Mayor of Philadelphia has declared a state of emergency within the city limits. In addition to the curfew already in place, citizens of Philadelphia have been advised
not to walk within one mile of quarantined areas alone after dusk
, and cars patrol the outskirts of this area to enforce this ban. Shipments in and out of the city are now being closely monitored, and the interstates and highways leading out of Philadelphia are subject to frequent patrol.
Known demons and suspected rogue magic users may be picked up and questioned
during the duration of this ordeal, but must be released within twenty-four hours if no cause for suspicion is found.
Special note: Due to an unprecedented amount of reports regarding vampires (though not specifically vampiric
attacks
), the Federal Bureau of Investigation's Special Occult Branch
has sent in a response team specifically oriented to the vampiric crisis
. Evidence currently suggests that the recent outbreak in demonic activity and these abnormal occurrences (known vampires disappearing suddenly or found permanently terminated, civilians not thought to be carriers coming alive during autopsy and being released only to be found dead several days later, etc.)
are not related
. Since the PPD's Occult Division has been directing its efforts to responding to Infernal crisis, the SOB's two Philadelphia agents have suggested the separate, specialist response team be called in to assist on that front, as the vampire unit's investigation would take attention away from what Agents Haydon and Deladrier feel is the larger threat.
---
The Philadelphia Curfew
---
As mentioned above, a curfew is currently in place for the city of Philadelphia. Civilian citizens under the age of nineteen (19) years are expected to be indoors by 11PM, and citizens age twenty (20) years and older by midnight. Individuals who work night shifts are permitted to travel to and from their places of employment. However, they are expected to travel by car, bus, or taxi, as anyone walking in the streets between the hours of midnight and 5AM will be fined between
five (5) and ten (10) U.S. dollars
(dependent upon the number of offenses) and will be immediately escorted back to their place of residence.
---
2 posts here • Page 1 of 1