[color=#YOUR HEX CODE]

Matthew "Mattie" Reese Donahue[/color]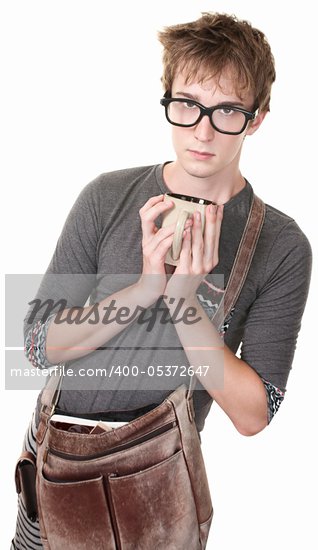 Gender
Male
Age
16
Appearance
Mattie has reddish brown hair and blue eyes. He is a thin build with no muscles what-so-ever. He wears glasses over his slightly crooked nose which a bully broke back in 5th grade. He's not all that confidence with his looks where he makes up with his brains by being very smart, especially in science and math. His clothes are normally a checkered shirt and plain trousers. Nothing out of the ordinary, just comfortable and slightly boring. He has braces to keep his trousers in place.
Personality
Mattie is a very shy and reserved person but once you get to know him he is loveable. He's nice, kind and can be funny when he wants to be. He's definitely a guy that you want to get to know. He is very quirky, and one of his quirks would be his nervousness when talking to anyone for the first time, or to someone he likes, like Sarah, or to people he doesn't like. This happens even when bringing up uncomfortable topics. He is a sweet guy in general and he always means well even if he doesn't go about it in the best way.
Since he started seeing Sarah, he's more social, outgoing and more confident. After Sarah's death he's gone back to the reserved and quiet guys.
History
Mattie was born on July the 4th 1995 to his parents, a doctor and a lawyer. They were quick to realise that he was different from most kids, especially from his older brothers and sisters. By two and a half he could read and by five he was reading most children's books. He was accelerating through school and because of it lacked social skills because of bullies. When Mattie was 10, they decided that it was time to put him into a new school that could cater to his smart brains.
At this school he met Sarah. There were still bullies, but he fit in a lot better and he has a few good friends with him as well. He's big on the science fair and the math quizzes. He's a lot happier at this school. He's been here for the last 6 years and has been seeing Sarah for the last few months after getting some courage to talk to her and then ask her on a date. He's completely head over heels in love with her as she's his first ever girlfriend. When she's found dead, he's distraught.
Skills
He's a computer wizz
He's a math wizz
Phobias
Water. He can't swim and he's terrified of pools, the ocean and large bodies of water.
Likes
Reading
Sarah
Math
Science
Dislikes
Jerks and the popular kids at school.
Goals
He'd love to work as an engineer or in a science field one day.
How they know Sarah Kaplan
Boyfriend
Other Important Details