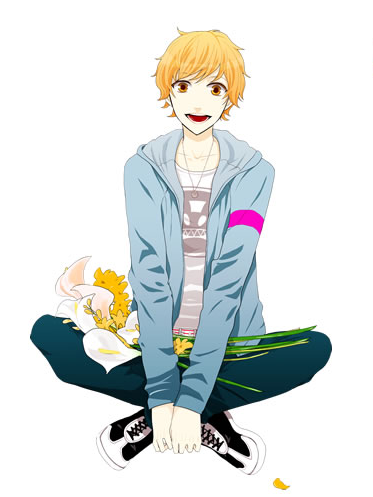 Brian
❀
Holt
╔═══════╗
♝The Basics ♗
╚═══════╝
❀
My name is:
Brian Holt
❀
You can call me:
Brian, Sunny, Bri
❀
I've blown this many candles:
Nineteen (May 12)
❀
I am a:
Male
❀
I'll meet you in my dorm:
Dorm One A
❀
My Role is:
Protector of the secret
╔═════════════════╗
♝ Getting to Know Me Better ♗
╚═════════════════╝
❀
My life so far:
Brian didn't grow up with a whole entire family. He spent his younger days in an orphanarium. It didn't really bother him so much because he hadn't known any other life, until a very nice old lady came by the place. Her name was Maria Holt. She was a single lady in her late forties, looking to adopt. Out of fifty-two kids, little eight-year-old Brian was picked. He was able to go home with that woman that night, and hasn't seen an orphanarium since then.
Ms Maria's house was quite a step-up for Brian. It was a three-story house with a whole lot of land on it. It even had a front gate! As soon as Brian walked into the house though, he was expected to be like a prince. Quiet, intelligent, and respectful. He was already most of those, but he still needed a lot of practice.
For the next ten years of his life, Brian was privately-schooled in all boy schools. Not once had he kissed a girl, or hardly even saw one for that matter. All he's know are guys, and for pete's sake it's only natural that he's taking some liking to them. But no, his "mother" (or he calls her his granny) was a christian woman and expected better of him. He asked to be put into regular schools, but no. She had already paid the school the money for that last year and he was stuck. But like the man he was trained to be, he accepted it and sat it through. He graduated without hesitation, and finally thought he was free.. Well, until his granny signed him up for Beauchamp Academy...
So you might be wondering now, "How did a boy like this get such a lively personality?" Well, some might think he was just born with it. Yet some people know that he actually learned to be like that from his granny in his younger days. Yes, she was a stressed out old lady most of the time, but every time she met with her adopted son she made sure to teach him right and play with him at least once a day. Everyday after school, she would take him out to a public park to help him and herself let off some steam. There, he'd be able to play with some of the other kids, and actually met some nice girls. Every time he did something bad without apologizing, he would be punished with a public spanking and taken straight home. Being good is something he has no problem with now, in his older days. Yet it has done some mental damage to him.. (Sensitivity)
❀
And sometimes, I act a little like this:
[WIP]
Brian Holt's life has been very simple; he lived with his rich grandmother and was taught how to be a very polite young man.. Well, mostly. He still is a very smart young man and made it through his high-school days quite nicely, but his personality is like that of a nine-year old. He loves to talk to people and can't take a hint on when to shut up. He's very hyperactive, and loves to go out and mess with the wrong people. However, getting in trouble with the wrong people has been a reoccurring feeling in his life. No matter how many time's he's punished, he really just doesn't learn his lesson. Eventually, this will give negative effects on his life, if it hasn't already.
Brian is a little sensitive when it comes to harming the wrong people, though. He falls into a mini depression and immediately tries to do
anything
to fix his mistake. If he can, He'll take it back. If he can, he'll fix the wounds the best he can. Just know that if he has harmed you in any way, he's probably off sulking in a corner about it. Though he does have a hatred of certain kinds of people, Brian has a big heart. Even if he doesn't understand, he'll still try to comfort. At the least, he'll buy you something nice. Brian just can't stand to see tears.
Though he's not spoiled rotten, Brian does have high expectations on certain kinds things. If something's dirty, he'll immediately have it cleaned up. Someone's fighting, he'll end it. At times though, he will be a little rude about how improper someone's writing or drawing is, and ask if they would fix it. This has gotten him into fights that
could have
been avoided, and injures that
could have
been spared.
╔═══════════╗
♝ Other Information ♗
╚═══════════╝
❀
Oh, Give it to me~!
☑-
Flowers
☑-
Laughing
☑-
Bright colors
☑-
People
☑-
Being friendly
☑-
Sunkist
❀
Ugh, get it out..
☒-
Rudeness
☒-
Death
☒-
'Ugly' colors
❀
Crush:
"Crush? Uh, you mean the drink, right?"
❀
Motto:
"Don't worry about things you can't change, but pay attention to the things you can. "
╔═══════════╗
♝ Final Information ♗
╚═══════════╝
❀
Aditional info:
Brian has a few phobias of his own: Triphophobia (The fear of holes), and would apreiciate it if he could avoid it at all costs.
❀
Username:
Blood-Soaked Warrior
╔═══════════╗
♝ Theme Song ♗
╚═══════════╝
Last Hope by Paramore