"You have always worn your flaws upon your sleeve
And I have always buried them deep beneath the ground
Dig them up; let's finish what we've started"
Nineteen || 'Alek' || Scorch
---
|Gender|
Male
|Sexual Preference|
Heterosexual
|Role|
New Recruit
|Face Claim|
Takoru
---
|Eye Color|


Despite the fact that they are more often than not hidden behind a pink fringe, Alek' eyes are an amber color (though they weren't always), and they are said to glow bright like molten gold when his abilities are triggered.



|Hair Color|


Not your average set of unkempt, and windswept locks, Alek sports a mop of bright and wild pink hair that stretches to the nape of his neck in the back, and tumbles about the bridge of his nose in the front. Did I mention it's pink? Yeah, it took him a while to get used to too.



|Body Type|


Lithe and athletic, this troublesome street artist tends to favor agility and dexterity over brute force - and thus his frame is built to suit his preferred style of movement.



|Standard Dress-up Attire|


Nothing special, your typical hoodlum attire. Jeans (occasionally of the skinny or fitted variety), colored, band, or internet meme based T-shirts. A ratty pair of converse he refuses to throw away, and hoodies. All of the hoodies.



|Height & Weight|


5ft 11in & 156lbs - give or take.



|Birthmarks, Tattoos, and Scars|


Not much by way of scars, most stuff tends to heal rather quickly. Other, Alek does have guages in his ears, and his tongue is pierced.
---
|Personality|
A rather out-going individual, Alek has a sort of boyish charm about him. Caught at the crossroads of 'being an adult - but not there is still a 'teen at the end of my age', he tends to round down in terms of persona and behavior. Similarly outspoken, he doesn't exactly qualms with saying what's on his mind, sans filter - which either tends to earn a person's respect, or very quickly offend depending on who you are. However it's useful to mention that the kid doesn't say such blatant thoughts with any ill intent. Also a very tactile guy, he's the sort to sling an arm over a friends shoulder affectionately when walking, or stretch his legs out over their knees when lounging on the couch. Yet, he doesn't exactly pick up on everyday social cues all that well. If you don't enjoy that type of physical contact, feel free to thwap him upside the head to get the message across - otherwise, your subtle cough or eyeroll will go painfully unnoticed.

Not quick to judge either, Alek befriends rather rapidly. While you he won't be your best friend at the flip of a switch, he will certainly warm up quicker than most and will be one of the first to drag you into a conversation, or con you into playing a match of Mortal Combat with him when he can --- even if he only just learned your name. Once befriended, you can count on him being a reliable, loyal companion to the end. Alek is also known to revel in shock and awe; those unfortunate enough be a blip on his radar are subjected to scare tactics for his own personal, childish glee. Meaning, the kid enjoys a good prank or two when he can get away it. With that in mind, his behavior is rather unpredictable, and make his style of combat somewhat hard to handle if you can't anticipate his next swing.

At the end of the day, Game and art are the man's guilty pleasures, the former of which, in extraneous amounts, turns him into competitive, trash talking beast. Just as quick to teach you the controls as he is whine when you beat him, give the guy a minute to regain his pride and he'll have forgotten about it in mere minutes. Behind the scenes however, he'll practice and practice until the time comes when he demands a rematch. As far as art goes, Alek's fond of brick walls, spray cans, and a challenge. He enjoys having to paint with finesse while keeping track of the local authorities schedule in the back of his head, but it's the rush of making a well timed escape that excites him the most. All in all, Alek will defend his teammates as readily as he would taint the supper pot with scalding hot spices. You know, like a jerk uncle.
|Likes|

|Dislikes|


✔ Warm Weather || ✘ Early Mornings
✔ Video Games || ✘ Ticking Clocks
✔ Graffiti || ✘ Burnt/Soggy Clothing
✔ Esoteric Novels || ✘ Crowds
✔ Good Food || ✘ Being Cooped up
✔ Bets/Dares || ✘ Authority


---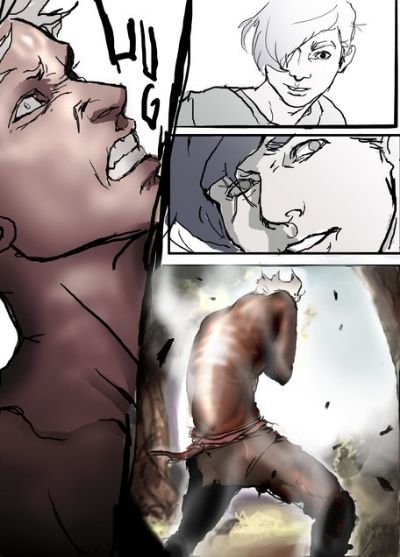 |Strengths|


Confident, Agile, Quick-Witted, Protective, Unorthodox.



|Weaknesses|


Stubborn, Hot-Headed, Cocky, Impulsive, Brash.



|Fears|


Incineration || Getting his family involved || Screwing up.



|Mutagenic Flaws|


|| Lack-of-Control || - Being that this power of his has only cropped up relatively recently, Alek has minimal control and sway over it. As mentioned under the particular powers themselves, he struggles with igniting a flame and keeping it steady. Smokey the bear wouldn't approve.

|| H20 || - For obvious reasons, the substance opposite his mutation is also one of his weaknesses. Douse him with enough of the stuff and there's not much he can currently do about it.

|| Exhaustion || - Naturally, maintaining any fire takes fuel, and Alek only has so much of it. Like a leech on his energy, conjuring and controlling the blaze, not to mention passively preventing his skin from melting, he can only keep on his toes for so long. As a result, he's fond of naps.


---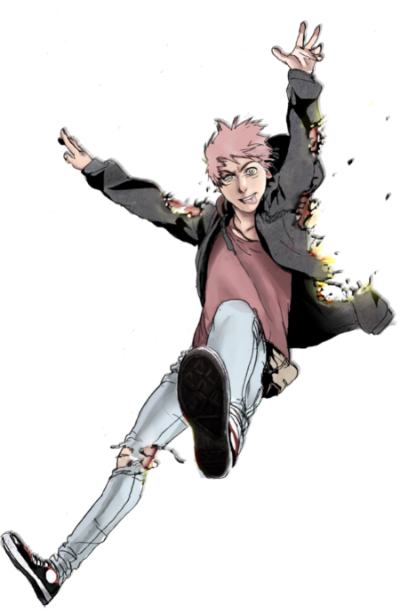 |Abilities|
Pyrokinesis: Generic as fuck, you say? Perhaps. Alek would even agree with you. After years of reading comics, and watching SuperHero flicks he was needless to say slightly underwhelmed with fate's genetic selection for him. Regardless of how he feels about, let's get down to business. Theoretically, Alek can generate, direct, and manipulate the combustible element to his hearts content - but that's assuming he knows how and what the hell he's doing. Currently, if he tries reaaallly hard, and makes a face that looks like he's about to take a mean dump, nothing fucking happens. Yet, if you jumped out from behind a corner and spooked the kid? You might just loose your eyebrows. The struggle here, is getting the ignition process started. Alek's ability acts up like an old junker car. If you can get the engine to turn over, it'll get the job done. Unfortunately, sometimes to get that initial spark going you've got to kick it two or three, or twelve times. Like that car, Alek needs something to get him started. Typically a little bit of raw emotions does the trick, but it's something he's working on. However, one he's got the stuff going - he tends to get rather excited - and when he get's excited, the white-hot substance begins to spread about his body as if someone had just poured some gasoline on it. (It also tends to ruin his clothes.)

But here's where things get interesting, because during the times where he manages to keep the wild fire under control, he can do some pretty snazzy stuff. When he can't reign things in though, he's noticed that bits of skin begin to melt away as smoke begins to billow. It's at this point that he tends to panic and dive into the nearest source of water to get himself back under control. The fact that he always appear to be completely back to normal post flames licking his skin gives the notion of some sort of regenerative healing factor. At the moment, projectiles are his most offensive ability, but his favorite has to be the would-be jet propulsion, which he currently uses to glide around. Think the Human Torch, or Hot Streak (but not quite as coordinated) and you get the idea. With some training and practice, Alek thinks he can probably perfect actual flight, maybe figure out some defensive constructs, and potentially make his flame inextinguishable - but who knows. As it stands the kid can currently be thwarted with a well timed water hose or a particularly heavy rainstorm.

Pyroporation: Pyro-whata-who? It's a mouthful, I know. Let me walk you through it, even if it's something Alek hasn't quite figured out yet. Here goes. Remember in the first or second Harry Potter films (I forget which, please don't take my nerd card.), Harry and crew sort of 'poof' via the Floo Network? Yeah, well Pyroportation is sort of, kind of, not quite like that. Basically, think of each crackling fire as a sort of portal. All of these 'portals' are interconnected (don't ask how, the math and science isn't quite there yet.), but akin to the internet and cyber space, Alek can act like an email or piece of data. In the span of just a few seconds the fire in which he was just engulfed can accelerate his molecules and transfer them from one blaze to the next - poof - just like that. But for this to work, he must be completely consumed in one fire in order to be linked to the next, though there is obviously a range limitation. Currently he can probably hop about 60 feet or so, but with some work, this could potentially increase to a few blocks, or maybe even across the length of a small city if he had the energy for it.
---




|Family/Relationships|


Father - Jacek Zalewski || Living || Geneticist, Research & Development for RSI Industries.
Mother - Anastasia Zalewski || Living || Seamstress, School Teacher
Sister - Delilah Zalewski || Living || Normal Human being, annoying yet lovable 8 year old girl.




|History|


Alek's childhood is nothing to write home about. Dad had a snazzy job at some research facility, but Mom taught at his elementary school - which to a little kid, was equal parts more exciting and more frustrating. Anyways, the Zalewski family sans Delilah spent a decent chunk of time living in Warsaw, Poland. It wasn't until the lovely Anastasia became pregnant with child number two that they packed up and shipped on over to the states. Papa Zalewski had gotten a job transfer, something regarding these 'special people' with 'special genes'; Mom was on maternity and all the planets had aligned to make their big move happen safely and smoothly. Settling down somewhere in Chicago, a few years were spent there as both kids grew up, and Alek started high school. It was around his senior year though when things started to go a little haywire.

It's hard to pin down exact dates, but maybe it was when he'd gotten a little too aggressive during a soccer game, and somehow, someway - the ball and net wound up scorched. Or hell, maybe it was the day his hair started to turn pink that gave him a definitive clue. That morning, Alek had woken up, and made it to his gym class before the odd color had really started to set in. It wasn't until afterwards, in the shower that he noticed how what was previously blonde, was no longer blonde. In fact, the whole goddamn locker room had noticed and had appropriately erupted into chuckling, snarky remarks and an abundance of girl jokes. However, one kid in particular laughed harder than most, and due to a series of pranks wars with said kid, Alek instantly knew who to blame. Irrationally angry that Robby had put some kind of pink die in his shampoo bottle (or whatever the justification was), he got into his first fist fight three months before graduation. The end result, Robby had a third degree burn, he had a black eye that lasted for maybe twenty minutes, and the fire alarm had gone off. By the time his dad had showed up to bring him home, the two Zalewski men had a heart to heart. His dad explained as much as he could what was going on, said he had some connections in LA, and upon graduation they'd be making a trip out there to see what could be sorted out. In the meantime, his mother and his sister simply think he's going to college.



|Reasons For Joining|


[i]n short, Comradery. Having practiced and managed his mutation mostly on his own up until graduation, he figures who best to learn from then those who are going through the same thing - not to mention while working for a good cause and getting to partake in thrilling adventures at the same time. It's a win win.

[/i]
---